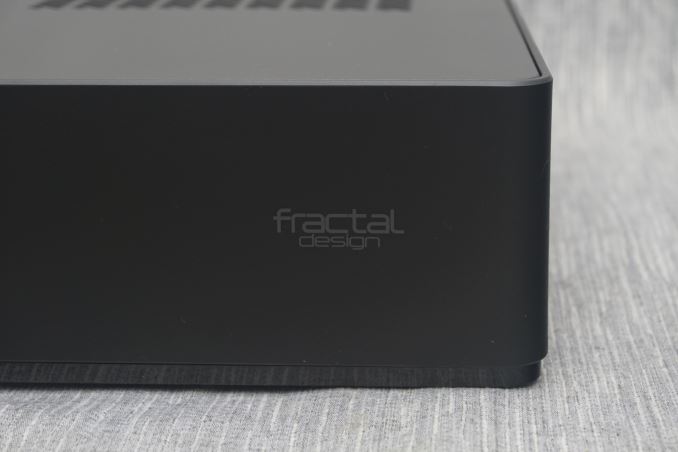 Gaming consoles may not be as versatile as PCs, but one of their greatest advantages is their size and design. PCs on the other hand may be versatile and powerful multimedia and gaming machines, yet their insertion into elegant living rooms can be problematic. Large systems and tower cases are a major visual dissonance in a living room, whereas consoles were designed with that specific purpose in mind.
Motherboard manufacturers have been trying to combat this issue by creating highly advanced and fully featured Mini ITX motherboards specifically designed to be the heart of powerful gaming systems. Recent energy efficient CPUs also reduced their cooling requirements, allowing the use of smaller and quieter coolers. Still, most of the ITX cases that became available were not nearly as small as a console, as manufacturers had to compensate for the width of expansion cards and the size of optical drives. However with their newest Mini-ITX design, the Node 202, Fractal Design is looking to change this, producing a bare-minimum sized case specifically designed for building a gaming PC.
Introduction
Fractal Design is a well-known Swedish designer of PC cases. Most of their ITX designs are not an exception to the aforementioned rule, sacrificing volume for component compatibility and performance. However the company wanted us to take a look at their smallest ITX case, the Node 202. It is a slim case that physically resembles many other designs that were created for HTPC use, but, despite its very narrow chassis, the Node 202 can hold a full size video card, allowing the creation of very small but powerful gaming systems.
Fractal Design Node 202
Motherboard Size
Mini ITX
Drive Bays
External
-
Internal
2 × 2.5"
Cooling
Front
-
Rear
-
Top
-
HDD
-
Bottom
2 × 120 mm (optional)
Radiator Support
Front
-
Rear
-
Top
-
Side
-
Bottom
-
I/O Port
2× USB 3.0, 0× USB 2.0, 1× Headphone, 1× Mic
Power Supply Size
SFX
Clearances
HSF
56 mm
PSU
130 mm
GPU
310 mm
Dimensions
82 mm × 377 mm × 330 mm
3.23 in × 14.84 in × 12.99 in
Prominent Features
· Featuring a sleek and elegant design that will fit in any space or room
· Extremely small footprint with a volume of only 10.2 liters
· A highly versatile case that can be set up both vertically and horizontally
· Supports Mini-ITX motherboards, SFX power supplies and graphics cards up to 310mm in length
· Provides a smart thermal interior design highlighting separate motherboard and graphics card chambers
· Strategically placed air filters for a dust free interior
Price
$86
Packaging & Bundle
Fractal Design supplies the Node 202 into a simple, sturdy cardboard box. The monochromic artwork is based on schematics of the case itself, with some details on its features and specifications printed on the sides of the box. Inside the box, the case is well protected between two thick Styrofoam pieces and wrapped inside a nylon bag.
Black mounting hardware and a few cable ties are the core of every case's bundle nowadays. Fractal design also supplies four rubber feet for the case and a PCI Express riser card. The manual is very detailed and well written.