Crucial Ballistix PC3200
Crucial Ballistix was a Gold Editor's Choice in our recent
DDR400 2-2-2 Memory Roundup
. On the Intel platform, the memory timings were the best that we have ever seen at DDR500. The logical question is, can Ballistix pull it off again on the Athlon 64?
Ballistix is Crucial's first foray into the Enthusiast market, and Ballistix is intended to compete with the best from Corsair, OCZ and other specialty memory manufacturers. Kingston, another memory giant, has a similar Enthusiast line that they call HyperX.
Crucial supplies Ballistix PC3200 in both 256MB and 512MB DIMMs. Test DIMMs were a pair of Crucial Ballistix PC3200 512MB modules.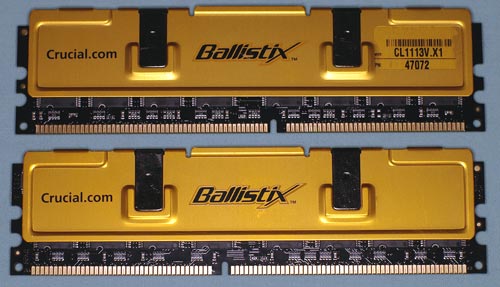 Crucial uses distinctive orange-gold Ballistix aluminum heatspreaders with black lettering. Ballistix 3200 is based on Micron chips, and not the Samsung chips used in other fast 2-2-2 DDR400. Micron chips were also used in the now discontinued
OCZ 3700EB and 3500EB
, which we found to be standout performers on Athlon 64.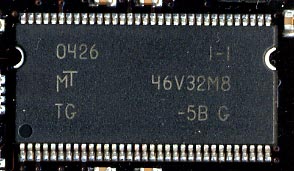 With OCZ EB discontinued, Crucial Ballistix is the only memory based on Micron chips in the Athlon 64 testing.
Crucial Ballistix PC3200 Specifications
 Crucial Ballistix PC3200 Memory Specifications
Number of DIMMs & Banks
2 DS
DIMM Size
Total Memory
512 Mb
1 GB
Rated Timings
2-3-2 at DDR400
SPD (Auto) Timings
2-3-2-6
Rated Voltage
2.8V