System Performance: Unleashing Ice Lake
After years of struggling to get their 10 nm process going, Intel finally has enough capacity to release their first real architecture update since Skylake. At the center of the Ice Lake platform is Intel's Sunny Cove microarchitecture, which brings some significant improvements to the x86 core.
As a brief recap, Intel has been forced to move away from their traditional Tick Tock roadmaps, where new architectures would be initially released on a known process, and then the process would be updated with the same architecture. That methodology served the company well for many generations, but came to a grinding halt when 10 nm was delayed significantly. As a result, Ice Lake features the latest Sunny Cove architecture on the latest process, meaning there is a couple of steps here all in one go compared to the outgoing Whiskey Lake platform, featuring a refined Skylake architecture on a refined 14 nm node.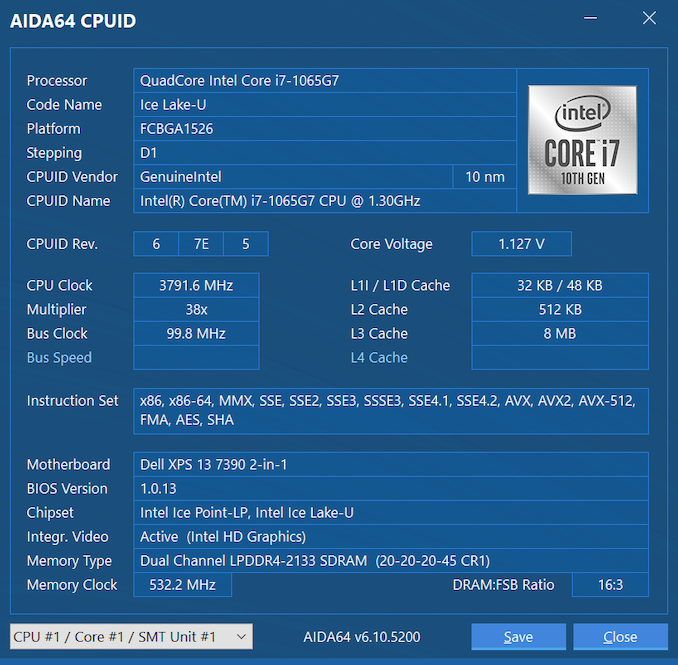 With the introduction of Ice Lake comes several improvements in Intel's CPUs. Perhaps most important for laptops like the XPS 13, Intel has finally updated their memory controller on Ice Lake, offering support for LPDDR4X-3733. Previous generation U series only supported LPDDR3, restricting not only bandwidth but also capacity. Laptops that wanted more than 16 GB of RAM had to opt for the less power friendly DDR4, but with Ice Lake that is no longer the case.
And of course, there are numerous improvements throughout the CPU pipeline to improve the CPU's performance. There is no one change that we can credit with delivering all of Ice Lake's general performance improvements, but rather Intel has gone deeper and wider in their CPU design, looking to further improve their IPC rate by finding more opportunities to execute instructions in parallel. Meanwhile, Intel has also added AVX512 support, which should significantly increase performance in certain workloads.
The tradeoff however is that 10nm Ice Lake chips can't clock as high as the 14nm Skylake-based chips they replace. Benefit of a well-refined process like 14nm is that over time, Intel has been able to provide significant increases in CPU frequency, even as they got stuck on an architecture that had not really changed for several generations in a row. So despite this Dell XPS 13 7390 offering the highest-end Core i7-1065G7 processor, the Ice Lake chip has a disadvantage in pure CPU frequency headroom: it peaks at 3.9 GHz, compared to 4.9 GHz on the latest 14 nm Comet Lake Core i7-10510U. Intel is also only offering quad-core in the 15-Watt range on Ice Lake, whereas they are now offering up to a hex-core in the 14 nm Core i7-10710U, which still provides 4.7 GHz of Turbo. Even the previous generation Whiskey Lake offered up to 4.6 GHz Turbo on quad-core, so Sunny Cove starts at a disadvantage in terms of frequency and must make up for it in instructions-per-clock to pull out a performance win.
For a deeper dive into Sunny Cove and Ice Lake, check out Ian's dive into the platform as well as some preview testing here. But since we finally have production silicon in our hands, let's test it out with our standard laptop bench. For reference, these results are with the laptop set in Best Performance in the Windows power settings, and Ultimate Performance in the Dell utility.
PCMark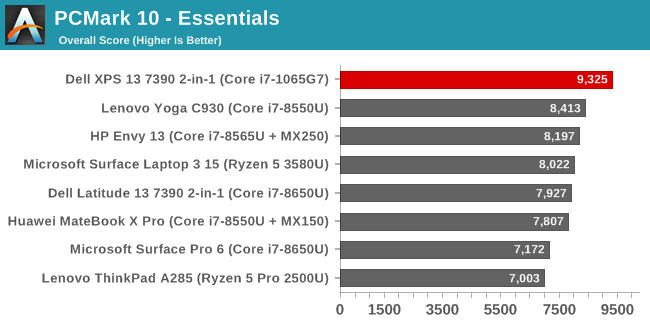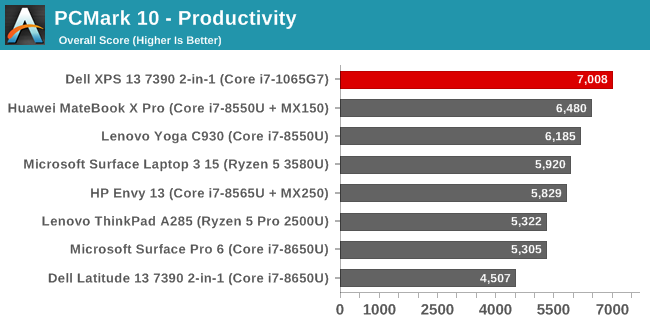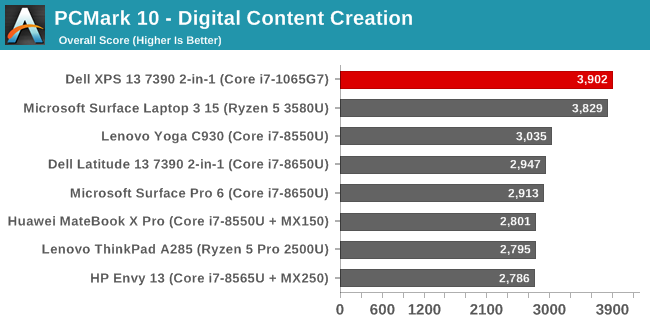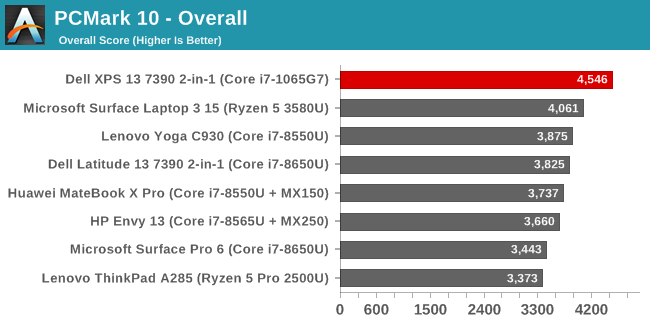 PCMark tests all aspects of a system including the CPU, GPU, and SSD, and offers a baseline for overall system performance with various tests including office applications, web, video creation, gaming, and responsiveness. The XPS 13 gets off on the right foot here, surpassing all other laptops we've tested in the 15-Watt range. The digital content creation test is heavily impacted by GPU performance, and we can already get a taste that the Gen11 graphics have upped the game for Intel, but the XPS 13 wins all of these by a significant margin.
Cinebench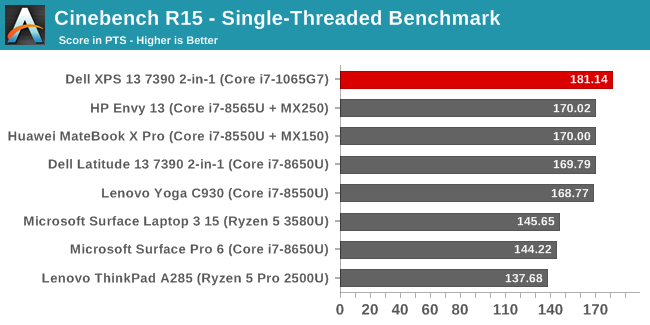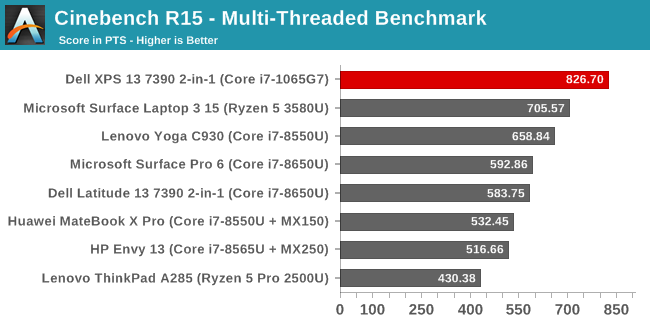 Cinebench offers both single-threaded and multi-threaded settings, allowing a closer look at individual core performance in a world of ever-expanding core counts. We'll be transitioning to the latest R20 version soon, and have been collecting data on it for some time, but to give a broader comparison this review will stick to the R15 results, which show that Sunny Cove is indeed able to pull ahead of Whiskey Lake, despite the frequency disadvantage, and that result grows when the other cores are utilized.
x264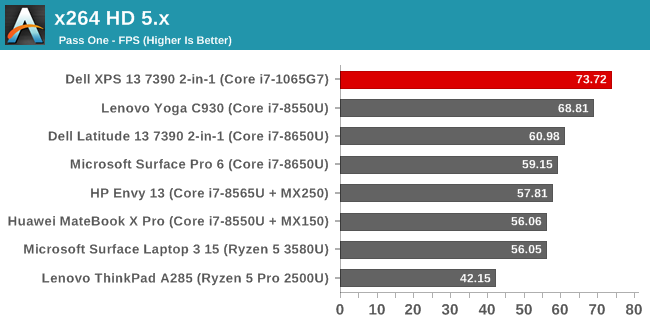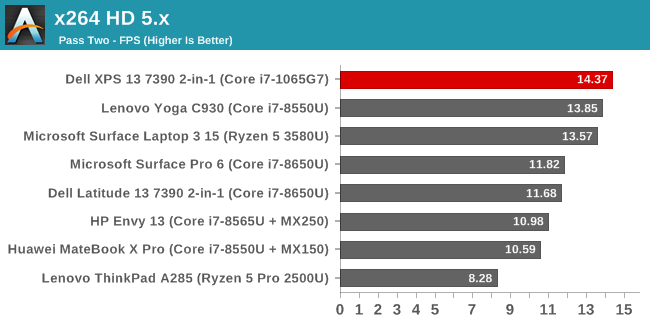 This test converts video using the CPU, and scales well with multithreading, and once again the XPS 13 pulls ahead of the pack. The test is long enough to allow the CPU to settle into a steady state for performance as well, and the Ice Lake was able to stay ahead even on a long task in a thin and light computer.
Web Tests
Web performance is heavily dependent on the underlying scripting engine of the browser, so all of our results utilize the built-in Microsoft Edge. Over time, scores can change as the browser gets updated, so be aware that any results we post are from the time the laptop was tested. Edge has somewhat regressed in performance since launch with the last couple of updates, and we'll be moving to the new Chromium based Edge when it is released, which is looking like January 2020. At that time we'll take the opportunity to replace some of our web tests as well.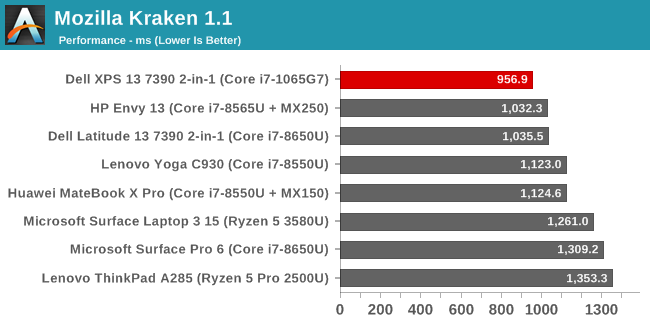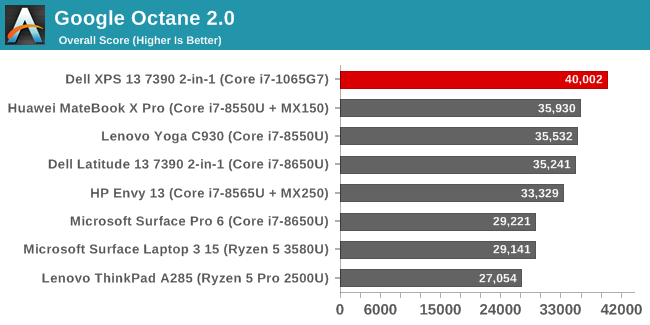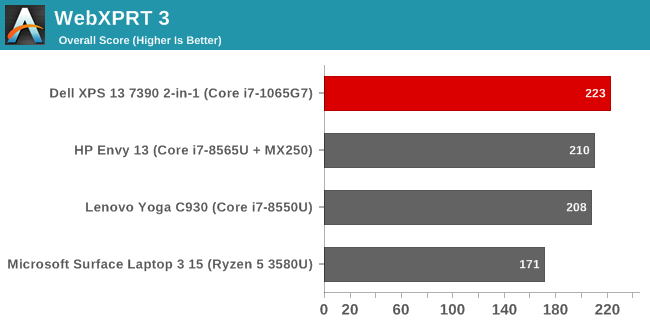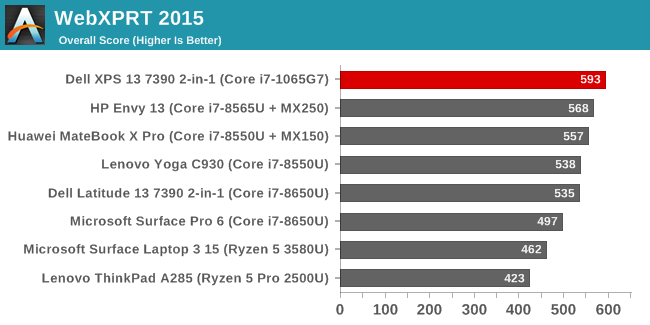 Intel has excelled at the web tests thanks to a lot of focus on being able to quickly ramp up performance when needed, which boosted all scores significantly when they introduced Speed Shift. This impacts web quite a bit due to the short nature of most scripting on the web, where the quick boost of speed allows the job to be done quicker and allows the CPU to go back to idle. Ice Lake is impressive here, offering the highest scores we've seen in some time.
Disk Performance
Dell shipped us the 512 GB model of the XPS 13, which in this case ships with a Toshiba PCIe NVMe SSD.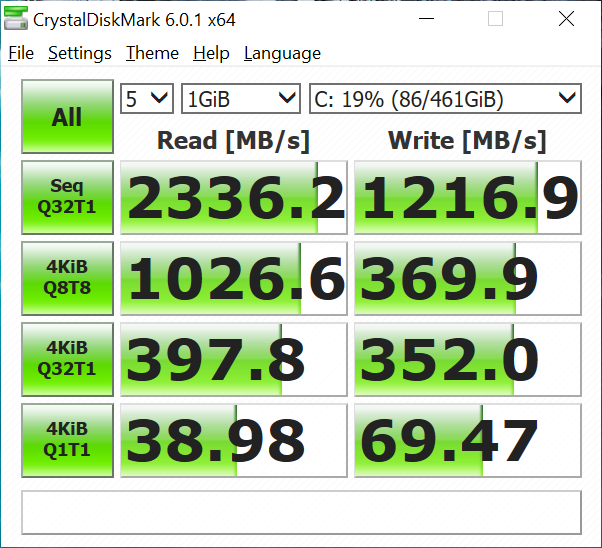 Burst performance is fantastic. SSDs are a bit of a commodity so manufacturers can and do use different models sometimes, but the device we got from Dell performed very well with this Toshiba drive.