Build Quality & Touchscreen Display: Worse and Better than the Nexus
Whereas the Nexus One feels very iPhone like in its curves and narrow seams, the Incredible just doesn't. It feels cheap, mostly because of the back cover. The back snaps (instead of slides) into place. It's easier to get on/off than the back panel of the Nexus One, but it's also not as snug of a fit. I found that the cover on my sample squeaked a lot at the sides, which made it feel very cheap. The Incredible also has a pretty powerful motor for vibration, unfortunately that meant whenever the phone vibrated the back cover made even more noise.
Physical Comparison
Apple iPhone 3GS (ARM Cortex A8)
HTC Droid Incredible (Qualcomm Snapdragon QSD8650)
Google Nexus One (Qualcomm Snapdragon QSD8250)
Height
115 mm (4.5")
117.5 mm (4.63")
119 mm (4.7")
Width
62.1 mm (2.44")
58.5 mm (2.30")
59.8 mm (2.35")
Depth
12.3 mm (0.48")
11.9 mm (0.47")
11.5 mm (0.45")
Weight
133 g (4.7 oz)
130 g (4.6 oz)
130 g (4.6 oz)
CPU
ARM Cortex A8 @ 600MHz
Qualcomm Scorpion @ 1GHz
Qualcomm Scorpion @ 1GHz
GPU
PowerVR SGX 535
Adreno 200
Adreno 200
RAM
256MB LPDDR1
512MB LPDDR1
512MB LPDDR1
NAND
16GB or 32GB
8GB + micro SD
micro SD
Camera
3MP
8MP with LED Flash
5MP with LED Flash
Screen
3.5" 320 x 480 LCD
3.7" 480 x 800 AMOLED
3.7" 480 x 800 AMOLED
Battery
Integrated 4.51Whr
Removable 4.81 Whr
Removable 5.18 Whr
The front is a different story entirely. It's simple but sexy, and comfortable to use as well. Since you're mostly interacting with a solid touch screen the cheap feeling disappears. The simple black face looks a lot more modern than the grey/brown color of the Nexus One's plastic.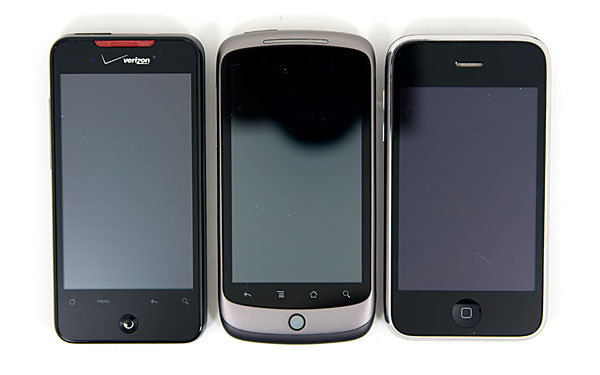 Left to Right: HTC Droid Incredible, Google Nexus One, Apple iPhone 3GS


Left to Right: Google Nexus One, HTC Droid Incredible, Apple iPhone 3GS
Inside the phone you get access to a removable battery and micro SD card slot. Verizon doesn't ship the phone with a card, but it does come with 8GB of NAND on board. The Incredible's inner red is cool and solid enough that I wonder why HTC went with such a boring backplate by comparison.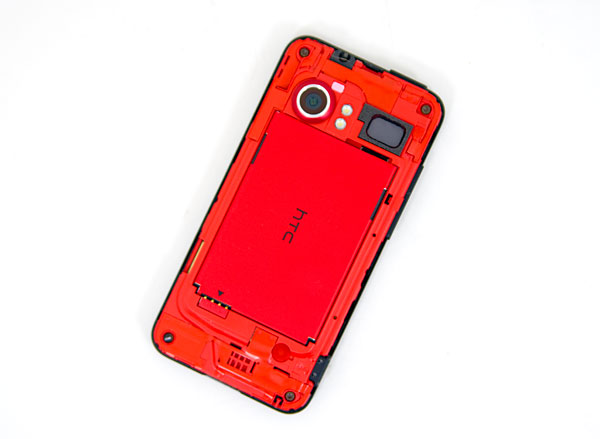 You get three or four physical buttons on the Incredible, depending on how you count. There's a power/lock switch up top in the same place as the iPhone, so no confusion there. Volume rocker on the left side. And HTC replaced the trackball on the Nexus One with an optical joystick at the bottom of the screen. While i pretty much never used the trackball on the Nexus One, I like the joystick on the Incredible.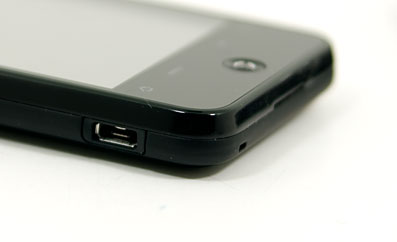 You can use the joystick to scroll, but I used it to move between characters when fixing a typing error (very useful) and as the shutter button in the camera app.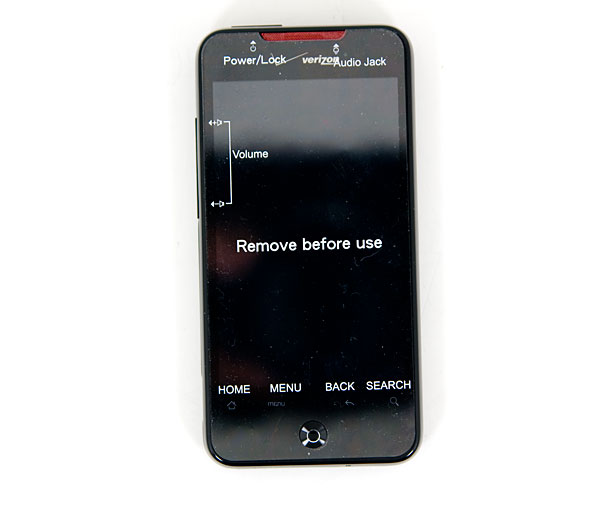 The four fixed, but virtual buttons along the bottom of the phone are like those on the Nexus One although the Menu and Back button positions are reversed. Haptic (vibrate) feedback is enabled by default but you can thankfully disable it on the HTC Incredible.
You get the same 3.7" AMOLED display from the Nexus One with a 480 x 800 resolution. That means it's something sharper than the iPhone 3GS, with very saturated colors, but beautiful to look at indoors. Outside, in direct sunlight, it's virtually useless.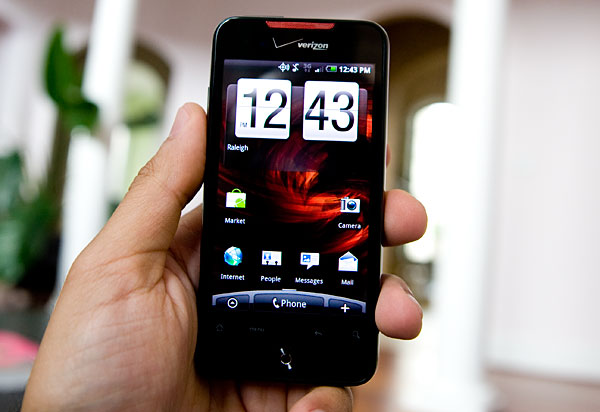 Prepare to crank the display up to full brightness if you use it a lot in direct sunlight.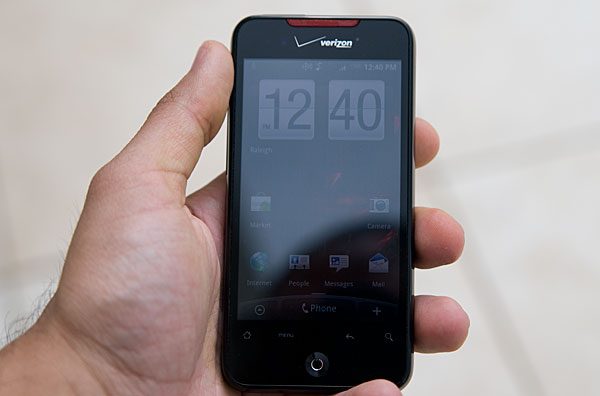 The touchscreen didn't have nearly the same sort of responsiveness problems I encountered on the Nexus One. I'd say HTC managed to deliver a capacitive touchscreen that's virtually indistinguishably from the iPhone in day to day use. I will say that there were a few isolated situations where I had to tap multiple times to get the screen to recognize what I was trying to do. This mostly happened at the corners of the screen