It's really not that big. It seems like it would be based on the specs and photos, but in reality the Sprint EVO 4G by HTC just isn't that big. And it's not levied as an insult, I just mean to say that the EVO is manageable in size.
The screen has the same 800 x 480 resolution of the Nexus One and HTC Incredible, but the pixels are spread out over a much larger 4.3" screen. The display setup to be overly red just like the other Android screens we've seen thus far, but it looks great.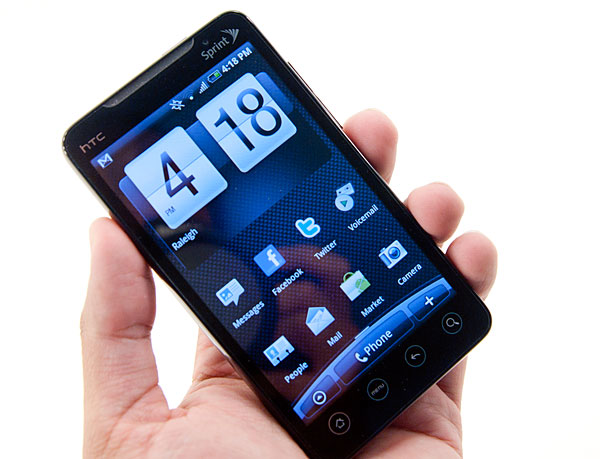 The size of the screen is really what sets the EVO 4G apart from the competition, and honestly I couldn't think of a better phone for browsing the web. Loading full websites is a pleasure and the screen is large enough where you can actually read a lot of content. It's not a tablet replacement, but it is easier to work with than a 3.5 - 3.7" screen.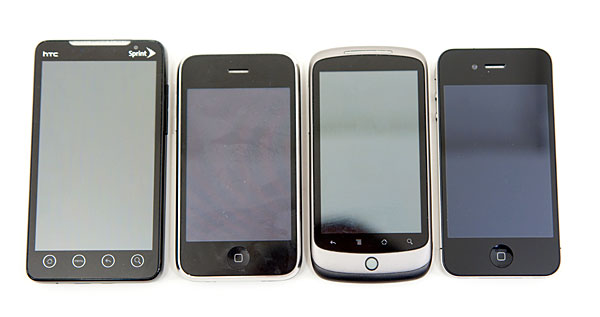 From left to right: HTC EVO 4G, iPhone 3GS, Nexus One, iPhone 4
I've heard it referred to as a mini tablet and honestly I don't believe that's the case. The 4.3" screen is big but I'm telling you, it's not that big in practice. It just ends up feeling like a phone with a good sized screen. Move into the 5" and beyond territory and then you start triggering me calling things tablets.


HTC EVO 4G (left) vs. iPhone 3GS (right)


HTC EVO 4G (left) vs. iPhone 4 (right)
The phone measures 4.8" x 2.6" x 0.5" and it's the largest smartphone I've ever held. That being said, it is absolutely pocketable as long as you're not wearing skinny jeans. Even then it is thin enough that you could slip it into your back pocket.
Physical Comparison
HTC EVO 4G (Qualcomm Snapdragon QSD8650)
HTC Droid Incredible (Qualcomm Snapdragon QSD8650)
Apple iPhone 4
Google Nexus One (Qualcomm Snapdragon QSD8250)
Height
121.9 mm (4.8")
117.5 mm (4.63")
115.2 mm (4.5")
119 mm (4.7")
Width
66.0 mm (2.6")
58.5 mm (2.30")
58.6 mm (2.31")
59.8 mm (2.35")
Depth
12.7 mm (0.5")
11.9 mm (0.47")
9.3 mm ( 0.37")
11.5 mm (0.45")
Weight
170 g (6.0 oz)
130 g (4.6 oz)
137 g (4.8 oz)
130 g (4.6 oz)
CPU
Qualcomm Scorpion @ 1GHz
Qualcomm Scorpion @ 1GHz
Apple A4 @ ~800MHz
Qualcomm Scorpion @ 1GHz
GPU
Adreno 200
Adreno 200
PowerVR SGX 535
Adreno 200
RAM
512MB LPDDR1
512MB LPDDR1
512MB LPDDR1 (?)
512MB LPDDR1
NAND
8GB micro SD
8GB micro SD
16GB or 32GB integrated
micro SD
Camera
8MP with dual LED Flash + Front Facing Camera
8MP with LED Flash
5MP with LED Flash + Front Facing Camera
5MP with LED Flash
Screen
4.3" 480 x 800
3.7" 480 x 800 AMOLED
3.5" 640 x 960 LED backlit LCD
3.7" 480 x 800 AMOLED
Battery
Removable 5.5Whr
Removable 4.81 Whr
Integrated 5.254 Whr
Removable 5.18 Whr
HTC ditched the silly scroll ball of the Nexus One and the optical sensor of the Incredible and just left the EVO 4G with a row of touch sensitive buttons along the base of the screen. Home, Menu, Back and Search are all you get.
If you need a navigational aid the screen is big enough where HTC was able to include directional arrows on the on-screen keyboard. They are awkward to use at first because you're not used to them, but afterwards they just make sense. I hardly used the scroll ball/optical trackball of the other Android phones so HTC's decision to reclaim that real estate makes total sense to me. The screen is used for scrolling, if you need fine tuned movement just rely on the virtual arrow keys. Fine by me.
The touch screen supports haptics, which can be fully disabled. When enabled certain button presses will cause the EVO's motor to vibrate a bit to confirm the touch. It's a concession for those who still want some tactile feedback.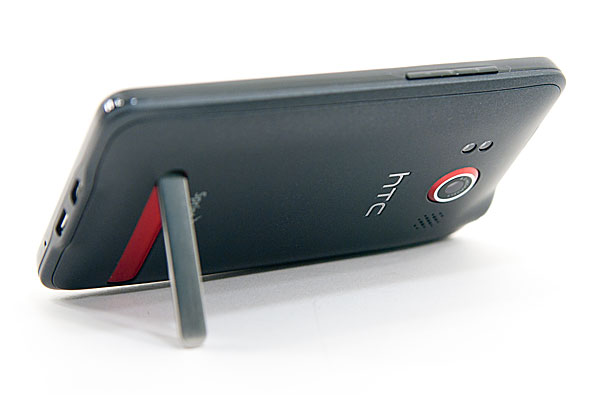 The EVO 4G is the first Android phone I've used with something interesting on its back: a kickstand. The metal stand lets you prop a horizontally oriented EVO on your desk at around a 45 degree angle. It's great for watching videos, using as a clock or an alternative to a costly dock.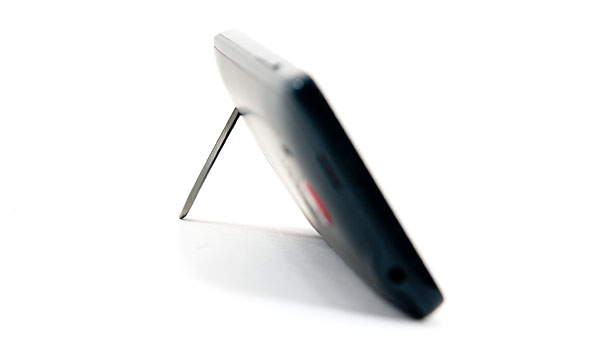 The stand is actually a nice touch, unfortunately the Android UI doesn't rotate to landscape mode so it's only useful within apps that support rotation.
Also on the back is the 8MP camera lens (there's a 1.3MP camera on the front), two LED lights used as a flash and a speaker for the speakerphone. Along the bottom is a standard USB micro B connector and a micro HDMI (D-connector) video out. The HDMI out can only be used to output movies, it won't mirror your display.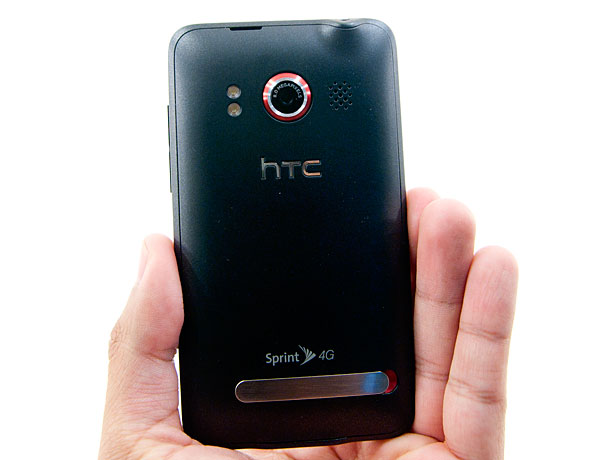 As its name bluntly states, the EVO 4G works on Sprint's 4G WiMAX network. Sprint's 4G service is currently only available in 43 cities spread over 15 states, if you find yourself in one of those states then the EVO has more than its large screen to tempt you.
The phone currently sells subsidized for $199 from Sprint after a $100 mail in rebate. Service starts at $69.99 for 450 minutes and unlimited messaging/data and goes all the way up to $134.99 per month including tethering.
Cost of Ownership Comparison
AT&T iPhone 4
Sprint EVO 4G
Verizon HTC Droid Incredible
Cost of Device
$199 w/ 2 year contract
$199 w/ 2 year contract after $100 MIR
$199 w/ 2 year contract
Plan with 900 Minutes, Unlimited SMS/Data
$104.99/mo, unlimited SMS, 2GB data
$99.99/mo, unlimited SMS, unlimited data, 4G
$109.98/mo, unlimited SMS, unlimited data
Tethering
+ $20/mo
+ $29.99/mo
+ $25/mo*
Total Monthly + Tethering
$124.99/mo
$129.98/mo
$134.98/mo
Total Cost of Ownership over 2 Years
$2718.76
$2598.76 after $100 MIR
$2838.52
Total Cost of Ownership over 2 Years w/ Tethering
$3198.76
$3318.52 after $100 MIR
$3438.52
*Verizon hotspot service goes up to $30/mo in late July
Without the mobile hotspot service, the EVO 4G is the most affordable smartphone out of the three majors over the course of two years. AT&T actually offers a better deal with tethering but you need to keep an eye on your usage; go over 2GB per month and you'll incur additional charges, which isn't tough to do if you tether a lot.