The CPU Selection
Like the 2011 MacBook Pro upgrade, the iMac gets the Sandy Bridge treatment. Given the heat-dissipating volume of the iMac's all-in-one form factor, Apple only offers a quad-core CPU throughout the lineup. Just a couple of years ago quad-core CPUs weren't mainstream but I believe today it's safe to say that four cores are going to be the standard going forward. We'll see two cores stick around for small form factors and budget systems but everything else is moving to four. Intel is still toying with the idea of 6-cores for the high end but I'd say there's likely even less traction for 6-cores today than there was for 4-cores a few years ago. While high end desktop users could easily make the argument for 4 cores, it's much more difficult to do the same for 6 unless you're building more of a workstation.
I've described Sandy Bridge several times in the past so I won't belabor the advantages here, but the advent of aggressive turbo modes basically rids the OEM of any reason to make a trade off between more cores and higher clock speeds. Sandy Bridge offers you the best of all worlds - high clock speeds in lightly threaded applications or more cores when you need them.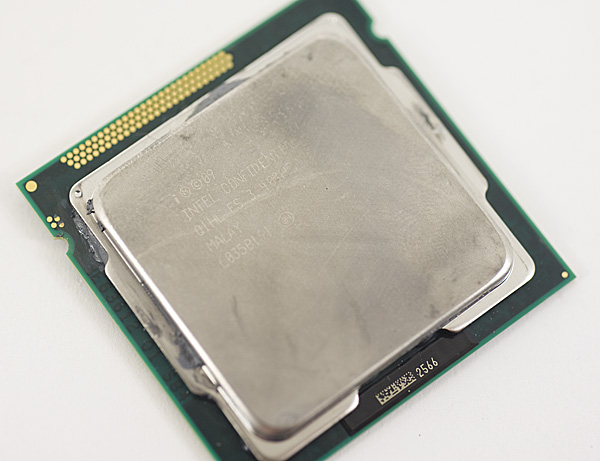 The iMac is less TDP constrained than the MacBook Pro so we get higher base clock speeds to begin with. In fact, Apple opts for lower priced desktop CPUs than the mobile chips. They are clocked higher and put out more heat but they do help Apple maintain that healthy profit margin. Take a look at Intel's price list:
2011 iMac Comparison
Mobile CPU
Price
Desktop CPU
Price
Intel Core i7-2820QM (2.3GHz quad-core)
$568
Intel Core i7-2600 (3.4GHz quad-core)
$294
Intel Core i7-2720QM (2.2GHz quad-core)
$378
Intel Core i5-2400 (3.1GHz quad-core)
$184
The $2199 15-inch MacBook Pro comes with a 2.2GHz mobile Core i7, the 2720QM to be specific - the CPU itself costs $378. The $1999 27-inch iMac comes with a 3.1GHz desktop Core i5-2400, the CPU here is priced at a much lower $184. The most expensive CPU you can buy in the 27-inch iMac is a Core i7 2600, which Intel charges $294 in 1,000 unit quantities. There's physically more hardware in the iMac, but using desktop CPUs is a no brainer for Apple here.
The CPU lineup is a bit strange:
2011 iMac Comparison
iMac Model
$1199 21.5-inch
$1499 21.5-inch
$1699 27-inch
$1999 27-inch
Base CPU
Intel Core i5-2400S (2.5GHz quad-core)
Intel Core i5 2500S (2.7GHz quad-core)
Intel Core i5 2500S (2.7GHz quad-core)
Intel Core i5 2400 (3.1GHz quad-core)
CPU Upgrade Offered
None
Intel Core i7 2600S (2.8GHz quad-core)
None
Intel Core i7-2600 (3.4GHz quad-core)
The 21.5-inch iMac comes with a Core i5-2400S or 2500S by default. You can upgrade to the Core i7-2600S but only if you buy the $1499 system. Based on iFixit's teardown you should be able to do a CPU upgrade on your own since these are just standard socketed parts. Note that the 21.5-inch iMac only uses 65W TDP CPUs, the S suffix drops base clock speed a bit in exchange for lowering the max TDP from 95W down to 65W. Remember how turbo works, with lots of cores sharing a low TDP the base clock might be low but that means that you've got more room to turbo up when you start powering cores down. Despite the 2.5GHz base clock speed, the Core i5-2400S can turbo up to 3.3GHz with a single core active. The 2500S reaches a staggering 3.7GHz at max turbo.
The 27-inch iMac starts with a Core i7-2500S, but the upgraded model moves to a 95W Core i5-2400 clocked at 3.1GHz. Believe it or not but the i5-2400 can only turbo up to 3.4GHz. Running single threaded applications, the cheaper iMacs will actually be a little faster. There's also a Core i7 upgrade offered here, but again only for the more expensive iMac: Apple will sell you a Core i7-2600 for an additional $200.
Apple 2011 iMac CPU Comparison
2.5GHz Core i5
2.7GHz Core i5
2.8GHz Core i7
3.1GHz Core i5
3.4GHz Core i7
Intel Model
Core i5-2400S
Core i5-2500S
Core i7-2600S
Core i5-2400
Core i7-2600
Base Clock Speed
2.5GHz
2.7GHz
2.8GHz
3.1GHz
3.4GHz
Max SC Turbo
3.3GHz
3.7GHz
3.8GHz
3.4GHz
3.8GHz
Max DC Turbo
3.2GHz
3.6GHz
3.7GHz
3.3GHz
3.7GHz
Max TC Turbo
2.8GHz
3.2GHz
3.3GHz
3.3GHz
3.6GHz
Max QC Turbo
2.6GHz
2.8GHz
2.9GHz
3.2GHz
3.5GHz
L3 Cache
6MB
6MB
8MB
6MB
8MB
Cores/Threads
4 / 4
4 / 4
4 / 8
4 / 4
4 / 8
AES-NI
Yes
Yes
Yes
Yes
Yes
VT-x
Yes
Yes
Yes
Yes
Yes
VT-d
Yes
Yes
Yes
Yes
Yes
TDP
65W
65W
65W
95W
95W
Now let's talk architecture. All of the Core i5s come with a 6MB L3 cache, while the upgraded i7s come with an 8MB L3. The even bigger difference? None of the Core i5s come with Hyper Threading enabled - they are four core, four thread chips. Only the upgraded Core i7s have HT enabled, giving them a total of eight threads. By comparison, all 15-inch MacBook Pros are mobile Core i7s with 8MB of L3 cache, four cores and eight threads. In other words, given the right workload, a high end 15-inch MacBook Pro could actually outrun one of these iMacs.
Hyper Threading only really matters with heavily threaded workloads (video encoding, offline 3D rendering) so I doubt most users would notice a difference, but it's still a shame that the iMac can't claim total superiority over the MacBook Pro.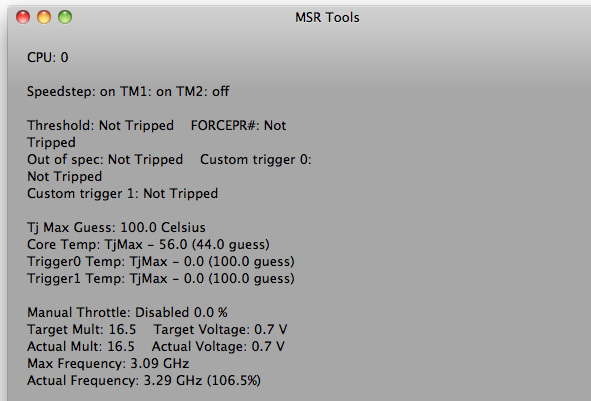 I turned to MSR Tools once again to verify turbo operation. Running a single threaded instance of Cinebench the tools reported a maximum clock frequency of 3.3GHz. Assuming MSR Tools itself is keeping a second core awake, turboing up to 3.3GHz makes sense. I have no reason to believe that Apple is artificially limiting max turbo speeds, at least on the 27-inch 3.1GHz Core i5 model. Given how much room there is inside the iMac to dissipate heat, I don't see any reason for Apple to limit clock speeds here.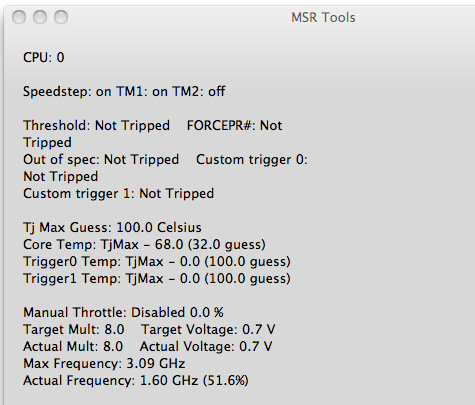 The quad-core CPU idles at 1.6GHz under OS X
Quick Sync is of course one of Sandy Bridge's biggest features and once again it goes relatively unused within the iMac. FaceTime HD supports it but iMovie, which ships with the system, has yet to be updated to take advantage of Quick Sync. If you want to upgrade to Sandy Bridge in order to get better video transcoding performance courtesy of its hardware decode/encode engines, I'd recommend waiting until Apple actually updates its software before making the move to Sandy Bridge on OS X.