Introducing the Lian Li PC-A05FN
If you're willing to shell out the money for them, there are a lot of interesting alternative enclosure designs on the market. Companies like SilverStone, Thermaltake, and Lian Li are happy to sell you more experimental and exotic cases once you get past $150 or so, but what if you want something a little spicier without breaking the bank? At $99 Lian Li has you covered with the new PC-A05FN. There are a lot of good (or at least interesting) ideas at work in the PC-A05FN, but how well do they pan out?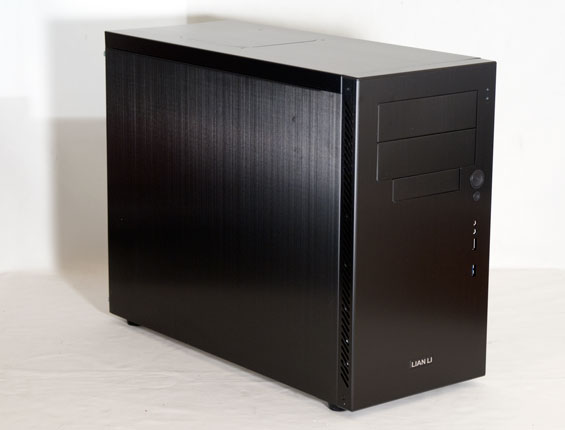 From the outside the PC-A05FN looks like a fairly typical midtower enclosure, albeit one made entirely out of aluminum, but the dimensions are a little unusual. This is a surprisingly short, surprisingly deep enclosure, and one you wouldn't expect to be able to fit a full ATX motherboard. But appearances can be deceiving, and when you pop it open you'll see it's anything but typical.
Lian Li PC-A05FN Specifications
Motherboard Form Factor
ATX, Micro ATX, Mini ITX
Drive Bays
External
2x 5.25", 1x 3.5"
Internal
3x 3.5", 2x 2.5"
Cooling
Front
1x 120mm exhaust fan
Rear
1x 120mm intake fan
Top
1x 140mm fan mount
Side
-
Bottom
-
Expansion Slots
8
Front I/O Port
Power and reset buttons, mic and headphone jacks, USB 2.0, USB 3.0
Top I/O Port
-
Power Supply Size
ATX
Clearance
10.5" (Expansion Cards), 165mm (CPU HSF), 160mm (PSU)
Weight
9.7 lbs (4.4kg)
Dimensions
8.27" x 15.16" x 19.69" (210mm x 385mm x 500mm)
Price
$99
As you can see from the specifications, there isn't that much that seems noteworthy for a basic midtower. The PC-A05FN seems a little shy for hard drive mounting space, but not that many users need more than three 3.5" drive bays, especially with how frequently people are using SSDs now; we have space for two of those as well. Something unusual should catch your eye, though: the PC-A05FN has flipped the traditional airflow design. Instead of taking in cool air from the front and exhausting hot air out of the back, Lian Li has opted to bring cool air directly into the CPU heatsink fan and then blow it over the hard drives out of the front. It's definitely a shift in priorities.