Assembling the Antec Eleven Hundred
Though it may share the DNA of Antec's Performance series, the Eleven Hundred is thankfully far easier to assemble than many of its predecessors were. Antec's engineers took care to make sure the Eleven Hundred was easy to work in, and by and large they were successful.
The motherboard tray comes with standoffs preinstalled, but not so tightly that they were impossible to remove and move around for our Micro-ATX test board. Our I/O shield also snapped easily into place, and the board took just the right amount of pressure to line up and install.

Just about every peripheral and other component was easy to install, too. The optical drive is installed by first popping off the front fascia of the Eleven Hundred (easier done than said), then twisting out the metal place holder. Apply a healthy amount of pressure, and the optical drive will pop into the toolless mechanism and lock into place with very little wobble (the wobble-wary can also use screws to secure the optical drive). 3.5" drives are just as easy; the rails Antec uses snap into the sides of 3.5" drives. These rails are simple to install and remove despite being remarkably secure while in place. Finally, 2.5" drives slide into a dedicated cage just above the 3.5" drive cage. They're secure enough there, but I'd probably think twice about using a mechanical drive; this cage was clearly designed for SSDs with no moving parts, as there's definitely some wiggle room.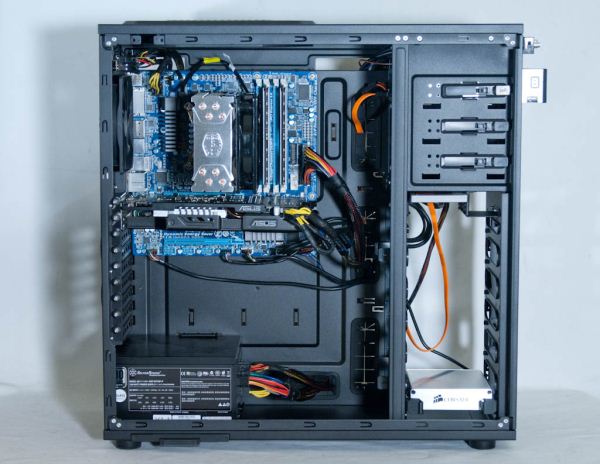 Expansion cards are installed by removing thumbscrews and ventilated expansion bay covers; slot the card in, then replace the thumbscrews. Finally, the power supply is bottom-mounted and as long as you use a unit that's 180mm or shorter, there's access to a hole in the tray for routing cables behind the motherboard.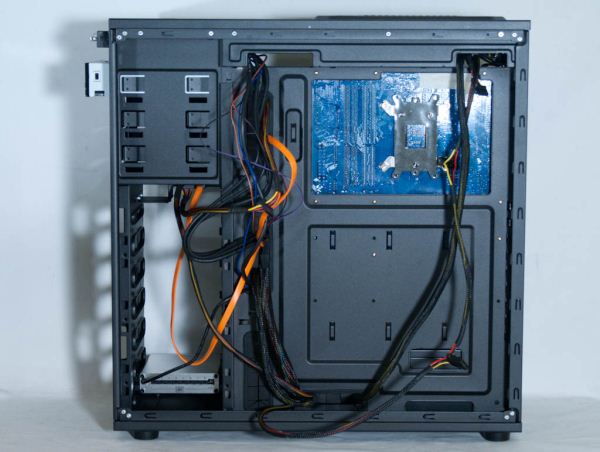 It's mostly very easy to route cables in the Eleven Hundred, but the 2.5" drive cage design continues to be somewhat problematic. Simply put, the back of the drive isn't deep enough and the cage design isn't secure enough to make cabling the 2.5" drives as easy as everything else is. This is probably the only black mark on the cabling design of the Eleven Hundred; the case fans get plugged into a molex-powered hub that has four three-pin headers on it. There are a few gripes I could make about the hub, but it's nonetheless a convenience that I appreciate. I just wish four-pin molex would die already; would it be that much harder to replace this with a SATA power lead?
All told, though, complete assembly of the Eleven Hundred is very easy and probably the equal of any Corsair enclosure in that regard. This might actually make a good beginner enclosure, as it's pretty simple to put together but has some room for a burgeoning enthusiast to experiment with assembly. My only real complaint is that you can't mount a 240mm radiator to the top of the enclosure; theoretically you could put one in the interior front or even on the left side panel, but not in its usual home. I don't see this being a major issue for most users, but it's worth pointing out.