Introducing the Corsair Vengeance C70
Corsair has had an excellent run as a case designer, showing growth with each new enclosure by adding some features, subtracting other ones, moving things around, and generally continuing to experiment. The Obsidian and Carbide lines in particular have shown healthy progress, but today Corsair launches a fourth line under their popular Vengeance gaming brand: the Vengeance C70.
While the exteriors of the Obsidian and to a lesser extent Carbide cases have all been fairly austere, the Vengeance C70's target is pretty clear: they're going after gamers. Thus far, products in the Vengeance market have generally been of high quality and haven't been particularly ostentatious, but the C70's external design is an unusual step for Corsair. Is the C70 as a whole part of Corsair's continued evolution as a case designer, or is this their first major misstep along the way?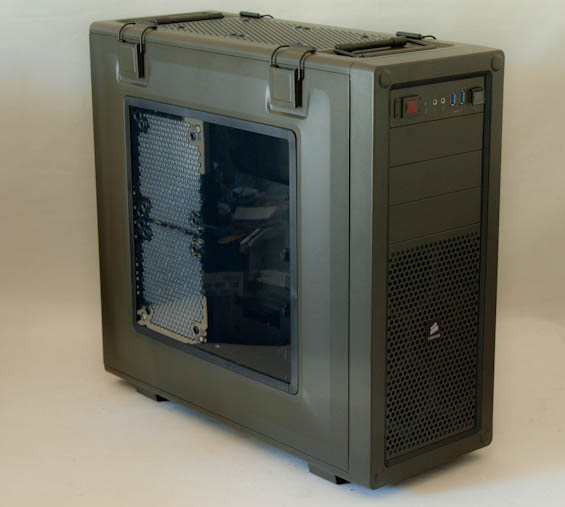 For the first time since I've started reviewing Corsair's cases, I'll admit I experienced trepidation when I saw the press materials for the C70. Military green? Handles on the top? Industrial-style power and reset buttons? This wasn't the Corsair I knew, the company whose most ostentatious design so far was the Carbide 500R (or, arguably, the well-received Graphite 600T). Sure, the C70 is available in white and gunmetal gray (a personal favorite) as well, and the interior is vintage Corsair, but it still feels to me like an odd bird in their lineup. Before we get to the detailed analysis, we'll start with the regular specs table:
Corsair Vengeance C70 Specifications
Motherboard Form Factor
Mini-ITX, Micro ATX, ATX
Drive Bays
External
3x 5.25"
Internal
6x 3.5"/2.5"
Cooling
Front
2x 120mm intake fans behind drive cages; 2x 120mm fan mounts
Rear
1x 120mm exhaust fan
Top
2x 120mm/140mm fan mounts
Side
2x 120mm/140mm fan mounts
Bottom
2x 120mm/140mm fan mounts
Expansion Slots
8
I/O Port
2x USB 3.0, 1x Headphone, 1x Mic
Power Supply Size
Standard ATX
Clearances
HSF
170 mm
PSU
180 mm
GPU
12.5" / 320mm
Weight
???
Dimensions
19.72" x 9.13" x 20.98"
501mm x 232mm x 533mm
Special Features
USB 3.0 connectivity via internal header
Toolless side panels
Support for up to 11 fans
Carrying handles
Removable drive cages
"Military Green" finish; also comes in "Gunmetal Black" and "Arctic White"
Price
MSRP $139
On paper and without seeing the case, there's not a whole lot that stands out with the C70. The one area that looks unusual is the sheer number of fan mounts available. While testing the Vengeance C70, the enclosure that remained fresh in my mind was the Corsair Obsidian 550D, their case engineered for silence. In terms of expansion and cooling potential, the 550D isn't actually all that different from the C70; with the C70 you lose a 5.25" external bay but gain three fan mounts, which would be more impressive if the flexible 550D wasn't already capable of supporting eight. That owes to Corsair's positioning the C70 as a potential go-to for watercooling, with two different places to mount 240mm radiators. Indeed, all of their review materials present the C70 with Corsair's own H100 closed loop liquid cooler installed. We didn't have a watercooling kit for review, unfortunately, so we're looking at the C70 primarily as a typical desktop chassis.