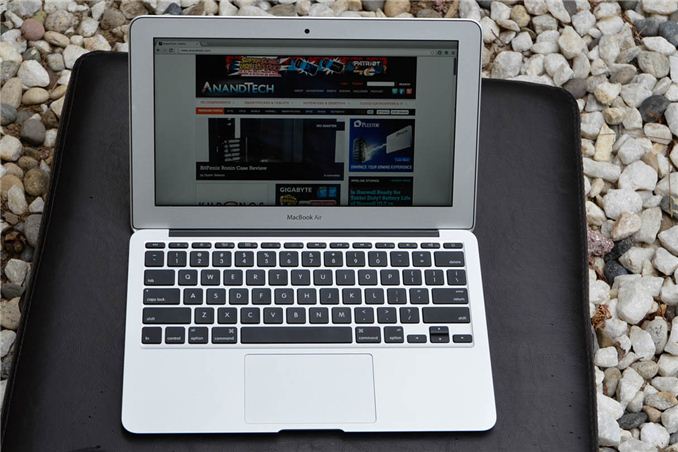 When Apple launched the second generation MacBook Air in late 2010, I was definitely more interested in the 11" model. It was nearly as small as the iPad, but as a full notebook it was considerably more useful. At 2.3lbs, it wasn't even that much heavier and the $999 pricetag made it the least expensive mobile computer in Apple's lineup. It wasn't really perfect: the base SKU with a 1.4GHz Core 2 Duo ULV CPU and 2GB of memory seemed painfully inadequate at the time, the 5 hour battery life wasn't great (the 13" Air was rated at a much better 7 hours), and $999, though cheap by Apple notebook standards, was a lot to justify spending on roughly year-old specs. Needless to say, I bought one. (Jarred's thoughts at the time: "It has an Apple logo on it, so of course you bought one!") And then I returned it. It was just unbearably slow
The base 2011 model having only 2GB RAM was basically laughable, and the standard 64GB SSD got a whole lot more indefensible as time went on, but the experience was significantly improved by the switch to modern microarchitectures in the newer 11" Airs. But even so, the 13", with its higher screen resolution, 16:10 aspect ratio, and larger battery, seemed to be the way to go, especially after the price dropped to $1199.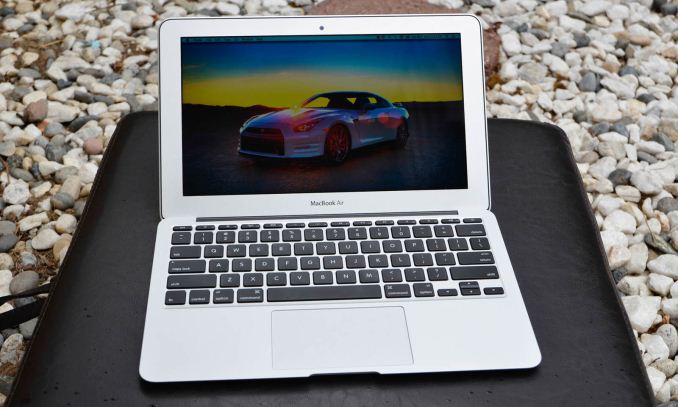 For 2013, the entry level 11" and 13" SKUs have the same basic specs: 1.3GHz Haswell ULT processor, 4GB LPDDR3, and a 128GB SSD. The price difference has dropped to $100, with the 13" falling to $1099—making it feel like a way better deal, considering the extra battery life (12 hours versus 9 for the 11") and larger, higher resolution display. And honestly, the 13" is not only a more usable primary computing solution, but also a better computer overall, so I'll just get that part out of the way first. I will say though, it's far easier to recommend an Air 11" now that the base model has the 4GB/128GB combo I'd consider the minimum for any ultraportable computer. It took a few years, but it finally became possible to recommend the base 11"er without any caveats. Where the 11" Air becomes really interesting though is when you stop thinking about it in terms of its larger sibling, but in terms of the iPad.
2013 MacBook Air Lineup
11.6-inch
11.6-inch (high-end)
13.3-inch
13.3-inch (high-end)
Dimensions

H: 0.11-0.68" (0.3-1.7cm)
W: 11.8" (30cm)
D: 7.56" (19.2cm)

H: 0.11-0.68" (0.3-1.7cm)
W: 12.8" (32.5cm)
D: 8.94" (22.7cm)

Weight
2.38 lbs (1.08kg)
2.96 lbs (1.35kg)
CPU
1.3GHz dual-core Core i5-4250U
GPU
Intel HD 5000
RAM
4GB LPDDR3-1600
SSD
128GB PCIe SSD
256GB PCIe SSD
128GB PCIe SSD
256GB PCIe SSD
Display Resolution
1366 x 768
1440 x 900
Ports
Thunderbolt, 2x USB 3.0, headphone jack
Thunderbolt, 2x USB 3.0, SD card slot, headphone jack
Networking
2x2:2 802.11ac
Battery
38 Wh
54 Wh
Price
$999
$1199
$1099
$1299
Not only is the Air 11" dimensionally similar to the iPad, but now with Haswell it has roughly equal battery life too. And given that there's just a $200 price difference between the 128GB iPad and the 128GB Air 11"—$100 if you factor in the cost of an iPad keyboard—it's really something to think about. Sure, the iPad has a better display and is touch capable, but this is a real computer. It's just as easy for me to carry the Air 11" as it is for me to carry the iPad, it even fits into the iPad pocket in my backpack.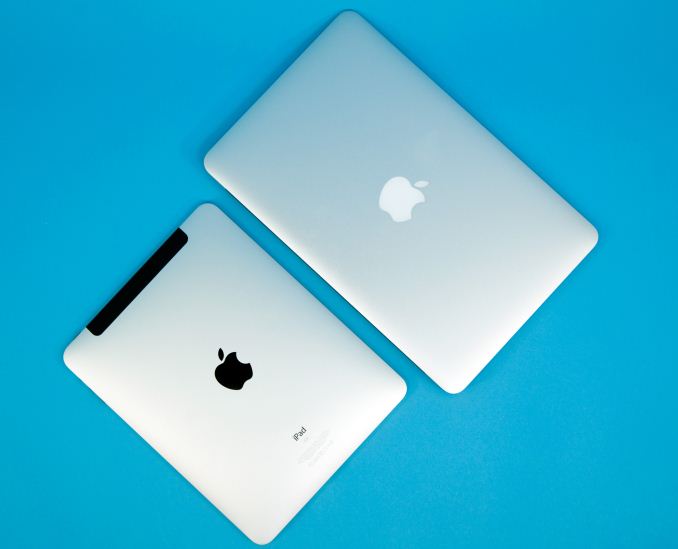 The images Anand took for the first 2010 Air review keep coming back to me—the size difference really isn't that much. The current iPad is thinner and lighter than the first gen that we had back then, but not by much, and the footprint hasn't changed at all. Other than the extra 2.3" in width and few hundred grams in weight (it's just under a pound heavier), the two are pretty similar. The depths are within a quarter inch of each other and the average thickness of the wedge-shaped Air is essentially the same as the constant thickness of the iPad. So this form factor with this battery life and these specs—does that make the 11" Air compelling enough to justify buying instead of the 13" or another PC notebook in this class?
Hardware
We're really familiar with this generation of MacBook Air. This is now the fourth generation using this chassis (C2D, SNB, IVB, now Haswell) and in that time, not much has changed. The Air family added Thunderbolt and backlit keyboards in 2011 and moved to MagSafe 2, USB 3.0, and HD webcams last year, but other than that, this is externally essentially the same computer it was back in 2010. This year, the Air gets a second microphone hole in the left side. For reasons unknown, the listed weight for the Air 11" changed from 2.3lbs to 2.38lbs between 2010 and 2011, but has stayed constant at the latter in the generations since.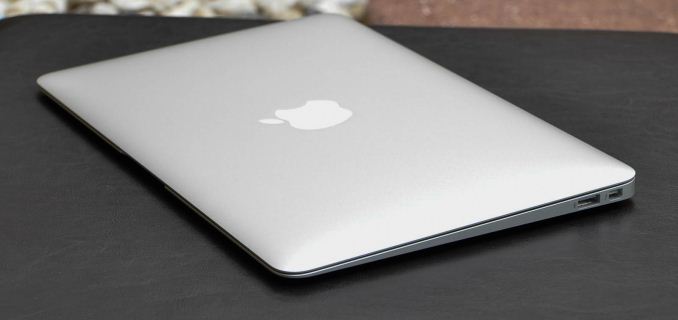 The chassis is still phenomenally thin and very well put together, with a pleasing simplicity and extremely compact dimensions all around. The keyboard and trackpad are still the best on the market, and it's awesome to note the uniformity of Apple's keyboard from the 11" Air through the rest of their larger notebooks and the wireless keyboard that ships with the iMac. I don't understand how nobody else has figured out how to make a buttonless trackpad as good as Apple's at any point over the last five years. Over the last few years, I've been tempted to buy a Mac more than a few times just because of how good the input devices are. It's legitimately an advantage that Apple holds for their entire notebook lineup, one that is very critical in a smaller notebook like this one. There's not much in the way of port selection, but that's actually not too big of a deal. Perhaps after years of living with ultramobile systems, I've learned to make do with just two USB ports and a video out, but it's honestly good enough for this class of notebook.
There's a lot new on the inside though. In addition to Haswell ULT, Apple has pushed the envelope and gone for PCIe SSDs and 802.11ac. Considering the other innovations Apple has brought to the mobile computing space over the years, it's probably not that surprising that they were the first to get ac and PCIe storage into Ultrabooks. Sony has since also started shipping a set of similar systems with PCIe SSDs in their VAIO Pro Ultrabook line, and I'd be very surprised if many of the other high-end Ultrabooks set to launch later in the year don't have at least one of those two things.
Anand has covered the different Haswell ULT parts used in the Airs pretty in-depth so I'm not going to go into too much detail here. The base model Air 11" that we're looking at today has the i5-4250U, a 1.3GHz part with max turbos of 2.6/2.3GHz (1C/2C) and Intel's HD 5000 onboard graphics with a max GPU clock of 1GHz. The i7-4650U is a $150 option and bumps base clock to 1.7GHz, turbo to 3.3/2.9GHz (1C/2C), and GPU max to 1.1GHz. I typically don't go in for Apple's upgrade pricing, but this is actually pretty reasonable given the performance increases involved. I think I'd be more tempted to go for the upgraded CPU in a 13", simply because I'd want to eke every drop of battery I could get from the smaller notebook. The battery has been upsized, now to 38Wh from the previous 35. It's still a fair ways behind the 13" in terms of battery capacity though; the 54Wh battery in the larger unit represents a 42% increase in size that more than offsets the display-related power consumption delta.