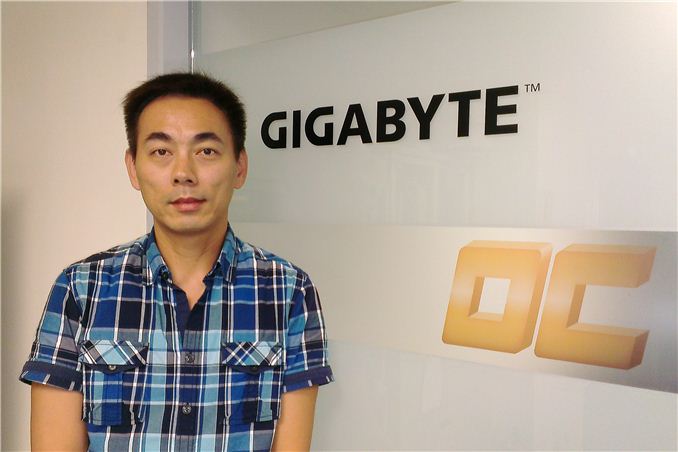 Interview with Jackson Hsu,
Product Management Director at GIGABYTE
As part of our trip to Computex this year, alongside a good look around the GIGABYTE Taipei 101 VIP Suite and the GIGABYTE OC Lab, we were given the opportunity to interview Mr. Jackson Hsu, Deputy Division Director for the Motherboard Business Unit at GIGABYTE – or as Jackson more accurately described in our interview, 'Product Management Director'. Jackson is the glue that binds the different areas of GIGABYTE together – research/development, sales, marketing, QA and so on, and thus whatever ideas that each department has for new product designs, each element that needs communication between segments goes through Jackson.
I would like to thank Jackson and GIGABYTE for the interview, especially as English is not Jackson's first language.
Ian Cutress: Hi Mr. Hsu, many thanks for agreeing to this interview with AnandTech.
Jackson Hsu: No Problem!
IC: To start, can you tell us a little about yourself?
JH: My name is Jackson Hsu, and my business card tells me I am 'Deputy Division Director', but sometimes it is not easy to translate the position from Chinese to English - I am in charge of the Product Management Team (to be simple), and more on the R&D side.
IC: How long have you been in this position?
JH: I joined GIGABYTE in July 1999 (14 years) as an FAE (Field Application Engineer) for six years, where I was handling channel and OEM customers and in charge of the FAE team for 3 or 4 years before transferring to the PM (Product Marketing) team and my current position. So about half and half!
IC: What history (academic and career) has led you to your current position?
JH: I spent a year in Mechanical Engineering at university, before switching to Electrical Engineering in the second year. I then served in the Taiwanese military after university for two years, before joining FIC for another two years in the notebook R&D team – validation of panels, hard drives, batteries etc. And then I joined GIGABYTE.
IC: Can you explain a little about your position at GIGABYTE?
JH: My position involves ensuring good communication between sales, R&D, marketing, customers, media, production and power users.
IC: So you are the head that talks to all these parts?
JH: I am more like a bridge! So when I get Sales feedback such as 'we want this product', I make sure that R&D know exactly what sales require, and when. There is a lot of back and forth and I make sure that the communication goes smoothly. I sometimes speak to the factory on the production side, but only if there is a problem or some quality issues or special testing on models.
IC: Can you describe a typical day?
JH: Meetings! Meetings and meetings and meetings.
IC: Is that meetings between departments to make sure everything goes smoothly?
JH: Absolutely - meetings with sales, R&D, or the boss! It is all about products.
IC: Do you have a chance to personally influence new products coming to the market?
JH: I think I do, but I have the chance to explain in detail to both sides (sales/R&D) about how features should benefit. Say for example Sales has a good feature, and if I think it is good, I need to persuade R&D that it is good as well. But when I get feedback from media and power users about certain features, I will talk to all sections if it is possible. Of course I always report back to top management for the final confirmation.
IC: How do you deal with ideas from Sales, Marketing, R&D, etc.?
JH: A lot of ideas come through from sales due to speaking with customers and getting feedback on previous ideas. Also when sales are dealing with customers and the customers note that competitors have beneficial features then it all flows back through the system if we do not have it. Power Users and Media who manage to test a large number of products and features from all companies also come back with what they think are the best features. On the vendor side (Intel, AMD, Component IC manufacturers) also come to us with their roadmaps about upcoming components and new features which we then have to decide whether a user might want them. The R&D guys also have their own ideas which get passed through to marketing and sales to see if they will sell. If you take the OC boards from this year – it is all HiCookie's ideas! He is experienced, and it helps that both R&D and sales both trust him. I have to double check to make sure this is exactly what he wants!
IC: A lot of sales is getting feedback from system integrators and end-users. How much does end-user feedback get into the development process?
JH: If many users feedback the same issues then it is easy – it is all a question of numbers. If it is feedback of a specific feature then we ask each division to look at it; it is not just one person or one department that makes the decision. We will all meet to see if it is a doable idea or a crazy idea – it might be possible at a later date but generally several departments will offer their feedback. Sometimes sales does have the pressure of the cost even if it is a good feature, so there is always fighting between various departments.
IC: In terms of platform roadmaps, when do you start looking at that next generation of products?
JH: Generally we start looking about a year before. We started working with Haswell over a year ago, and Intel was good to provide plenty of information well before the launch such that we were able to study the materials and the specifications. We were also making CRBs (Customer Reference Boards) for Intel so that helps us experience the new platform a little earlier.
IC: Could you break down those twelve months in terms of product design, planning and production?
JH: Working backwards from the launch and using the 8-series as an example: we need to get the motherboards in the channel for stocking, and a large portion of that is when the component vendors supply the ICs such as chipsets. For example if we get the chipset two or one month early, then we need to get all the materials before that. We will probably get our materials ready by April (two months before launch). That means all the materials will be in the factory by that time (VRMs, PCBs, Heatsinks etc). If we are able to do it by that time this means that all the validation is finished for base production – the lead time for this is 4-5 weeks, and then one week for production. This means that by early March all the design validation has been completed. At that time everything should be closed in terms of hardware/product segmentation and hardware validation – of course the BIOS and software can still be updated. Counting back from March, we go into a normal EVT/DVT cycle – first engineering samples and second engineering samples, so the design cycle should take 4-5 months (starting back in October/November) but sometimes we can be rushed, such as the C1/C2 issue.
IC: Does that mean you have to revalidate everything on C2?
JH: Everything on the chipset has to be revalidated. The discussion the number of SKUs and specifications is then performed earlier, most likely in the September/October timeframe. In order to discuss all that, Intel provides information a lot earlier, so we will study all the documentation during 12-18 months before the launch.
IC: So in terms of Ivy Bridge-E, you will be doing final validation about now?
JH: Ivy Bridge-E has the benefit of being the same socket as Sandy Bridge-E, so we normally revalidate the CPU and BIOS, making sure the drivers work. The new BIOS and material should be going onto the website when we are allowed to. If we have a new SKU it would only be a couple of models, nothing as large as the 8-series.
IC: Say you get a request from a specific market - for example China wants a motherboard for internet cafés and they want 10,000 units. What happens then?
JH: In that situation we will aim to provide. Take for example our 8-series this time around – at the time of launch we have 33 models. You can imagine that not every country is buying every model of motherboard! So each market will pick what they want and what they need, or they will ask for specific features when we are designing our motherboards (for example iCafe). For example some Latin America customers and European customers are getting this treatment.
IC: In terms of goals for GIGABYTE after the launch of 8-series – I hear that sales figures with ASUS are close, and with the motherboard market predicted to shrink in 2013. Where does GIGABYTE want to be in the next 12 months/5 years?
JH: For the next 12 months it is easier to say – we want to get more market share in the mainstream and high end markets. For the 5 year prediction, we need to compete with others in the growing segments such as notebooks and tablets, so we need to make our products more attractive. We need to help people see that PCs are still required – for example, for us the tablets and phones are getting more shares, and users need the PC at home for a data center/ synchronization. We need to make our products more 'easy to use', which is a big goal that everyone is trying to figure out how to do it, especially from our background as a motherboard component manufacturer we need to learn how to provide more than just a motherboard.
IC: What recent GIGABYTE innovations have particularly pleased you?
JH: Speaking about the 8-series, we tried mainly to improve the user experience. As an example the OP-AMP technology is not from GIGABYTE – it is already there in the HiFi market. I believe that it has been done before in that market, but we studied it and looked more into a solution that is easier for users as well as more beneficial. Take for example the audio solution we put on the gaming motherboards on Z87 - we will soon provide the same solution on B85, H81 and A85X. We will be pushing such features down from the high-end to the mainstream and even to the entry because we think it is such a good feature that our customers will be able to pick their choices at various price points. The good thing that we do is that we learn from others and change the combination a little bit and then we make it better. Take for example our Gaming Series motherboards – we are using the best Creative Sound Core3D which we have used before. The entire design path to the OP-AMP and audio capacitors and the audio ground protection to the golden plated shield and audio jacks – the whole path is taken care of. So some power users asks 'Why you don't put that AMP in the front audio path?", but we found it is very difficult to control the front audio cable which is bundled in the chassis, and we cannot control the quality of that cable to we cannot guarantee the best experience so we focus on the rear audio. We know it is not the easiest to use but by using it we can guarantee the experience. Perhaps the next step is trying to figure out a way to improve the front panel audio situation! What I mean is that we see every segment along the path and try and find a way to make it better.
The second thing is on the OC boards - all the features are designed to make overclocking easy, and thus making the user experience better. Also our software and BIOS has had a big change – we unified the UI, the color scheme, the layout is very similar and we are making our first GIGABYTE apps so that the customer only has to install one main program and the system will auto update. We know it is not perfect yet but it is all about user experience.
IC: In terms of GIGABYTE's current product stack, what do you feel you would want promoted more? What needs more of a big push into a product win?
JH: We try and put more effort into gaming platforms, such as the expansion of our G1 series down into the lower price brackets to see if our customers enjoy it. That seems to be a major target for us this year. But the whole 8-series is still our major focus – we like to talk about gaming and the OC series, but we also improve our classic (channel) series in terms of user experience such as fan control, fan headers, power delivery. If we get an idea for a new feature that is not cost-sensitive then we try and apply it across our product line.
IC: What innovation should GIGABYTE is looking for in the future? I know you can't tell me about anything secret you have down in R&D, but in a market where innovation seems to grab sales, it would be good to hear your thoughts.
JH: I think one of the most important features should be how we connect our products to the high volume selling products in technology, such as smartphones and tablets. That is one direction to look at but it is not easy – how do you figure out how to create a feature that makes a user's life easier? But then of course we have to focus on performance and user experience. Our goals are always towards both performance and user experience.
IC: In terms of the market, do you think there is a gap that GIGABYTE should be moving into?
JH: I think the market is pretty mature, but it is just a matter of how 'good' the product is.
IC: A few of our readers interested in the computer industry are still at school. Say for example you are a high school student, and you wanted to work in the tech industry – what experience should this age group be doing and would it best to study in Taiwan as well as learning Chinese?
JH: It is important to understand there are many different features in the tech industry – such as sales or R&D. At this age it the student might not know exactly what they want. But in the PC industry you need to know about PC technology – you need to know the trends and you need to know how to work with the components. The more knowledge you have, the more beneficial to the industry you are. If you want to hire a freshman out of college, then if he has more knowledge on the technical background it will shorten the training time on the technical side. The personality and the attitude of the individual is also important – they have to be willing to learn rather than focus on earning money. I know for the first few years that ambition is always important. Studying in Taiwan is not necessary – for example I did not study in Taiwan.
IC: If you were not working at GIGABYTE, where would your preferred place of employment be?
JH: Good question, I couldn't tell you! If I was not in the PC hardware industry, perhaps Google! A company that is always expanding and innovating would be good.
IC: For your position at GIGABYTE, do you work a typical 9-5, or does it involve evenings and weekends?
JH: It can be both. My working day is often full of meetings, so you do not have much time to reply to emails or write reports. So during evenings and weekends I spend some time to catch up on the administration.
IC: How often do you visit Guang Hua (the Taiwan Computer Market)?
JH: I visit regularly, though more often for investigation. I was there last weekend checking to see how GIGABYTE was selling compared to other 8-series motherboard manufacturers. I would ask regarding specific models and how frequently GIGABYTE was chosen for new computers.
IC: To what extent do you take your competitors' products apart for analysis?
JH: We take their products and pass them through every department, and they will make up their reports. We then have a general meeting with sales and we find the good and the bad from the competition and then we discuss whether to integrate the good features or discuss whether we have the same issues as them. We also do that non-motherboard products as well, such as tablets, smartphones, notebooks, NAS, etc. in order to get a feel or to see if there are any ideas already in the market.
IC: How good or bad is the staff turnover in your division?
JH: One thing we find is that even if someone leaves, eventually they return! People do move internally around the company – we get people from the PM move to sales or vice versa. We do not interview that regularly as the team is currently very stable. We currently have two guys from my team moving into sales, for example. In order to replace them we are interviewing both inside and outside the company, but for product management personnel in my team they have to know a little bit about every part of the design process and the company. Therefore it would be best to hire from within the company means a shorter training time rather than hiring from outside or hiring fresh out of college. It always depends on the person though and what direction the division has to take – if you hire fresh out of college then you attempt to build a long term team. If you have a job that needs to be done quickly then hiring with experience is more beneficial.
IC: What influence do the media have on your position?
JH: It is not so much influence, but we like to discuss what you think we do wrong and what you think we do right. It is all about feedback. It is always a back and forth sometimes discussing with media why we took some decisions over others but also on the feedback of those decisions.
IC: How do you see the different departments in GIGABYTE progressing? Such as VGA, Server and Peripherals?
JH: In terms of our VGA team they are doing quite well, gaining market share in the high-end and mainstream segments. On the server side, we know that they are not big in volumes, but they are very specialized in a lot of different products – for example the BRIXis from the Server team which is a specialized bit of kit. I am not too sure how the peripheral side is doing as they are not on the same floor in the HQ! But I know they are being more aggressive, and it is important to focus on lots of different product lines so that users have choice, and we encourage people to have more choice. For example many Chinese media say that tier-2 and tier-3 motherboard manufacturers are finding it quite hard because there is enough competition. We would like more manufacturers in the motherboard market for example in order to keep the market healthy.
IC: And finally – what has been your best day working at GIGABYTE?
JH: Haha! The recent one for me was when I was told by sales that our first production run of the Z87X-OC all sold out. As a result system integrators and our customers want to order more, so our estimations were too low and it bodes very well for the development of this type of product. It all comes down to HiCookie providing his experience and defining the product.
IC: Many thanks for the opportunity to interview you Jackson!