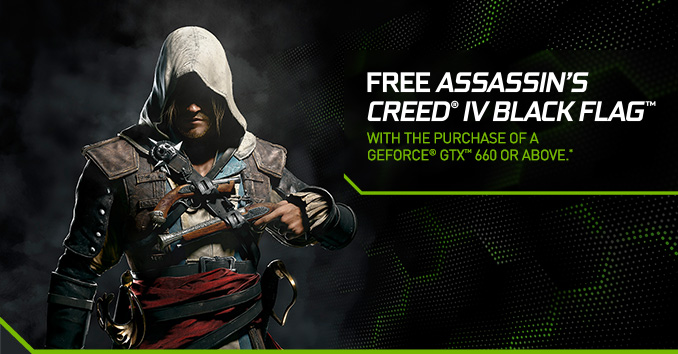 With NVIDIA's previous holiday 2013 GeForce bundle having expired with the end of the year, NVIDIA has announced that they will be running a winter 2014 bundle to replace it.
The new bundle will be a simpler bundle, composed of Assassin's Creed IV: Black Flag and a SHIELD discount. With the winter game release lull upon us, Assassin's Creed IV remains NVIDIA's flagship game under The Way It's Meant To Be Played program. This bundle will be for the GTX 660 and above, and is scheduled to run until February 28th.
Meanwhile the SHIELD discount is similar to the discount that was in NVIDIA's holiday bundle, with NVIDIA offering a $50 discount on SHIELD when purchased with a qualifying GeForce card. After a series of temporary price cuts, SHIELD itself has now had its price permanently reduced to $249, which brings the final price down to $199 when purchased as part of NVIDIA's latest promotion.
NVIDIA Winter 2014 Game Bundles
Video Card
Bundle
Shield Discount
GeForce GTX 760/770/780/780Ti/Titan
Assassin's Creed IV
$50
GeForce GTX 660/660Ti/670/680
Assassin's Creed IV
$50
GeForce GTX 650 Series
None
None
GeForce GT 640 (& Below)
None
None
Finally, it's worth noting that NVIDIA has discontinued their free-to-play bundle for the GTX 650 series, opting not to replace it. This leaves the GTX 660 and above as the only cards receiving a promotional bundle from NVIDIA at this time. This latest bundle should keep NVIDIA fairly even with AMD is the $150-$250 space, where AMD has their own Never Settle Forever Silver/Thief promotion going. Meanwhile above $250 this bundle further strengthens NVIDIA's hand at this time, given the significant price advantage NVIDIA holds against the Radeon 280X and above due to Cryptocoin Mania.
Source: NVIDIA