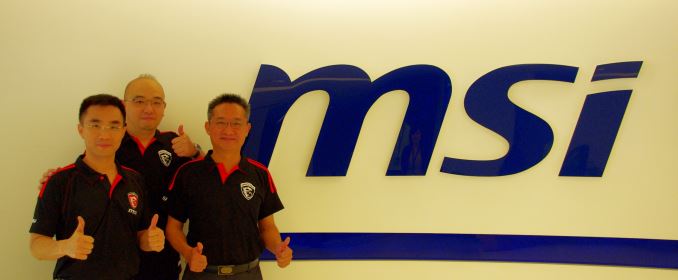 On the left is Ted Hung, the VP of Motherboard Sales based at MSI's headquarters. In the middle is Andy Tung, a long time contact of AnandTech who is deep into the MSI structure and the President of MSI Pan America. On the right is Charles Chiang, the Corporate Executive Vice President and General Manager of the Desktop Platform Segment business unit. The interview was split into two halves, with Charles in the first half (previous page), and Ted in the second half (this page). Andy was present throughout.
Part 2: Ted Hung and Andy Tung
Ian Cutress: How do reviews change the way you consider the next generation of motherboards?
Ted Hung: I think it's quite positive to us and your readers. Internally we get to see a different point of view, especially when we have our own thought about the products and branding. I think it is good to get different opinions from time to time so we get to improve for the next generation. I think it is very important, and a lot of times it helps raise the user's reactions.
IC: Are you ready for Skylake? Do you have any idea of how many motherboards you will launch?
TH: I think in total we have or will have more than 40 models. At least 20 of those for the Z170 chipset, with price points from $100 to $130 and $200, and then a small number of high-end products. For those, you are moving into the high end desktop platform arena, so it depends on the exact match the user wants.
IC: Have there been any issues when it comes to designing Skylake motherboards? Cost, or different factors?
TH: There is some change in the power structure, so that means we have to add in more power phases on the motherboard. But we kind of see that it also allows better overclocking ability with Skylake, so it should be a good user benefit. So something like a 12-phase system will be more accomplished. On top of that there are some new features implemented in the Skylake motherboards. The most obvious one will be USB 3.1 which we see is two times faster in transfer speed (than USB 3.0). There will also be an improved audio effect which will help for gaming. So for example, we have some of the new features (USB 3.1) already implemented on some X99 motherboards. We have similar things on Skylake.
IC: On networking, MSI has been a long time partner with the Killer brand. We saw Realtek release their gaming networking called Dragon. Have you looked into it?
TH: Our product managers certainly have. I think in terms of product design or segmentation, we kind of see they can be for a different usage scenario. So for Killer, I think it is well known for gaming and prioritizing gaming traffic. And for example, the Intel networking is pretty stable and that works for us as well for quality. So I think some of our industrial motherboards, for example the ECO motherboards, might use Killer or Intel. These offer good price performance depending on the scenario.
IC: Speaking of the ECO motherboards, you launched those in 2014 and we reviewed a trio of them. How has the ECO line performed?
TH: It started as a small project, so it is not huge comparing to total sales, but it is slowly increasing. We see it as more for specific customers that are working on SMB projects or some other server customers are interested in this and we've been approaching some customers who are working on data center projects. It looks quite interesting because the two major selling points are low power consumption giving no-compromise on performance and the other one is security. These are more important for our commercial customers and it takes time for them to adapt.
I think it is very important for MSI to be consistent in developing such products. It is not just delivering a product with slightly different features than the regular motherboard, but also in terms of service and the lifecycle of the product, because that is what the commercial customer cares about.
IC: Will we ever see an X99 ECO?
TH: Not so much X99, but definitely Skylake.
IC: MSI's overclocking range is called 'OC Certified'. What do you feel about the state of serious overclocking in the market right now – is it growing or shrinking?
TH: From our side, we don't see it increasing, but it is also not really dropping. I think there are specific end-users and customers in the market for this and their behavior is similar in every generation. They want to try it. So to us it is actually quite stable. We have a number of extreme overclockers on staff (Toppc, Pepinorang, Benchbros), some in HQ. These are people we work with very closely in terms of fine tuning our motherboards or help us to participate in some overclocking activity on the program side. MSI has good performance, and we recently took several records. We got DDR4 up to 4400 MHz, on our XPower X99. So we continually invest in the overclocking motherboards despite the sales being quite stable. We believe by working with all these overclockers we can make our product better for our target audience.
IC: What are your thoughts on Mini-ITX motherboards on something like X99?
TH: We don't really have this model yet, but actually at this moment I don't see a big market for it. Our thought is that X99, six-core, eight-core and DDR4 is for high performance. Normally the product is also bigger for memory, so we think that ATX is more optimum. That's how we see it, but for sure there will be a market for micro-ATX and mini-ITX. But our idea for X99 is to make sure that our product can be enjoyed by the majority of the market. Perhaps in the second wave we will fragment more and try some new things.
IC: Intel released the SSD 750, and with it the SFF-8639 or U.2 connection. What do you think about it as a form factor?
TH: We think that it is actually a significant performance increase, so there will be certain industrial customers interesting in it. But I believe also for the hardcore gamer or overclocker then they will see a benefit of the increased performance. The SSD 750 is very stable, and we support the brand – we work with Intel to promote it, and it could be interesting for the new technology with more drives in the market.
IC: With the X99 GODLIKE Gaming model, the super high end one, you have lots of LEDs that flash and controllers that enable Bluetooth support. Is that a feature that will come down to other motherboards?
TH: Yes. We see that the lighting effects have a trend, especially with a lot of accessories. I think that the PC desktop is now becoming more charismatic based on your character and personality. That is why we think in terms of the motherboard, it also needs to match the location and the total PC environment. I think the GODLIKE is actually the best example of this, and the colors can be adjusted to the design of other components. So we think this could be a trend for desktop PCs and that is why we are also concerned about how we can implement some different price points.
IC: MSI also has the Krait Edition, with whites and blacks, and there has been a good response because the color combination worked. Do you have plans to give more color combinations?
TH: With Krait, we wanted to have a clear identity with black and white. Actually, we did surveys online on our website and on social media. We get lots of feedback on it, especially as preferences are different from region to region. Actually from US, EMEA or APAC, our statistics say that black and red are still the majority favorites for all regions. Part of that is because of the ecosystem has lots of black and red. That is why we kind of moved into make black and white because we think people also want something new and different. But it is also about ecosystem, so we see also a lot of changes to memory for color, and we continue working on different options so we think that is also what combination gets the best option for more characteristics and personality. I think we will be working closer with our partners, even bare components, because we believe this has to be a joint effort to make a specific color scheme. But before that, what we are trying to work out is the best way to do this – with lighting you can adjust to any color which makes it attractive.
IC: With AMD launching Zen in 2016 and new CPUs with new memory, have you been working with them on the motherboard side yet?
TH: Not yet, we think it might be later in 2016 so we will start discussing motherboards in early 2016. It is actually up to AMD, but I think at this moment they are not complete with final details for the motherboards yet. But we actually also look forward to that, because we believe the new generation of products will enhance performance with the new architecture and new features. So for sure we have to work closely with AMD to make sure the design is good. We know some details, but not fine detail.
IC: How about when there was talk in 2013 that Intel was going to go BGA only (soldered down parts, non-socketed). How would MSI approach this?
TH: I think Intel would lose the flexibility in the channel business, which is what matters most. If I were in marketing, I would have to consider what is best for a suitable demo. We kind of feel the LGA solution is good for the commercial side – we already have specific segmentations for the business side. We still believe that performance is the key driver, and if it is what keeps them safe with components. But we have discussed with Intel, and I believe the messaging now is very clear. They will continue to drive their embedded, commercial and Xeon platforms, but also the integrated graphics. We see that solution could be interesting and cost effective in some markets.
IC: Well with the integrated graphics discussion, AMD recently launched Carrizo to notebooks, but it seems as if it might be a nice fit in a desktop system as well. (In fact Dell has done so in the Inspiron 3656.) Would you ever consider putting Carrizo onto a motherboard for a desktop? Given it is 15 watts, it could be cooled passively in a desktop under the ECO brand. As you had a Haswell ECO, you could supplement it with a Carrizo ECO. Has this been discussed?
TH: It has, because a few years ago we also did that with AMD's Brazos. With the motherboard, I think to MSI both are great in terms of low power consumption and better performance but we also make products based on the market, if it is requested by customers. So MSI is open to the idea.
IC: With FM2+, when Kaveri Refresh APUs were launched that were more demanding on the graphics side, AMD said that as long as motherboards were inside AMD specifications, all would be fine. But MSI still launched new products. Why is that?
TH: We refreshed based on two reasons. Firstly is age, and this platform is perhaps a bit older, so a new generation gives us chance to update a few things. Also, this time next year we will have a new platform launch and we noticed the trend of the motherboard is that people are paying more attention to look and feel. So there's one reason that we also refreshed the color box and some small parts of the design. So we launched a new model. The second reason is that we also changed one of our component suppliers. Because it is a component change, we feel like we need to make it clear there is a difference. Sometimes we do a revision, but in terms of performance and quality, there is nothing less. So that is why we did the refresh motherboard.
IC: Obviously SteamOS is going to be important, and Steam boxes are still talked about in the industry. What are your thoughts on Steam boxes and this market?
TH: For us, we think it is good because we keep looking at the PC market size and we all know that as a total the size is shrinking. There are too many devices for a simple use purpose. For the Steam Box, it could be an additional market size for us, because gaming is driving the PC sales. On the other hand, this is also about ecosystems – the combination of SteamOS on the Linux platform. It is really to differentiate that from a regular PC to the Steam Box. So as long as the Steam Box is ready and I believe our models are also ready, we can discuss with customers. It is mostly the US market that is interested in this.
IC: Is there much cross collaboration between the Mini-PC business in MSI and the motherboard business?
TH: Some of it, yes. There are many brands in the market that have MSI solutions inside, but we do not have control over that part.
IC: Has there been anything in gaming that has really excited you?
TH: I think gaming is great. With the push for better graphics, it drives the reason for upgrades people want better graphics to play the games. It really is a good driving force for everyone, and not just in performance. It is also about presenting, and about sharing your experience during the game. We work with a lot of partners, and some of them want commercial product or consumer product, but they also have ideas how to make their PC better rather than just sell on specifications. I think it is very important to interact with gamers and the gaming community, to know their behavior and to care the most in terms of user benefit.
IC: For Skylake, will we see DDR3L and DDR4 motherboards?
TH: Depends on the chipset, but yes. We kind of feel the Z170 makes more sense with DDR4, but for B150 or H110 we will see some DDR3L as there is a price gap but also some customers request it.
IC: When you go to a show floor (like Computex), how do you think you compare to your competition?
TH: From the motherboard side, I think what we have tried to differentiate ourselves and stay ahead of the completion. Of course, it is not that easy which is why we care so much about feedback. Our product management team spends a lot of time summarizing these ideas to see which ones take priority, and which are the ideas we would never think of. There's still a lot of improvement, but for gaming we have been on a positive continuous direction. That is why in terms of differentiation, I believe we are still on the right track.
Many thanks to Charles, Ted and Andy for their answers. It makes interesting reading, both in terms of the perception of MSI as a gaming brand and how they are willing to push it moving forward. Brett and I are wondering how MSI can out-do their GT80 Titan SLI system, but also how MSI is pushing into new areas such as ECO. 2016 is going to be an exciting year.
Carousel and front page top image from Miaowlee via Wikipedia under the CC BY-SA 4.0 licence. MSI updated their office logo after my visit to incorporate the gaming emblem.