Construction
There were several key features we noticed right away on the L17AT.  First and foremost, the L17AT did not look like any LCD we've seen before.  The base of the monitor rests on a slightly arched, four pointed pod.  This pod is actually fairly unique because while the top of the base is constructed of the same plastic as the bezel, the bottom of the base is weighted with steel for extra stability.  This added weight of the steel also gives the L17AT a very low center of gravity, much lower than any LCD we have seen to date.
The bezel of the monitor was slightly more than an inch in each direction.  Our particular model came in dull silver, similar to the color of the Samsung 191T.  The bottom corners of the bezel actually house two (very small) speakers.  Even though our Albatron has several excellent multimedia features, we would not particularly recommend these speakers for everyday usage.  We will get into detail about the audio features of the L17AT later in this review.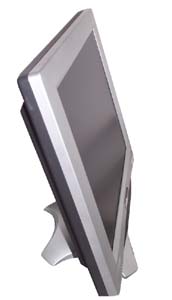 We found the TFT display itself to be of very good quality.  The response time of 25ms is about typical of most 17" LCD monitors on the market right now.  We have seen several monitors with faster response times, but usually they do not come with the same features of the L17AT.  For those who are new to LCD displays, the response time is the time it takes for a pixel to illuminate or turn off.  Sometimes, these are two different values (rising and falling).  In the case of the L17AT, both the rising and falling response time are the same.  A faster response time will give video crisper, more fluid motion.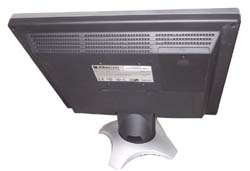 The L17AT boasts a fairly good viewing angle of 160 degrees (80 degrees in each direction), both horizontally and vertically.  Even though the base of this LCD is constructed of steel, the L17AT is actually fairly light, weighing in at 6Kg.  The light weight makes the monitor ideal for transporting. The Albatron has a working power consumption of 48 Watts.  This is roughly half the power consumption of a CRT monitor.  Aside from the obvious energy saving bonus, the L17AT emits almost zero heat.  This is especially appealing to anyone who has a cramped cubicle or dorm room, where a CRT monitor usually doubles as a space heater.
Albatron L17AT 17" LCD

LCD

17" A-Si TFT LCD (Active Matrix)

pixel pitch: 0.264mm (H) x 0.264 (V)
Anti-static, anti-glare coating

337.9mm (H) x 270.3 (V) viewable area

Scanning Frequency

Horizontal: 30-80kHz
Vertical: 60-75Hz

Response Time

25ms (Typical)

Contrast Ratio

350:1 (Typical)

Compatibility

1280 x 1024 (Native)

Dimensions (WxHxD)

428mm x 422mm x 186mm

Power

Working : 48W Max

Standby/Off: 5W

Weight

6 Kg

Warranty

3 years parts and labor