System Performance
Unlike some of the thin and light 15.6-inch devices that have been trickling out over the past while, which feature dual-core Ultrabook internals, Dell's XPS 15 sticks to its heritage with a full quad-core processor with a 45-Watt TDP, and a discrete GPU in the NVIDIA GTX 1050. This is a lot more compute than any Ultrabook can achieve, and for those that need more oomph in their portable computing, the step up to a larger form factor device like the XPS 15 9560 could really help with a lot of productivity workloads.
Intel's Kaby Lake processors have been a small step forward, with the same model 7 series CPUs offering higher frequencies than the 6 series counterparts. In the case of the review unit, that means the Core i7-7700HQ a few hundred MHz over the 6700HQ it replaces, with the latest model now offering a 2.8-3.8 GHz frequency range.
Dell also outfits the XPS 15 with 8 to 32 GB of DDR4, and a 500 GB to 1 TB HDD with 32 GB of Flash, or full PCIe NVMe SSDs in 256 GB, 512 GB, or 1 TB options.
To test system performance, the XPS 15 9560 was run through our standard laptop suite of tests. Comparisons in the graphs below are for similar systems, but you can compare the XPS 15 with any system we've tested using our Laptop Bench.
PCMark 8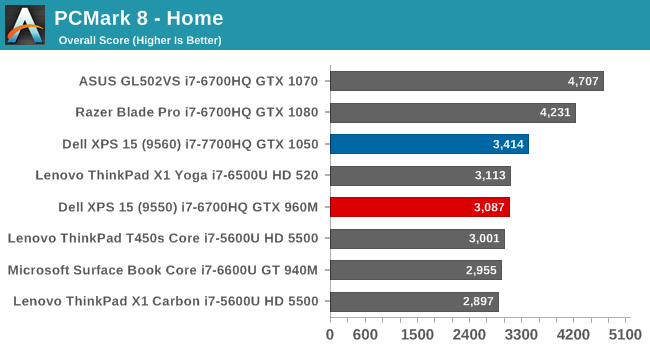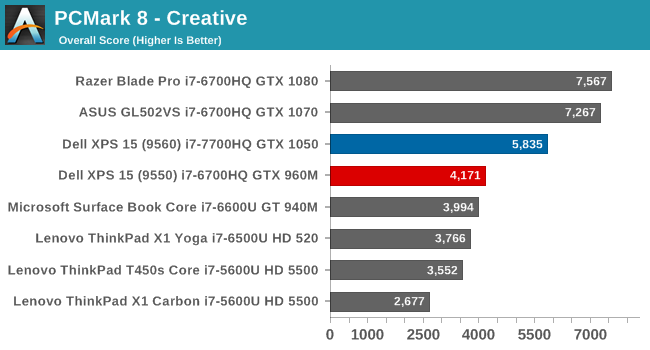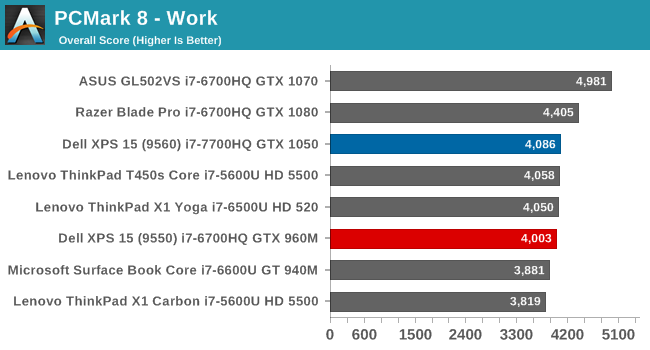 PCMark tries to simulate real-world tasks, and is broken into several categories which stress different parts of the system. All components of a laptop can impact the results, with the Creative and Home scores weighing heavier on the GPU capabilities for the gaming sections. Here the XPS 15 9560 pulls a sizeable lead over its predecessor mostly thanks to the updated graphics capabilities.
Cinebench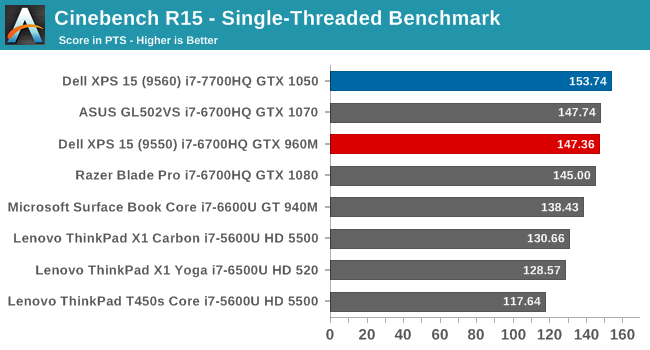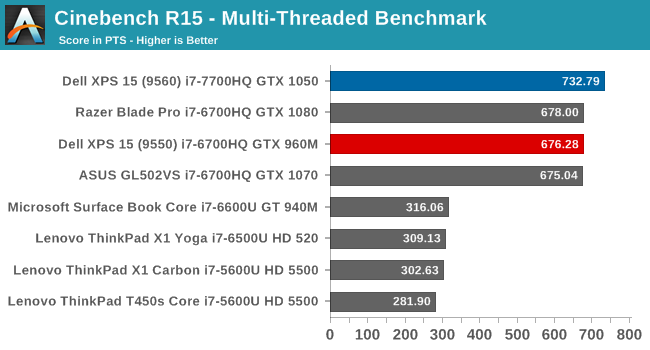 Cinebench is a CPU workload, where more cores and higher frequencies lead to better results. The test can be run as either a single thread mode, or in a multi-threaded mode where more cores can make a substantial impact. It's clear in the multi-threaded results where the dual-core machines end and the quad-core ones begin, and the latest Kaby Lake chip in the XPS 15 9560 is able to surpass all of the Skylake based laptops it is pitted against.
x264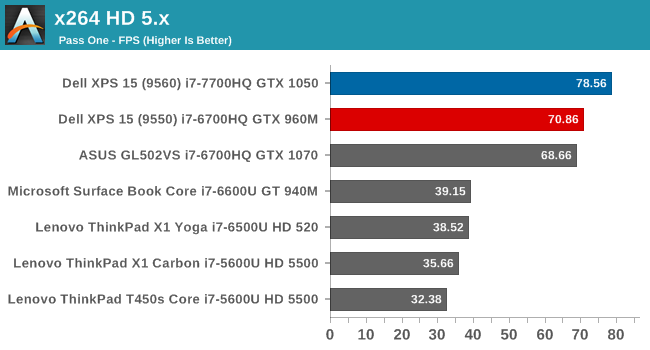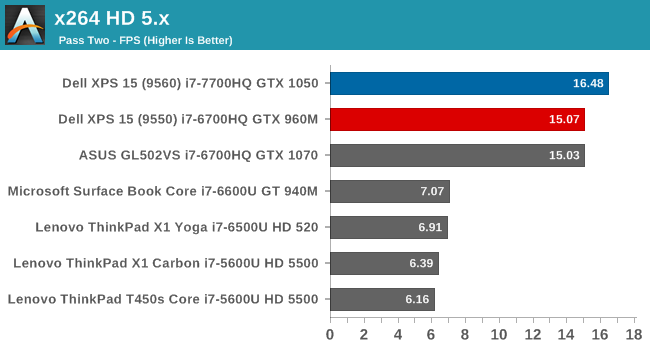 This test is similar to Cinebench, where pure CPU grunt is required, but without the single-threaded option. Once again, the Core i7-7700HQ shows it offers a noticeable increase in performance over the previous generation.
Web Performance
Web browsing is arguably the most important metric of all, but here the testing gets a bit murkier. Browser scripting performance is one of the key factors in web results, so it is important to be as consistent as possible here. We use Microsoft Edge as the browser, but even then, updates to the browser over time can increase performance, so these results are always a moment in time.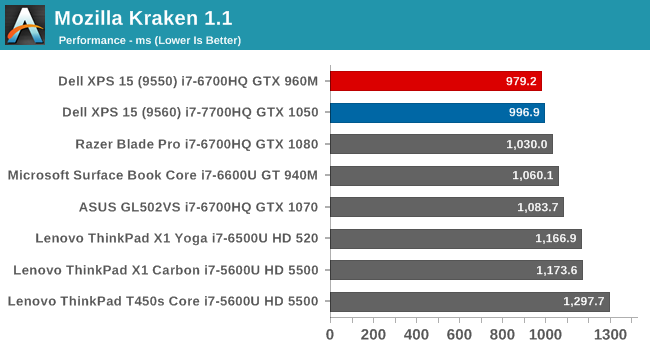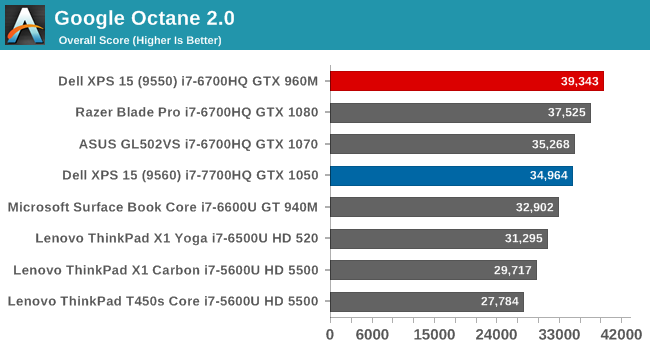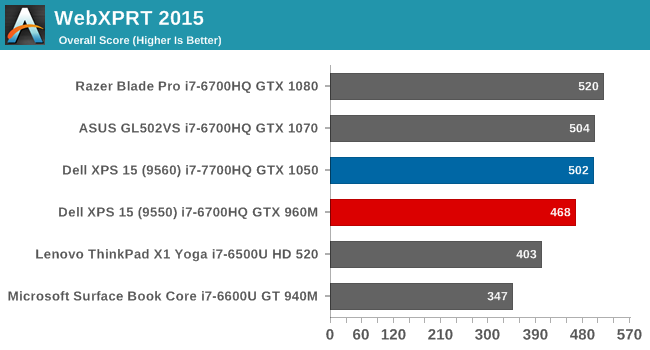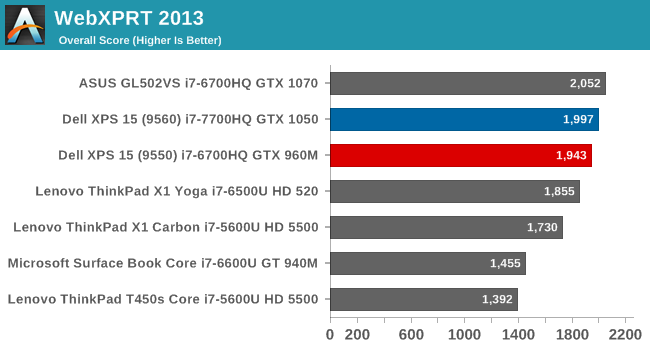 Although not right at the top in all of these scores, the XPS 15 9560 performs very well on any web task, and with the quad-core architecture, should offer more scripting performance than any Ultrabook for most tasks.
Storage Performance
The Dell XPS 15 9560 review unit shipped with a 512 GB PCIe NVMe SSD. Samsung is one of the most prolific OEM SSD providers, so it was a bit surprising to see a Hitachi based SSD in this XPS 15. This appears to be a XG4 based SSD from Toshiba with planar TLC. It's far from cutting edge by today's standards.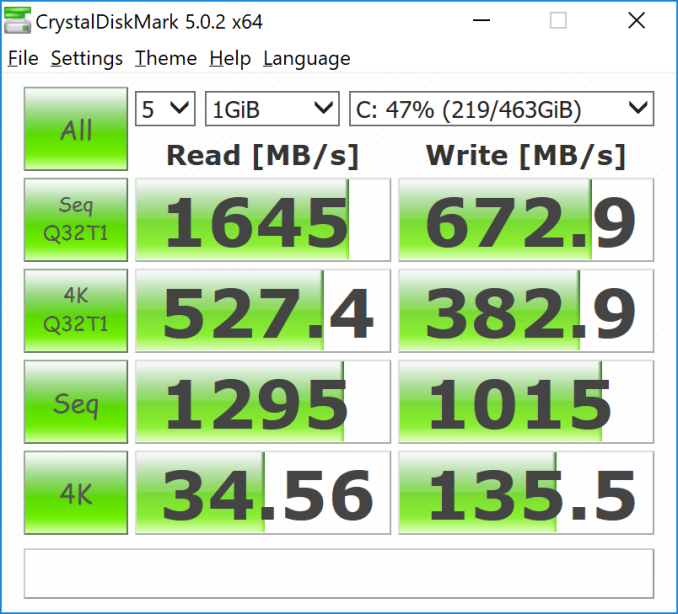 Looking at the performance, it is certainly a TLC based drive, with decent read speeds, and typical, poor, write speeds. Larger models may have better performance, and smaller models will almost certainly have a performance deficit to this version. As with most machines, these may be multi-sourced as well, so your mileage may vary based on the model you are looking at. Checking around at the 9560 owners threads on the web, it does appear that some are shipping with the Samsung PM961, which would be a nice step up from this drive if you're lucky enough to get it.