What Is Tiny BGA?
With 99% of the computer memory market using TSOP, what exactly is BGA and why does it matter? Ball Grid Array basically describes a different connection method for attaching the memory chips to the PCB or Printed Circuit Board.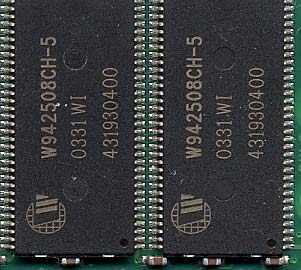 TSOP (or Thin Small Outline Package) is used in almost every other computer memory on the market. The memory is connected to the PCB by pins on the sides of the memory.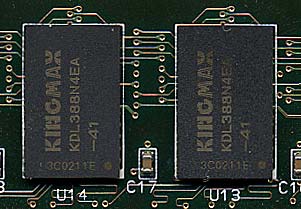 BGA does not use pins for attachment. Instead, connections are made with small balls of solder on the PCB. In the ever-increasing move to smaller signal traces in electronics, this allows a shorter connection distance and higher connector density than TSOP. The TSOP and BGA pictures above are at the exact same scale, so another advantage is the really tiny size that can be achieved with BGA memory. This design should also improve heat dissipation.
In fact, Kingmax does not even provide heatspreaders with this DDR500 and DDR466 memory. Almost every other memory manufacturer tells us that heatspreaders are needed at these high speeds, but Kingmax says they are not needed with the tiny BGA design. As memory speeds have gone up in recent months, so has the temperature. Particularly in tight SFF cases, high-speed memory can get blazingly hot. The thin small Kingmax memory is like a breath of fresh air in those configurations where heat is a problem.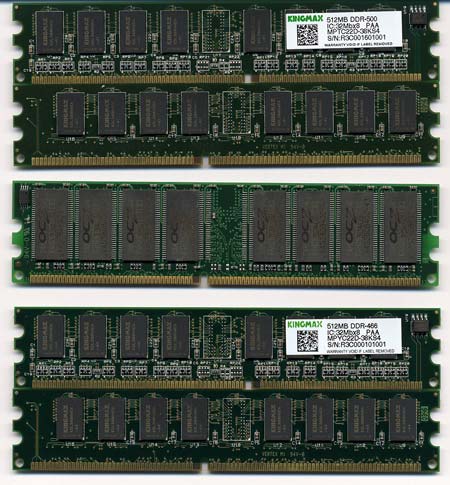 Looking at a comparison with a normal TSOP module, you can see that the Kingmax PCB is also smaller than the normal TSOP PCB.

When you add the normal heatspreader to the high-performance TSOP module, the Kingmax looks absolutely tiny in comparison with the height, bulk, and weight of another DDR500 memory module.
While you may have only seen BGA on video cards in today's market, you will be seeing more of this technology with the upcoming DDR2 modules. For all of the reasons mentioned above, BGA is the package of choice for DDR2, which will be announced with Intel's upcoming chipsets for the new Socket 775 Prescott.