Testing Results, Maximum Fan Speed
Our maximum speed testing is performed with both the fans and the pump of the kit powered via a 12V DC source. This input voltage should have the pump and fans matching the speed ratings of the manufacturer. As per Cougar's specifications, the Vortex Omega fans have a rotational speed of 1800±200 RPM. According to our tachometer, the fans were all rotating at 1850 RPM, a figure well within the manufacturer's specifications. Furthermore, the speed difference between the five fans we tested was negligible, indicating great manufacturing quality and minimal variation.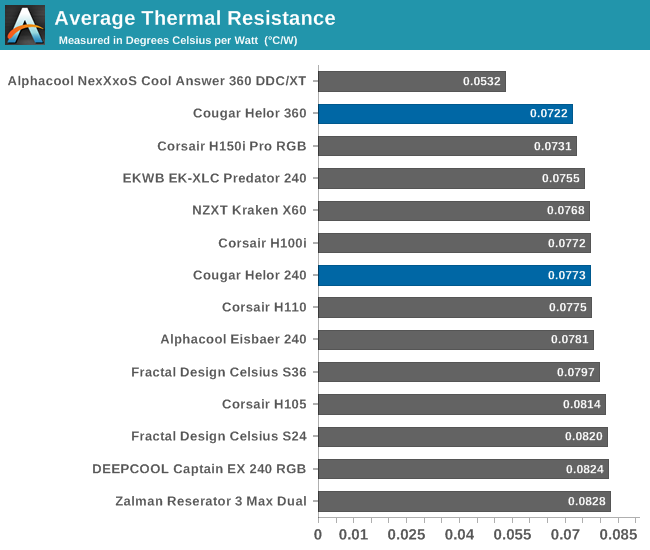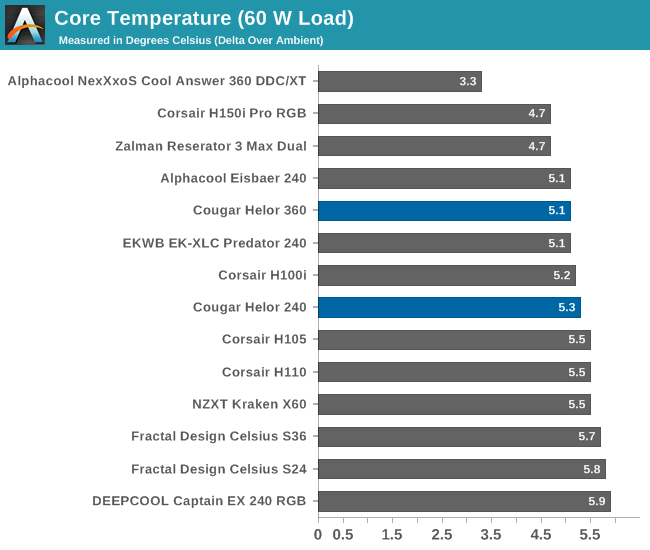 Core Temperature, Constant Thermal Load (Max Fan Speed)
A quick look at the average thermal performance charts reveals that the Helor 240 is a competitive product, proving a strong adversary for most similarly sized products with an average thermal resistance of 0.0773 °C/W with a relatively low sound pressure level of 41.8 dB(A). Other similarly-sized offerings, such as the EKWB EK-XLC Predator 240 and the Corsair H100i GTX, do outperform the Helor 240 in terms of thermal performance but their acoustic performance is inferior. Only Alphacool's liquid cooling kit retains its massive performance gap compared to standard AIO coolers, with an average thermal resistance of 0.0532 °C/W.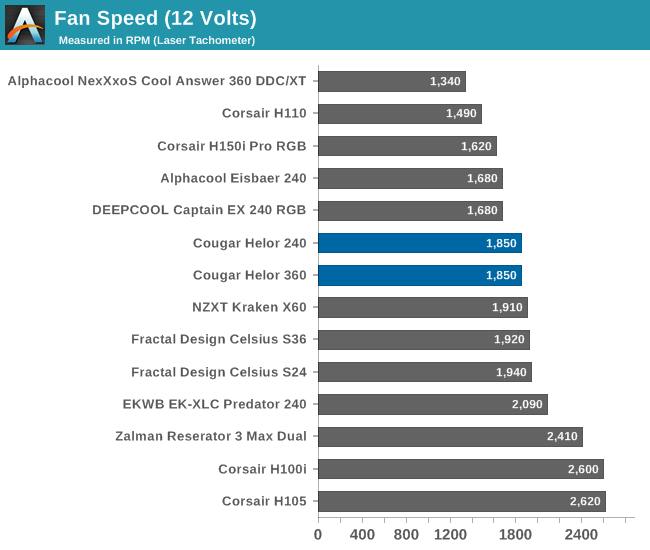 Thermally, the Helor 360 clearly performs better than the Helor 240, with an average thermal resistance of 0.0722 °C/W. It also slightly outperforms the similarly sized Corsair H150i Pro RGB that has an average thermal resistance of 0.0731 °C/W, managing better performance when the thermal load is very high. In terms of acoustics, the Helor 360 is expectedly louder than the Helor 240 due to the extra fan, which brings the sound pressure level up to 43.2 dB(A). The figure is not too high but is higher than what the primary competition of the Helor 360 currently offers.