Memory Performance
We utilized Memtest86+ and our full benchmark test suite to optimize our DDR2-667 and DDR2-800 memory for both performance and stability. Our overclock settings represent how far we could overclock our memory modules with the best possible timings on the Gigabyte DS3 motherboard. These settings had to pass our full benchmark test suite and not just the applications that we are showing today. The results on other chipsets such as the Intel 975X or NVIDIA nForce 590SLI can and will be different due to chipset timings and memory SPD compatibility. Our test results utilizing the GEIL DDR2-800 memory from our P965 roundup are listed at the bottom of the chart for comparison.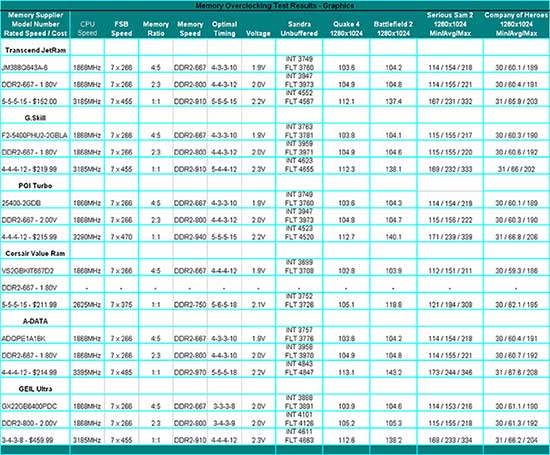 Click to enlarge
The results are somewhat surprising with the A-DATA DDR2-667 memory reaching DDR2-970 at 5-5-5-18 timings. This represents a 45% increase in memory speed that only required an increase in voltage to 2.2V. We were able to POST and enter Windows XP at DDR2-1000 with this memory but it was not stable enough to complete our benchmarks. Our PQI Turbo DDR2-667 memory was able to reach DDR-940 with 2.2V resulting in a fairly impressive 41% overclock at 5-5-5-15 timings.
The Transcend JetRam DDR2-667 and G.Skill DDR2-667 were both able to reach DDR2-910. This represents a 36% overclock and is what we expected out of our memory choices on average. The Transcend JetRam memory was listed at $76 per 1GB module at ZipZoomFly when we purchased ours, reminding us of the "good old days". We did a last minute check today and it is sold out now. However, if you can find this memory in stock then buy it as it offers the best price to performance ratio of our test candidates today.
There are never any guarantees in overclocking and our Corsair Value Ram represents this premise. We could not get the memory to run at DDR2-800 at the 4:5 ratio and could only reach DDR2-750 in our overclocking results. This required a change to 5-6-5-18 timings that resulted in performance just slightly better than our stock DDR2-800 settings. We have seen the same results on our AM2 systems so beware that this memory runs at its advertised settings and not much more.
Our GEIL DDR2-800 memory was only able to reach DDR2-910 (7x455FSB) due to the Micron D9 1GB issue that has been plaguing the Gigabyte GA-965P-DS3 motherboard. We are glad to report that Gigabyte has identified this issue and hopefully will have a new BIOS available in the near future. Our GEIL DDR2-800 memory reached DDR2-1040 (7x520FSB) on our Asus P5B-E 1.02G motherboard so we know it has the capability to overclock further than our DDR2-667 selections. However, this only represents a 30% overclock of the memory compared to our ability to overclock most of the DDR2-667 selections from 36% to 45%.
Overall, our DDR2-667 memory selections, sans the Corsair Value Ram, performed admirably and scored within a single percent of our much more expensive DDR2-800 memory at stock settings. On our P965 motherboards we generally see that system performance at DDR2-667 memory speeds with timings around 4-4-3-10 or better is perfectly acceptable. Due to improved overall system performance we still recommend DDR2-800 memory speeds with timings at 4-4-4-12 or better when not overclocking the system. The difference in timings between 4-4-3-12 and 3-4-3-9 at DDR2-800 is negligible and in our opinion is not worth the extra cost. We would have to recommend the purchase of the Transcend memory based upon our results as their price to performance ratio cannot be beat in this category. We will present budget DDR2-533 and DDR2-800 memory results in the near future.