OCZ PC2-9200 Flex XLC Specifications
OCZ is a well-known supplier of enthusiast parts. While they are best known for their memory targeted at the enthusiast, OCZ also provides an extensive line of power supplies and CPU coolers, along with more value oriented memory. As recently
seen in Taiwan
, OCZ also plans to introduce custom water-cooling parts in 2007. With that in mind, the OCZ introduction of water-cooling ready enthusiast memory appears to fit the total picture.
OCZ tells us that then new Flex XLC memory is not designed just for water-cooling. In fact, with air-cooling alone Flex XLC can reach most of its potential. It is designed to be the fastest memory available from OCZ whether run on air or water. One thing that is clear is that Flex XLC does not look like other high-end DDR2 memory.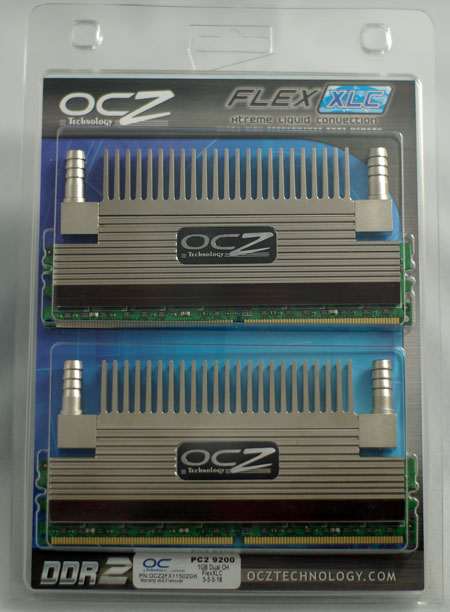 Quoting from OCZ literature the "Flex" in Flex XLC represents the "...innovative 'flexible' design, which gives enthusiasts the option to run these modules passively or water-cooled via the integrated liquid injection system for maximum heat dissipation."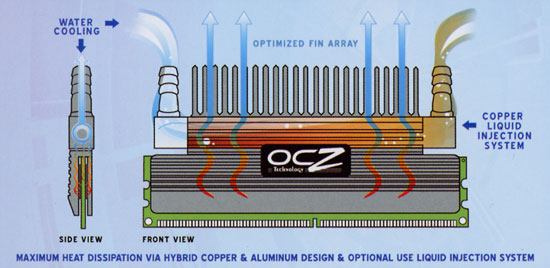 The fin assembly was designed for very effective air cooling. When water is used even better cooling is possible. The hybrid copper and aluminum water channel and fin design is designed to cool effectively whether air or water is used for cooling. As the diagram indicates, water-cooling is optional.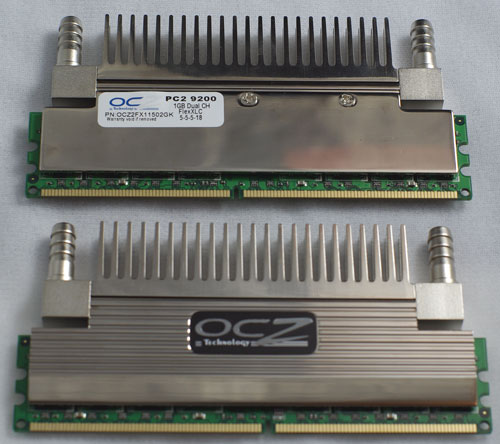 The Flex XLC DIMMs come ready for water hookup. The 3/8" entrance/exit nipples are an integral part of the cooling block and a standard design for water hoses. The flat top design of the heatsink/fins also makes it a "flat" surface for placing a large cooling fan over a pair or even four of these DIMMs. The Flex XLC dimms are thin enough that they can be fitted in side-by-side memory slots. We tried them on several boards and four dimms should fit just fine if you want to add even more memory. OCZ builds the new memory with specially binned Micron D memory chips mounted on an 8-layer PCB. The special binning, ultra low noise PCB, and hybrid heatsink design all contribute to overclocking capabilities.
OCZ PC2-9200 Flex XLC Memory Specifications
Number of DIMMs & Banks
2 DS
DIMM Size
1GB
Total Memory
2 GB
Rated Timings
5-5-5-18 at DDR2-1150
Rated Voltage
2.35V
(2.4V +/- 5%)
Flex XLC is currently only supplied as a 2GB kit (2x1GB) rated at PC2-9200 (DDR2-1150). This is the highest memory speed rating for DDR2 that we have ever tested. While Flex XLC is rated for 2.35V it is covered by the OCZ Extended Voltage Protection (EVP). This extension to the warranty provides a lifetime warranty against failure as long as the memory is operated at 2.52V or below.
While the form factor is new, it is worth repeating that OCZ is using specially binned Micron D memory chips in Flex XLC. That means the leading performance we routinely see with Micron memory chips should also be found in Flex XLC performance - along with the additional overclocking headroom designed into the product with aggressive binning and a hybrid cooling design.