A different low-cost approach
In a first attempt to find affordable storage solutions, we gathered two interesting storage systems in our lab. The two systems are not really competitors but representatives of two different approaches to deliver high performance, centralized-but-affordable storage.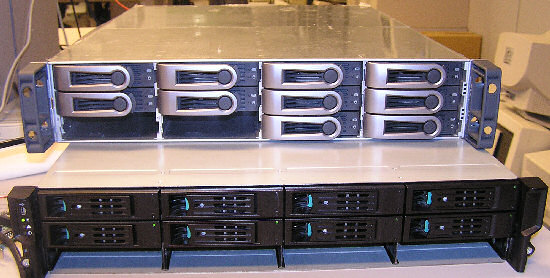 The Promise VTRAK E310f on top, the Intel SSR212MC2 on the bottom
The first option is the Promise VTRAK E310f, which is a fiber channel based storage rack. Promise's roots are in low-cost ATA RAID controllers. Recently Promise started to cater to the low-end and midrange enterprise storage market with a strong focus on keeping those racks affordable. The VTRAK E310f should thus give us a good idea whether or not it is possible to build a high performance but affordable solution with FC SAN building blocks.
The second system is the Intel SSR212MC2, which is an industry standard server optimized for storage. The reseller can turn it into anything he likes: a NAS, DAS, an iSCSI SAN, or an FC SAN. In this article, we will use the SSR212MC2 as an iSCSI SAN and (SAS) DAS. This will give us an idea what advantages and disadvantages an iSCSI device with industry standard parts has compared to a FC Appliance.
One of the big advantages that both the Intel and the Promise approach offer is that you can use industry standard hard disks and no one requires you to buy disks from the SAN manufacturer. While it is normal that a manufacturer tries to avoid users plugging unreliable hardware into their systems, this argument doesn't hold water when it comes to hard disks. After all, most OEMs also buy from Seagate, Fujitsu, and others. The big OEMs will force you to use their disks in two ways: either the controller will check the vendor of the disk ROM, or you will get "dummy trays". These trays don't allow you to add hard disks; the "real" hot-swappable trays come with the hard disks you order.
We decided to see how big the difference is between a "normal" hard disk and a "storage vendor hard disk". What you find below are the prices we could find for the end-user (second to last column) and the price range we could find when ordering extra disks when buying a storage systems from Dell/EMC, HP and IBM.
Hard Drive Price Comparison
Harddrive speed & interface
Capacity
Retail pricing (US)
Storage vendor pricing (US)
15000 rpm SAS
147 GB
$250-$300
$370-$550
10000 rpm SAS
300 GB
$200-$300
$600-$850
10000 rpm FC
300 GB
$450-$500
$600-$950
7200 RPM SATA (Nearline)
500 GB
$150-200
$500-$800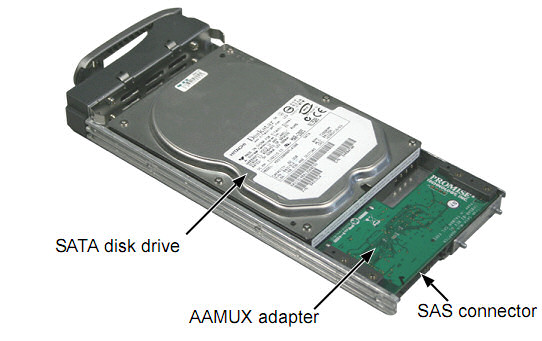 One reason why the "proprietary" SATA drives are a lot more expensive is that they usually include an Active-Active Multiplexer (AAMux). AAMUX technology enables single-ported SATA drives to connect like native dual-ported SAS drives for use in enterprise storage systems using SAS expanders. This is necessary if you want to mix SATA drives and SAS drives in the same enclosure. With an AAMux, two hosts can access a single SATA storage device independently, each through its own SATA interface. However, it is very unlikely the AAMUX device is enough to justify a $400 premium.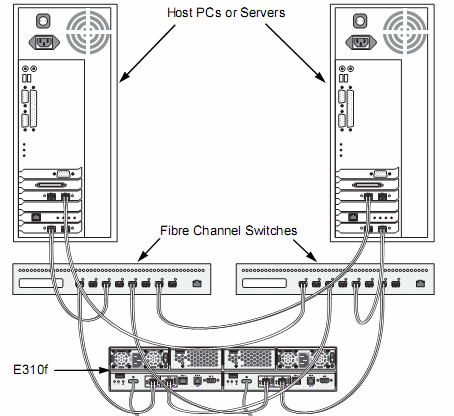 Granted, the premiums that vendors used to charge for "certified" disks used to be a lot bigger. Still, if you need high capacity courtesy of numerous hard disks, these premiums can rapidly add up to a significant amount of money. Let's take a closer look at pricing on a few options.