Entry-Level
An entry-level desktop PC is difficult to define, but in today's market a reasonably powered machine with integrated video can be had for under $500. In fact, when ordering from Tier 1 companies like Dell, HP or Gateway, this price often includes an LCD monitor as well.
The shortcomings of Tier 1 PCs are several, but often exaggerated and blown out of proportion in online communities quick to scorn the status quo. It is true that parts quality can be an issue, so warranty coverage is important. It is also true that BIOS options are extremely limited, and overclocking is usually out of the question. Expansion limitations, such as slot availability and power supply capacity, are also a factor and must be considered when buying.
However, Tier 1 PCs are not all bad. Quite the contrary, creating product on such a large scale allows them enormous power to drive prices down and sell complete systems at a price significantly lower than that possible for consumers to replicate with parts bought off the shelf at retail. Further, in the "old days" many entry-level machines lacked AGP slots, making upgrades very difficult for gamers. Now, most if not all of these machines provide at least one PCI Express slot, allowing for aftermarket upgrades, though upgrades through the supplier are typically not available to avoid eating into their profits from the higher priced gaming product lines.
Entry-Level Supplier Choice: Dell
Dell is one of those companies some people love to hate, but they consistently offer very low priced system configurations and reasonably priced warranty coverage that in many cases is onsite next business day service, which is amazing for the price paid. Their configurations change frequently, but the system offered below is representative of a solid entry-level system.
Dell Vostro 220 Mini Tower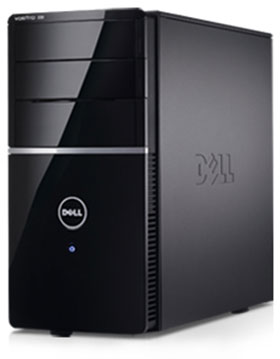 PROCESSOR: Intel Core 2 Duo E7300 (2.66GHz, 3M, L2Cache, 1066FSB)
OPERATING SYSTEM: Genuine Windows Vista Home Basic, Service Pack 1
WARRANTY and SERVICE: 2 Year Basic Limited Warranty and 2 Year NBD On-Site Service
MONITOR: Dell 20 inch Widescreen 2009WFP UltraSharp Digital Flat Panel
MEMORY: 2GB Dual Channel DDR2 SDRAM 800MHz - 2DIMMs
OPTICAL DRIVE: Single Drive: 16X (DVD+/-RW) Burner Drive
HARD DRIVE: 250GB Serial ATA Hard Drive (7200RPM) w/DataBurst Cache
VIDEO CARD: Integrated Video, Intel GMA X4500HD
FLASH READER: Dell 19-in-1 Media Card Reader
SOUND: Integrated 5.1 Channel Audio
KEYBOARD: Dell USB Keyboard
MOUSE: Dell Optical USB Mouse
PRODUCTIVITY SOFTWARE: No Pre-installed Productivity Software
PRICE: $488 plus $35 shipping; $523 total plus tax
System Rationale
Maximizing a deal from Dell often depends on not choosing some upgrade options that are very overpriced. For the configuration above, we opted not to upgrade the memory and hard drive for this reason, and both are sufficient for an entry-level machine as it is. The E7300 is a good CPU at this price, and we opted to upgrade the warranty from 1 year to 2 years at a cost of $39. This is a fantastic value for onsite service, even if you have to muddle through an Indian call center conversation first. We also opted to add a media card reader for $30, as this is a frequently used item for many people. Though the addition of the monitor raises the price, this specific deal offers the UltraSharp 2009WFP for only a $90 increase, which is a great deal on a fantastic well-reviewed monitor, so we couldn't justify excluding it. Normally, the 2009WFP costs upwards of $200, so this is definitely a steal.
Expansion Options
In terms of expansion, a PCIe x16 slot is included in this model, which is hurdle one. Hurdle two is providing power if necessary, such as with any midrange video card that requires a 6-pin power connector and the capacity to supply it. Obviously one can choose to simply use an entry-level card, such as the ATI HD 4670, that doesn't require any power beyond what the PCIe slot can provide. If a higher level card is desired, this model comes with a 300W power supply. Given the other system components, most midrange cards should work fine. Adapters are readily available that can convert the S-ATA power connectors in the Vostro 220 into a 6-pin for use with higher end cards. If even more power is desired, say to add an HD 4870 to the system in the future, the power supply can be replaced with any standard ATX power supply (which will also avoid the hassle of adapters).
We realize the above is a mouthful. To recap the video upgrade options:
Install a low midrange card that does not require a 6-pin connection, such as the HD 4670. This is the easiest path to entry-level gaming.

Upgrade the power supply to a standard ATX supply of sufficient capacity to support the new card.

Keep the existing power supply, adapt the connectors, and stay within your power budget.
For reference, we've had an 8800 GT running in an Inspiron 530 for months without issue on the Dell-provided power supply.