AMD Entry-level PC
Compared to a year ago our Entry AMD system uses a dual-core CPU with the same 2.6GHz speed. This year that CPU costs over 40% less and consumes half the power of last year's X2. That is certainly progress. With memory so cheap, we have also doubled our recommendation to 4GB. You can go with 2GB and save $13, but that money is well spent in doubling memory, particularly if you want to jump on the Vista 64-bit bandwagon, and honestly we see very few reasons to hold off. The hard drive is now 500GB, doubling the capacity from a year ago for the same price.
AMD Entry-level PC
Hardware
Component
Price
Processor
Athlon 64 X2 5050E Brisbane
(Dual-core 2.6GHz 45W 2x512KB L2)
$63
Cooling
CPU Retail HSF
-
Video
Onboard
-
Motherboard
ASRock A780GXE/128M 780G
$80
Memory
Kingston 4GB DDR2-800 Kit (KVR800D2N5K2/4G)
$37
Hard Drive
WD Caviar GP WD5000AACS 500GB
$59
Optical Drive
Samsung 22X DVDRW/DL SH-S202G
$25
Audio
Onboard
-
Case
Rosewill TU-155 with 400W
$60
Power Supply
Included with Case
-
Display
Hanns-G HB-175APB 17" 8ms Widescreen LCD Monitor Built in Speakers - Retail (1440x900)
$99
Speakers
Built into Monitor
-
Input
Microsoft CA9-00001 PS/2 Standard Keyboard and Optical USB/PS2 Mouse - OEM
$16
Operating System
Microsoft Vista Home Premium OEM
$99
Bottom Line
$538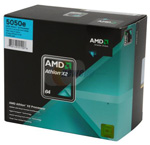 Prices on all processors are continuing to drop in the face of the continued, aggressive pricing strategy adopted by Intel. The AMD 2.6GHz dual-core is an excellent value at just $63. If you want even more power the Phenom 8750 tri-core is a good value at just $57 more, and that also moves you to the Phenom architecture instead of the older K8. However, for most users the Athlon 64 X2 5050E provides plenty of power for an entry AMD system. If you're counting pennies you could even drop down to a single-core 2.6GHz Orleans 45W processor for $36 and save $27.
The 780G chipset is one of the best budget IGP designs we have worked with over the years. This is the chipset that made integrated graphics relevant again. One of the best boards in this price category is the ASRock A780GXE. The A780GXE features the ATI Radeon 3200 integrated graphics. ASRock loads the board with six 3Gb/s SATA ports featuring RAID 0/1/10, 5.1 HD audio, Gigabit LAN, two PCI-E x16 slots, one PCI-E x1 slot, three PCI slots, and support for 16GB of memory. Durability is addressed with solid capacitors for CPU power and duracap long-life capacitors for the rest. This board has been rock solid for us and supports AM2/AM2+ and the upcoming AM3.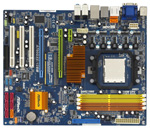 The 780GXE has 128MB of sideport memory for additional performance. It fully supports the 140W Phenoms, and it can do dual x8 Crossfire. The 780GXE used to be a $90 board, so it is a good value at the current $80 price. It is ATX format, and ASRock also manufactures the 780FullDisplayPort motherboard, which at $10 less may be a better choice for those pinching pennies. The extra performance of sideport memory for the $10 price difference is worth it. However, for those who never worry about upgrades, the A780FullDisplayPort is a great choice, plus ASRock is currently throwing in a DisplayPort card and DVI to HDMI converter with the 780FullDisplayPort.
With DDR2 prices so very low, we went for 4GB of DDR2-800 this time. This is double last year's entry recommendation for less than half the price. This 50% to 75% drop in DDR2-800 memory prices in the past year is why you're not seeing much memory advertising these days. RAM prices as a whole are certainly in the commodity category as of late. We recommended the Kingston 4GB DDR2-800 kit, but you could just as easily choose OCZ, G.Skill, Corsair, Crucial, GeIL, Patriot, or any other quality DDR2-800 name and shop for the memory based on a combination of price and the company's support reputation. Again, if you are truly pinching pennies you can save about $13 by going with 2GB of memory instead.
Hard drive capacity continues to grow, as you can see in our selection of the Western Digital Caviar 500GB for our entry system. It seems a waste to choose a lower HD capacity when 500GB is now available for around $60 - even from www.amazon.com. While there are differences between hard drives, outside of running benchmarks most people aren't likely to notice the difference in performance between Western Digital, Seagate, Samsung, Hitachi, and other major brands. All are worthy of consideration if the price per gigabyte (or terabyte) is right.
For the optical drive we went for value with the dependable Samsung 22X DVDR. With the rise of the 25GB/50GB Blu-Ray burners, DVD writers have continued to drop in price. A DVD writer that supports double-layer and 22X DVD writes for $25 is a bargain indeed.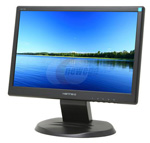 The last major component to discuss is the display, and here the tilt was toward price. $99 is a really low price for an LCD monitor, and the Hanns-G is a 17" widescreen that supports a native resolution of 1440x900. This is the resolution supported by most 19" and 20" widescreen monitors. You will not give up resolution with this monitor, but things will be a bit smaller. If your budget allows, you can choose the 19" Acer X193Wb with the same 1440x900 resolution at $130, or a 22" Acer X223Wbd, with 1680x1050 resolution for $170. LCD monitors have dropped in price, moved to widescreen format, and generally improved in image quality, even with the lower prices. 22" is today's sweet spot, since the next step up to 24" starts at around $300. If your budget can stretch to $170, that is money well spent on a 22" widescreen display.