Test Setup -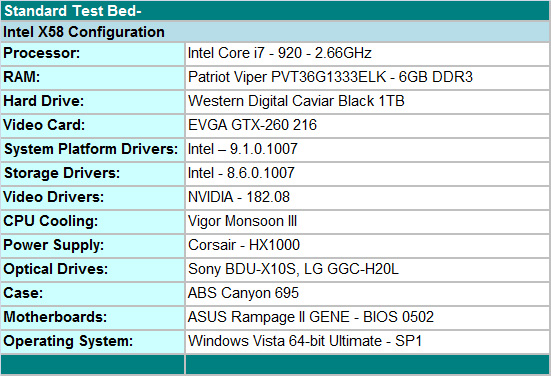 Our test setup is rather vanilla compared to most i7 systems, but we feel like it represents a good median for this platform. The Corsair HX1000 power supply is probably overkill but we have been using it as the standard power supply for our overclocking and multi-GPU adventures. We have not had any problems running this setup with our PC Power & Cooling 610W Silencer (single card) or the Thermaltake Toughpower 850W (SLI/CF) units.
Our motherboard is the new ASUS Rampage II GENE that offers all of the goodness of the X58 chipset in an uATX form factor. The processor of choice is the Intel i7 920 that will be tested at the stock 2.66GHz clock speed and at a 4GHz which is the limit of our air cooling solution from Vigor. Our video card of choice is the EVGA GTX 260 Core 216 that provides a great gaming experience at our 1680x1050 and 1920x1200 test resolutions. Western Digital's excellent Caviar Black 1TB handles storage duties with the Sony BDU-X10S and LG GGC-H20L taking care of our optical storage needs. Finally, we wrap it all up in the ABS Canyon 695 case and then toss in the star of today's show, the Patriot Viper Series (PVT36G1333ELK) DDR3-1333 CAS9 6GB memory kit.
Since this is a first look, we are utilizing a very small subset of benchmarks from the upcoming DDR3 roundup. We will take a brief look at the Everest Memory Benchmarks and then move on to FarCry 2 along with the TV/Movies and Productivity test suites from PCMark Vantage. PCMark Vantage does a very good job of providing consistent benchmark results with simulated workloads in actual applications. However, our roundup will also include applications ranging from Autodesk AutoCad 2009 64-bit to Sony Vegas Pro 8.1. Our goal is to provide actual platform results in real applications or games, not trying to get the best SuperPI 32M or 3DMark scores.
Everest –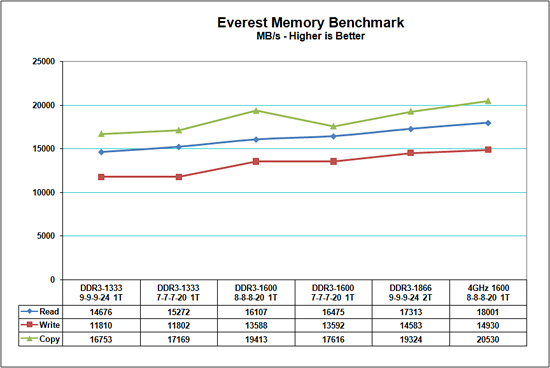 The Everest Read/Write/Copy benchmarks show scaling rates that we expected based on the memory timings utilized. We set the main four memory timings along with the command rate and let the BIOS auto configure the sub-timings. Optimizing the sub-timings will generally net another percent or two in performance, but we feel like ASUS has done an excellent job in extracting about 95%~97% of possible performance out of the memory sub-timings so we left them alone.
However, we did not notice tRRD, tRC, tFAW, and tRFC timing rates being relaxed several percent higher on this memory kit compared to the DDR3-1600 kits when we tightened tCL (CAS), tRCD, tRP, and tRAS timings at DDR3-1333/1600 to improve latencies. This resulted in lower Copy rates at DDR3-1600 and write rates that are equal at 1333/1600 clock speeds. Latency rates followed a similar pattern with DDR3-1600 7-7-7-20 1T offering the best overall latencies although DDR3-1600 8-8-8-20 1T was not too far behind.
We reached a final memory clock speed of DDR3-1866 with timings set to 9-9-9-24 2T at stock CPU speeds (133x20). This required VCore to be set to 1.24375V, VDimm to 1.72306V, and VTT to 1.38750V for 24/7 stability. Our overclock setting resulted in a CPU core speed of 4GHz (200x20) with VCore at 1.45000V (not exactly the best retail unit and this is the clock limit with air cooling for 24/7 use). Memory was set to DDR3-1600 at 8-8-8-24 1T timings with VDimm at 1.65681V and VTT at 1.37500V. Patriot recommends that VTT not be higher than 1.40V and VDimm at 1.75V on this particular kit.
Not listed in our benchmarks today is the best clock speed and timing rates that this memory kit could handle when pushing BCLK up with all eight threads active. We reached a final core clock speed of 3.97GHz (221x18) with VCore at (you guessed it) 1.45000V. Memory clock speed was DDR3-1766 at 9-9-9-24 1T timings on 1.72306V for VDimm and VTT set to 1.39375V.
We have included a set of image galleries below that contain our Everest and CPUZ results along with the base voltages (VCore, VDimm, VTT) utilized for each setting. We will discuss these results and others in greater detail shortly.