The Test
The test bed configuration was as follows:
Intel Pentium II 400, Intel Celeron 333A, Intel Celeron 266 (0KB L2) on an ABIT BX6 Revision 2.0 Motherboard
AMD K6-2 300 CXT, AMD K6-266 on an ASUS P5A Aladdin V based Super7 Motherboard w/ 512KB Cache
64MB of Memman/Mushkin SEC Original SDRAM was used in each test system
Western Digital 5.1GB Ultra ATA/33 HDD
Microsoft Windows 98
Diamond Monster Fusion 16MB SGRAM Banshee, Matrox Mystique G200, ATI Rage 128 (16MB), nVidia Riva TNT (16MB), and Diamond Monster 3D-2 (12MB) were used for comparison tests
The benchmark software used was as follows:
id Software's Quake 2 Version 3.20 using demo1.dm2
Monolith's Shogo 2.2 using 3Finger's RevDemo
Ziff Davis' Winbench 99 at 1600 x 1200 x 32-bit color for 2D performance tests
Each benchmark was run a total of three times and the average frame rate taken. V-Sync was disabled.
2D performance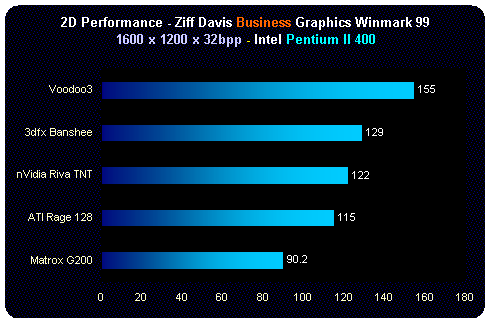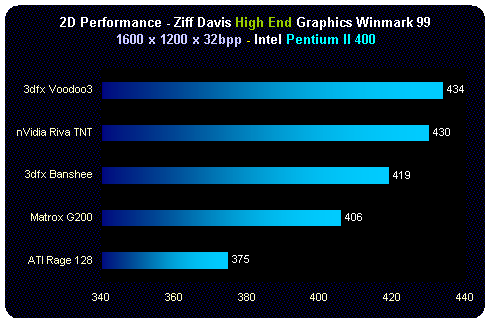 The Banshee definitely delivers when it comes to 2D performance. Under business situations, it is second only to the Voodoo3, outdistancing the former king of 2D, the G200, by almost 50%. The situation is a little different under high end situations where the Banshee is in the middle of a tightly crowded pack. There is no doubt the Banshee's 128-bit 2D core, the first from 3dfx, is excellent. However, any of these cards should provide more than sufficient 2D processing power.