Upon placing the card in our test system, the first thing that we did at the lab was to download the latest drivers for the card and put them to work. While the install went seamlessly, the usability of the task bar driven interface was less than desirable. While almost every video option that we look for could be found in the driver release (including a cool overclocking utility), the navigation using ELSA's WINman Suite was often tedious. None of the most commonly used menu items were available on the first level of the pop-up screen, and in some cases access to the settings lied 3 levels deep in the cryptic menu system. After a bit of use, we found ourselves going the the display properties to change the settings rather than using the WINman icon. The ChipDoctor utility included in the software is cool, however the only features of ChipDoctor are noticed when there is a drastic problem with the card, making the utility useful only when the card is about ready to die.


A bit confusing? You bet!
One of the better features of this driver set is the ability to change the refresh rate of the screen in increments of .1 Hz. Most likely an idea carried down from ELSA's workstation roots, this is great for not only the professional out there but also can take eye strain off the avid gamer. In addition, a plethora of monitor settings can be tweaked in the advanced mode, allowing the user to even set his or her own resolution by changing how the monitor gun fires. Very cool for advanced users out there.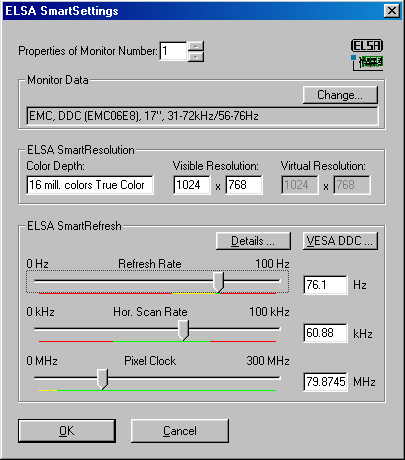 Advanced monitor mode: powerful stuff.
Color settings and DirectX settings are easy to find and tweak: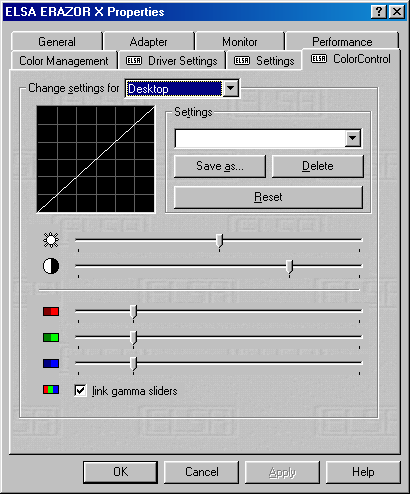 Overclocking was a breeze: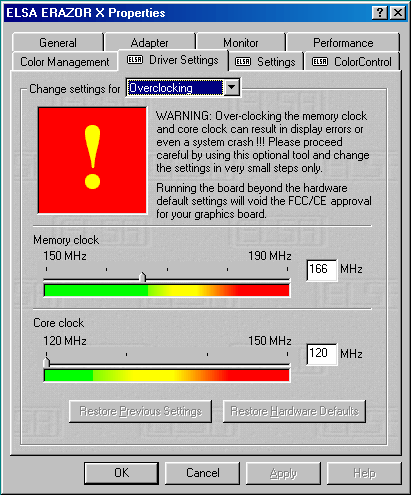 On the positive side, the manual included with the ERAZOR X was one of the most comprehensive that the AnandTech lab has ever seen. ELSA cut no costs here, as the manual is 30 pages long and covers everything from installation to an extensive description of how the 3D pipeline functions. Not only is it very complete, the manual speaks in modest language and does not try to impress the reader with confusing information. While in other situations, this tone of narrative can make the reader feel as if the text has been 'dumbed' down, the ERAZOR X manual explains concepts on a basic level at first and then extensively covers the advanced principals involved. The only feature not discussed in the manual was the ChipGuard aspect, initially leaving us wondering what the small green dot in our taskbar was. Other than that, kudos to ELSA on a job well done here.