Gaming and Workstation Performance
The gaming benchmarks here are for academic purposes only: as mentioned before, the NVIDIA Quadro 600 isn't a gaming card (nor is the Quadro 2000 in the Dell Precision T1600 for that matter). However, they do set up an excellent framing device for when we get to the workstation-class, OpenGL-based benchmarks later on.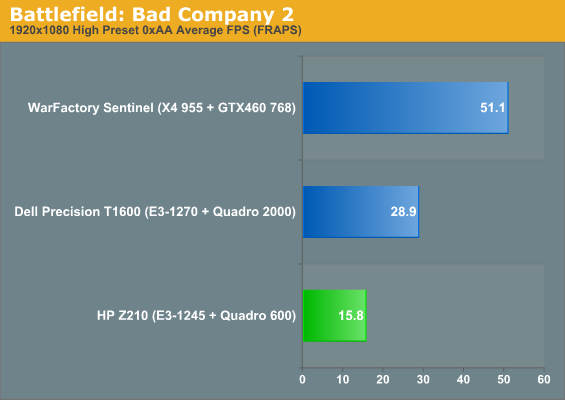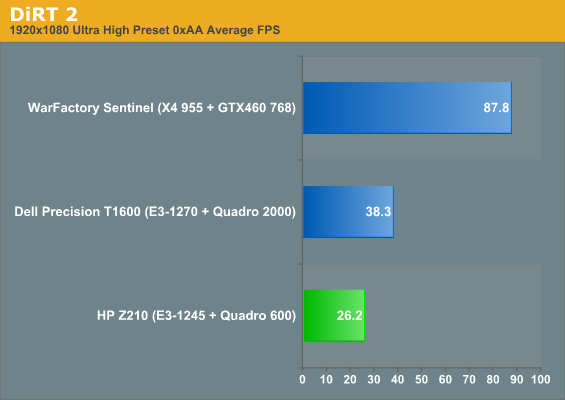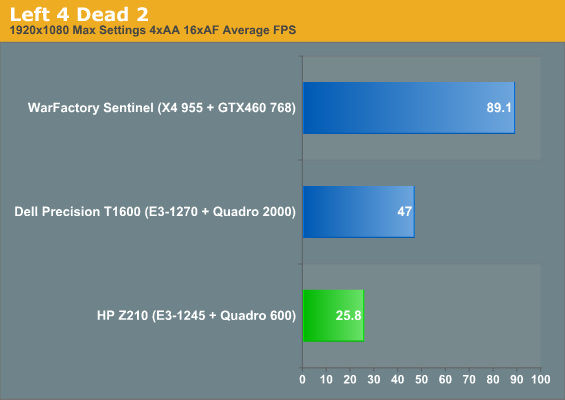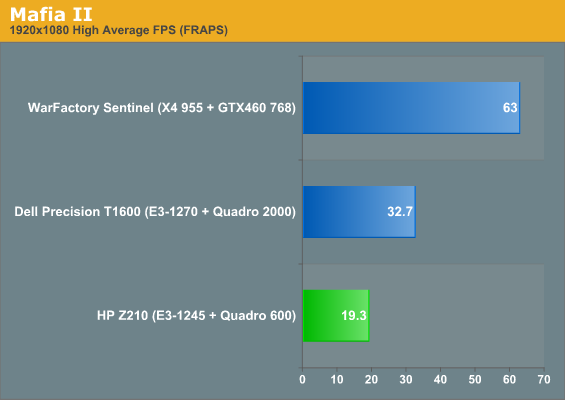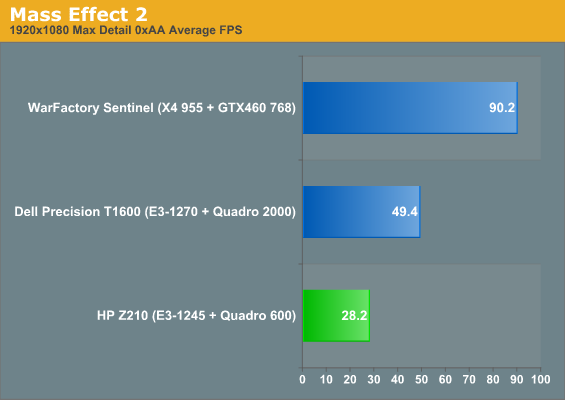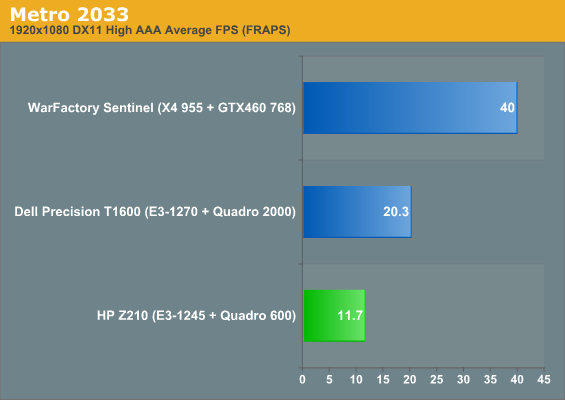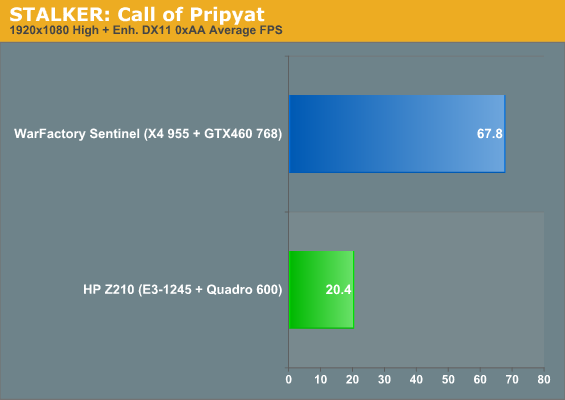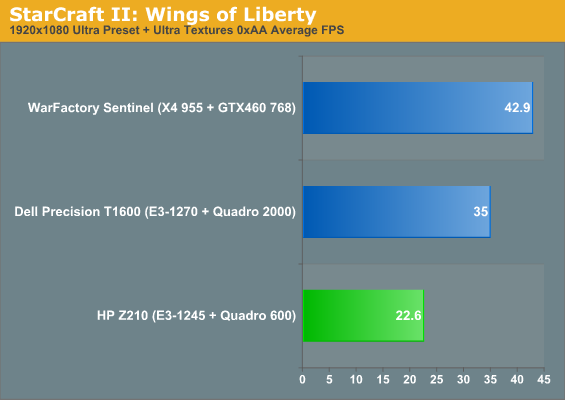 Our gaming suite is designed to beat on powerful, gaming-oriented desktops until candy comes out of them; an underclocked GeForce GT 430 was never going to be much of a gaming card to begin with, especially not at these settings. I do still think the Quadro 2000 is a compelling card due to its form factor and single-slot cooler, and thankfully a consumer-grade analogue is starting to materialize in the form of the GeForce GT 545.
As you'll see when we get into our workstation benchmarks, hardware really isn't everything. We're sticking with SPECviewperf 11 since it seems to be a pretty popular standby and good for producing a performance metric of a cross section of OpenGL-based applications, but also adding SPECapc for Lightwave 3D 9.6 and Premiere Pro Benchmark for CS5 (run in CS5.5). As a special bonus, we've also included the test results from the HP EliteBook 8760w we recently reviewed. The Quadro 5010M in the 8760w is the mobile equivalent of the GeForce GTX 560 Ti in terms of silicon, but clocked substantially lower. Ultimately it should actually be fairly comparable in hardware power to the GTX 460 768MB used in the gaming testing. And finally, to both pad out the tables and give you some idea of just what workstation cards can do, I've included test results of my personal desktop, sporting a Core i7-990X ES (thank you AVADirect) and GeForce GTX 580.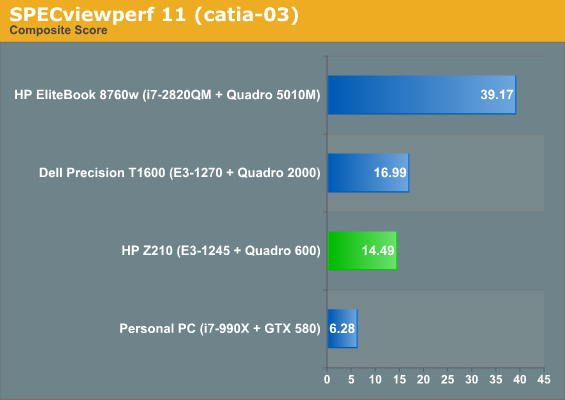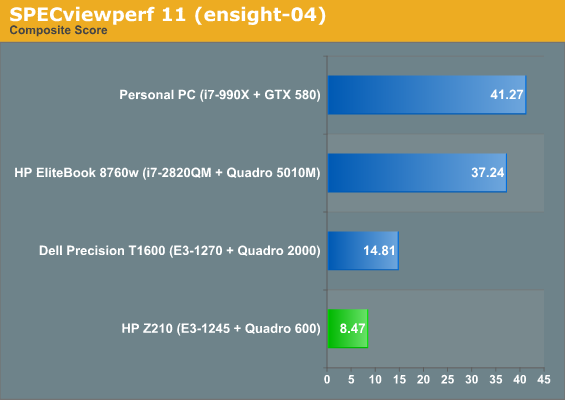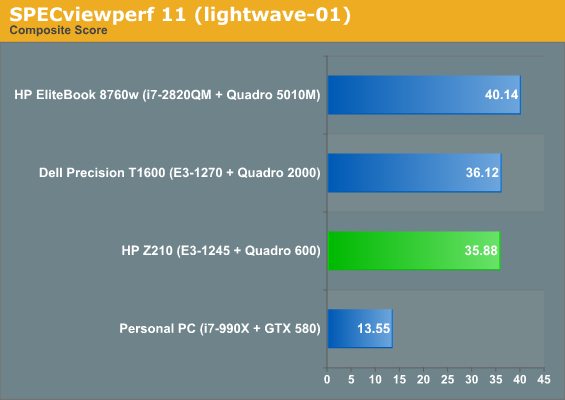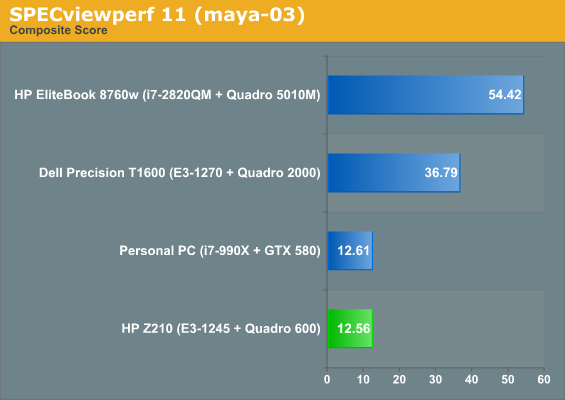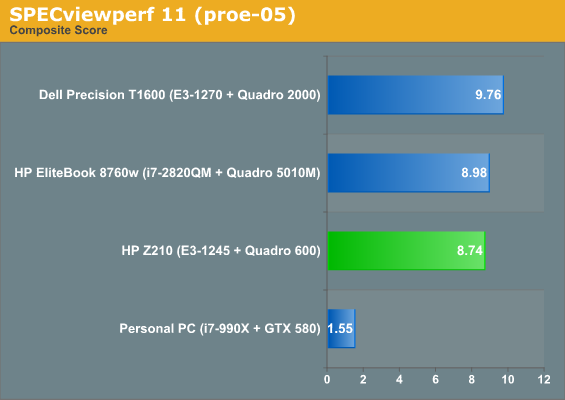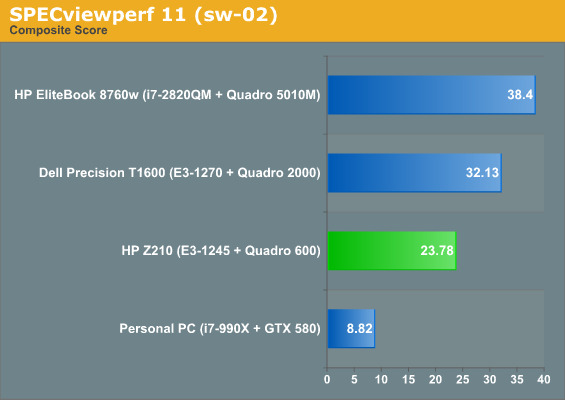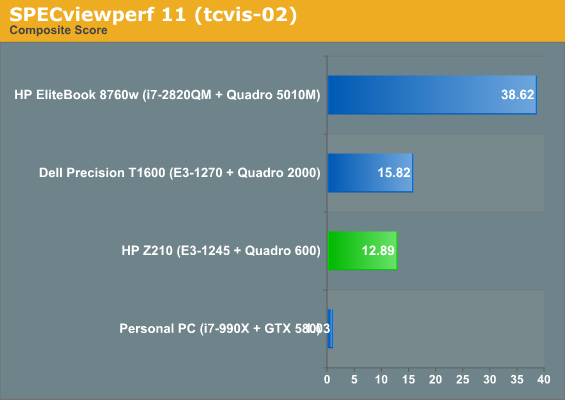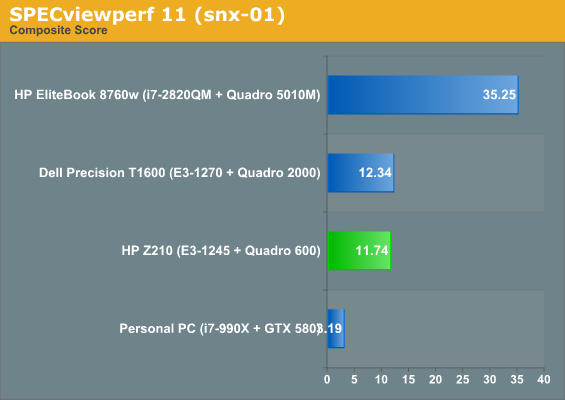 Well, right off the bat, the most amusing thing is the way the Quadros just mercilessly brutalize the GeForce GTX 580. Without the OpenGL optimizations the Quadros benefit from, the GTX 580 lags horrendously behind even the lowly Quadro 600. Those of you looking to build a workstation for 3D modelling on the cheap would do well to pay attention here: a $170 Quadro will generally murder a $400+ GeForce, let alone anything slower, and it stands to reason the competitively priced AMD FirePro cards will offer similar advantages over garden variety desktop cards.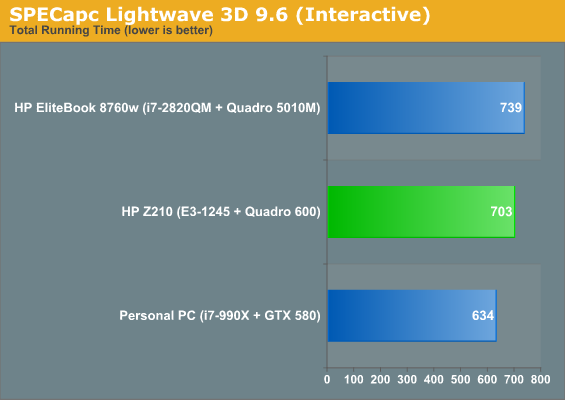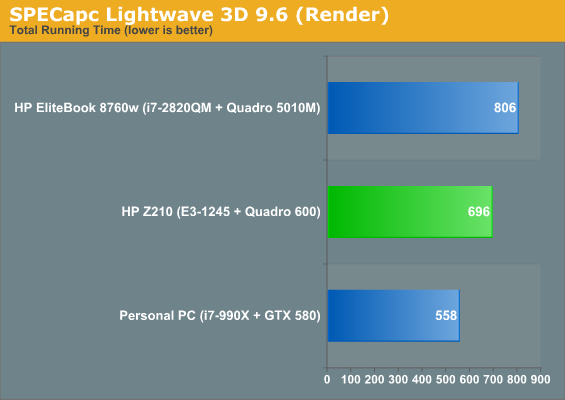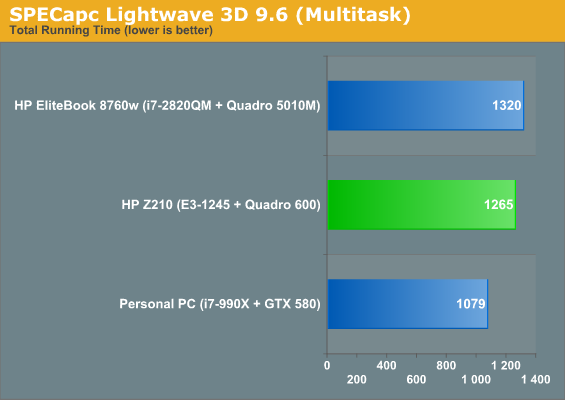 The Lightwave 3D 9.6 benchmarks tell a similar tale to the SPECviewperf 11 tests, but at least the difference isn't quite as massive here. While Lightwave will still definitely benefit from a Quadro or FirePro graphics card, at least the GTX 580 isn't completely dragging its heels. We'll have to do more tests, but it seems like this application benefits from a more balanced system; while the E3-1245 in the Z210 is a faster processor than the Core i7-2820QM, the EliteBook 8760w benefits from a much faster GPU and seems to eke out a lead there. Meanwhile, the i7-990X may boast ultimately more CPU horsepower than either system, but the consumer-oriented GeForce GTX 580 drags it down.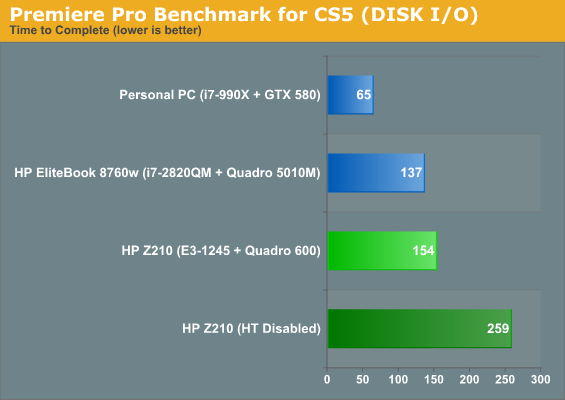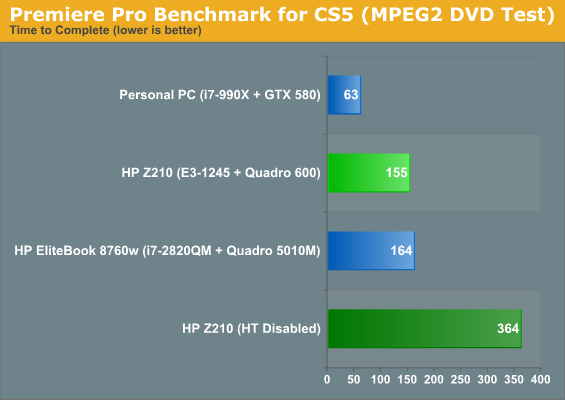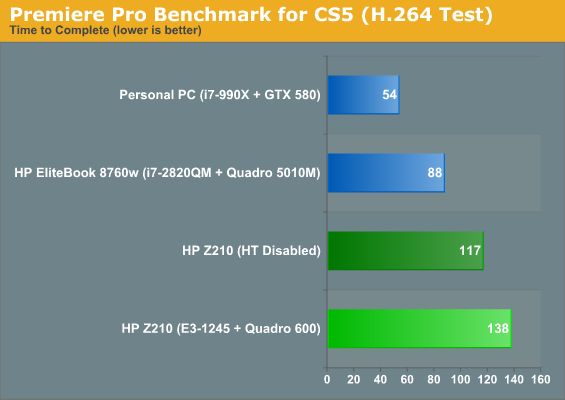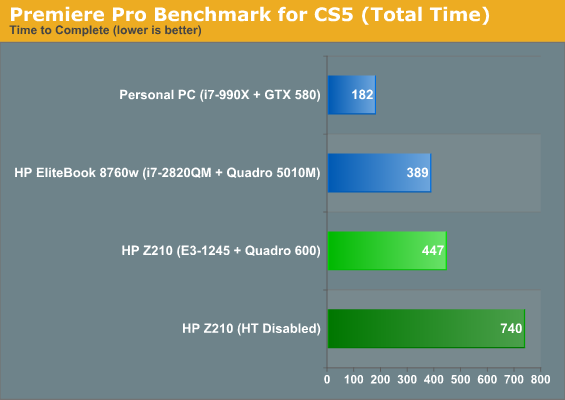 Meanwhile there's the Premiere Pro Benchmark for CS5, the details of which can be found here. Truthfully, while this benchmark seemed like a reasonable inclusion I've found myself a bit disenchanted with it, as the results are nowhere near as consistent as SPECapc or SPECviewperf, much less the x264 encoder or Cinebench.
There are a few points to break down here. First, HP's Performance Advisor actually suggests disabling Hyper-Threading when running Adobe Premiere Pro, which runs completely counter to common wisdom involving video editing software and particularly Premiere Pro. Sure enough, losing Hyper-Threading results in a massive performance hit. Only the H.264 test benefits from disabling it, everything else takes a swan dive.
Second, PPBM has a method for measuring performance gains involved with having the Mercury Playback Engine GPU accelerated, but the results are of questionable value. Five times faster than what? Which is part of the problem with MPE's CUDA acceleration; I've asked NVIDIA's engineers just what exactly is accelerated and the answer is always foggy, so on that point I'll spell it out for you fairly clearly: while I haven't seen any notable performance improvements while encoding video, working with streams in realtime on the timeline is noticeably different.
I think the biggest takeaway is that the ordinarily performance-hungry AVCHD becomes vastly easier to edit in realtime; I've seen it chop on the timeline on an i7-930, but add a GeForce GT 240 with 1GB of GDDR5 to an Athlon II X4 and edit the list of enabled cards (the list of cards enabled is artificially limited but it's moronically easy to alter) and suddenly it's buttery smooth. At this point I would say hardware-accelerated MPE is basically essential for any editor using Premiere Pro, and it's my understanding there are more and more of you out there now that Apple royally screwed the pooch with Final Cut Pro X. Welcome to the club; we've had 64-bit support and GPU acceleration for over a year now, and you can even import the FCP7 projects that FCPX doesn't support. I knew I wasn't stubborn, I was just ahead of my time.
Where were we? Oh yeah, the shortcomings of PPBM. Finally, I noticed test results varied pretty substantially between runs, and if you look at the results chart on the PPBM website you'll notice very little rhyme or reason among how the systems rank versus how they're configured. There are broad strokes, but a whole lot is lost in the minutiae.
Ultimately I'm not sure if we should keep using PPBM, so please sound off on the comments and let us know what you think, as well as letting us know if you have any suggestions for additional benchmarks for workstations.