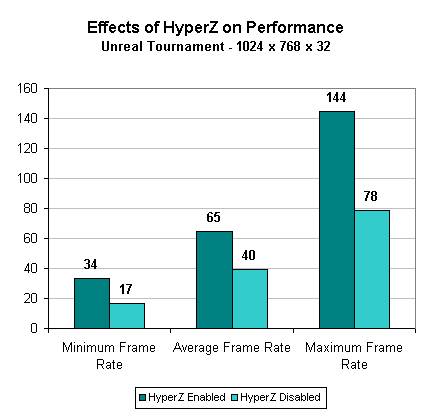 Using Reverend's Thunder Demo under UnrealTournament we notice that HyperZ is really doing quite a bit for the Radeon SDR. Not only does it improve the minimum frame rate by around 50% but it also increases the average frame rate by close to 40%.
The next question to ask is which of the three HyperZ features does the most? In order to answer that we disabled each one individually and ran the Thunder benchmark.
Effects of HyperZ Features on Performance
UnrealTournament - 1024 x 768 x 32

Feature

Minimum Frame Rate

Average Frame Rate

Maximum Frame Rate

Average Change in Performance

HyperZ Enabled

34

65

144

N/A

Hierarchical Z Disabled

25

64

140

-2%

Z-Compression Disabled

21

50

117

-22%

Fast Z-Clear Disabled

18

46

94

-29%

HyperZ Disabled

17

40

78

-39%
As the above chart shows us, at least under UnrealTournament, it seems like most of the performance benefit comes from Z-Compression as well as the Fast Z-Clear functions of ATI's HyperZ. Assuming that our method of disabling the various HyperZ functions was correct and we did indeed control the status of those three features, it can be concluded that in UT and games like it, that ATI's Hierarchical Z, while providing some memory bandwidth improvement, isn't nearly as effective as the other two features.
What seems to have made the biggest difference was the Fast Z-Clear feature, it seems like quite a bit of improvement comes from simply more efficiently clearing of the Z-buffer.
There's no doubt that HyperZ is helping ATI out quite a bit, especially in the case of the Radeon SDR. So without further ado, let's take a look at exactly what HyperZ, when combined with the rest of the Radeon's features, can do in terms of performance against the competition.