Dock and Keyboard
The docking station is pretty simple, just a wedge-shaped plastic part with a rubberized base that features a dock connector and two pins to hold the Edge in place. The back has a power connector, separate 3.5mm jacks for line in and audio out, an HDMI port, and three USB 2.0 ports. It's worth stating this again, but the dock is actually the *only* way to get video out from the tablet. The lack of USB 3.0 ports is related to a bandwidth limitation for the dock connector and not a case of Razer being cheap with their port selection, though I'd still have liked to see at least one of the three ports be USB 3.0.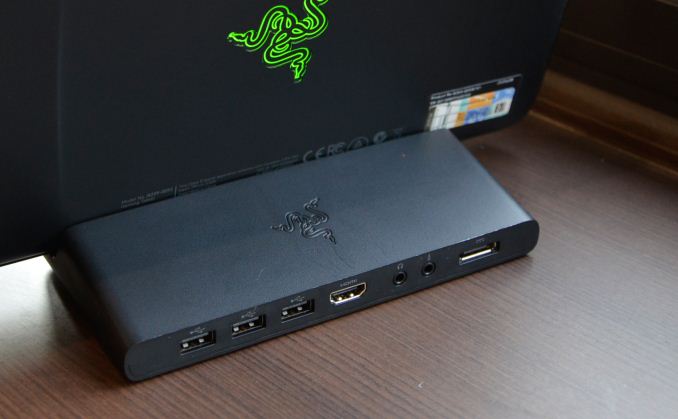 There are two primary use cases for the dock that I can see it serving pretty well – hooked up to a TV and Xbox controllers in what Razer calls "console mode", as well as at a desk with an external monitor, keyboard, and mouse. Razer had a number of Edges set up as consoles at CES both in their booth as well as in their meeting room suite – they also announced the Sabertooth controller for Xbox 360 at CES, so it made for a nice two-in-one product showcase. It worked pretty well, though it's worth mentioning that the displays were mirrored at 1366x768. This goes back to GT 640M LE being not suited at all to gaming at resolutions above that – running new games at 1080p on anything lower than a GT 650M can be a bit painful. But if you're willing to play at the native resolution of the tablet and not the native res of the TV, it's a pretty enjoyable way to game. I spent an evening with some of Razer's marketing guys playing Dirt Showdown on a docked Edge hooked up to a 60" TV and a few Sabertooths, and the Edge acquitted itself well in this type of situation. If you just leave the dock hooked up to the TV and controllers, it's really easy to just drop the tablet into it when you want to play.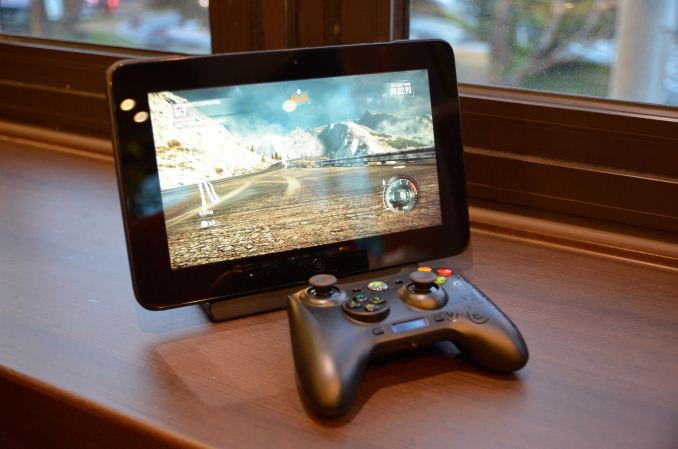 The desktop use case is the other one where the dock is ideally suited. Connected to an external display and a Bluetooth keyboard and mouse, it makes for a decent setup. This is one of the few tablets powerful enough that I could use it as a main day to day work machine, especially in the i7/8GB/256GB configuration I have here. Now, I'm not going to give up the M18x I'm currently using at my desk, but if you had to use a tablet as your primary machine, wouldn't the Edge be very close to the top of your list?
The only remaining piece of the puzzle is the keyboard dock, which we saw displayed in very early preproduction form at CES. Back in January, it was a really rough build – the keyboard was tiny, there was tons of flex, the hinge was questionable, and the mechanism to keep it closed was a very high tech elastic band. Rough is probably understating it. I know that Min was using one during the show, but it looked like the primary intent of those hand-built preproduction units was to have the keyboard dock on display and not necessarily in a usable form. The final keyboard dock is slated for Q3, and will likely look pretty similar to the one shown previously (though with a substantially different latching mechanism). I feel like the keys will need to be bigger for the keyboard to be comfortable, and there's enough number of perfectly good tablet-size keyboards out there for Razer to look at. I'd like to highlight, in particular, the Surface Type Cover and any ASUS 10.1" keyboard since, say, 2008, as good examples. Borrow liberally from those designs and it'll be great.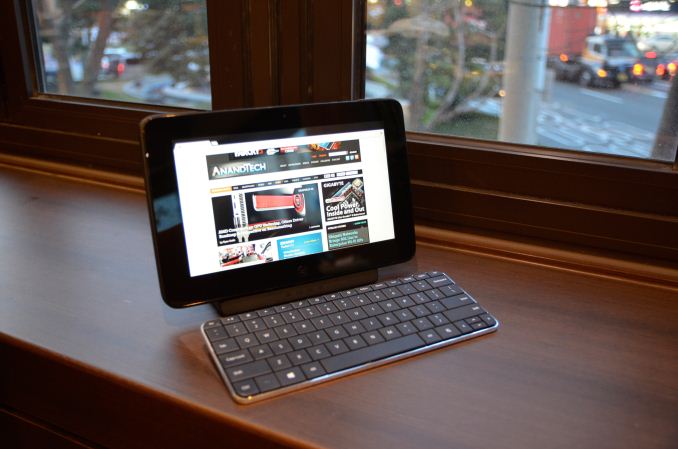 In absence of the keyboard, I've turned to Microsoft's Wedge mobile Bluetooth keyboard and paired it with the HDMI docking station to come up with a workable temporary solution for portable typing. When it arrives, the keyboard dock will be compatible with the extended 41.44Wh battery that works with the gamepad controller, offering a potential 10 hours of usable battery life in netbook mode. Given the pricing of the accessories we've seen thus far, I'd expect the dock to come in at no less than the $129-149 price range.