Board Features
MSI was one of the first boards with PCIe reinforcement, stating that it assists system integrators in reducing RMA rates from users mishandling their equipment. Since then every manufacturer now has a solution for this, and marks how the industry is moving forward. MSI is even doing it on the DRAM slots on the X99A Gaming Pro Carbon.
MSI X99A Gaming Pro Carbon
Warranty Period
3 Years
Product Page
Link
Price
Amazon US
Size
E-ATX
CPU Interface
LGA2011-3
Chipset
Intel Z170
Memory Slots (DDR4)
Eight DDR4
Supporting 128GB
Quad Channel
Up to 3466 MHz
Network Connectivity
Intel I218-V
Onboard Audio
Realtek ALC1150
PCIe Slots for Graphics (from CPU)
4 x PCIe 3.0
- x16,
- x16/x16
- x16/x16/0/x8
- x8/x16/x8/x8
PCI_E6 shares bandwidth with U.2 and M.2
PCIe Slots for Other (from PCH)
2 x PCIe 3.0 x1
Onboard SATA
Six, RAID 0/1/5/10
Four, IDE/AHCI Only
Onboard SATA Express
One
Onboard M.2
1 x PCIe 3.0 x4 or SATA
Onboard U.2
1 x PCIe 3.0 x4 NVMe
USB 3.1
1 x Type-A
1 x Type-C
ASMedia ASM1142 Controller
USB 3.0
4 x Rear Panel via VIA VL805
4 via headers (Chipset)
1 via Internal Type-C
USB 2.0
4 x Rear Panel
4 via headers
Power Connectors
1 x 24-pin ATX
1 x 8-pin CPU
Fan Headers
1 x CPU (4-pin)
1 x Water Pump (4-pin)
3 x CHA/SYS (4-pin)
IO Panel
1 x Combination PS/2
4 x USB 2.0
4 x USB 3.0 (VIA)
1 x USB 3.1 Type-A (ASMedia)
1 x USB 3.1 Type-C (ASMedia)
1 x Network RJ-45 (I218-V)
Audio Jacks
Other Features
TPM Module Connector
Clear CMOS Jumper
Slow Mode Jumper
GAME BOOST knob
Power/Reset Buttons
Multi-BIOS Switch
RGB LED Connector
Front Panel Header
Front Audio Header
The internal USB Type-C port is an interesting addition – typically we see these for USB dongles to licence software, but I believe MSI's thinking here is for front-panel USB Type-C ports than can be used via a connecting cable.
Visual Inspection
As with most X99 motherboards, the Gaming Pro Carbon is large (and in charge?). One of the first things a user will notice is the color scheme, black/dark gray with silver accents, but that the silver accents are mostly due to the PCIe and DRAM slot reinforcement. This reinforcement does make the board somewhat heavier than most, and although certainly capable I do not suggest holding the board in only one corner due to the self-applied torque the board will generate.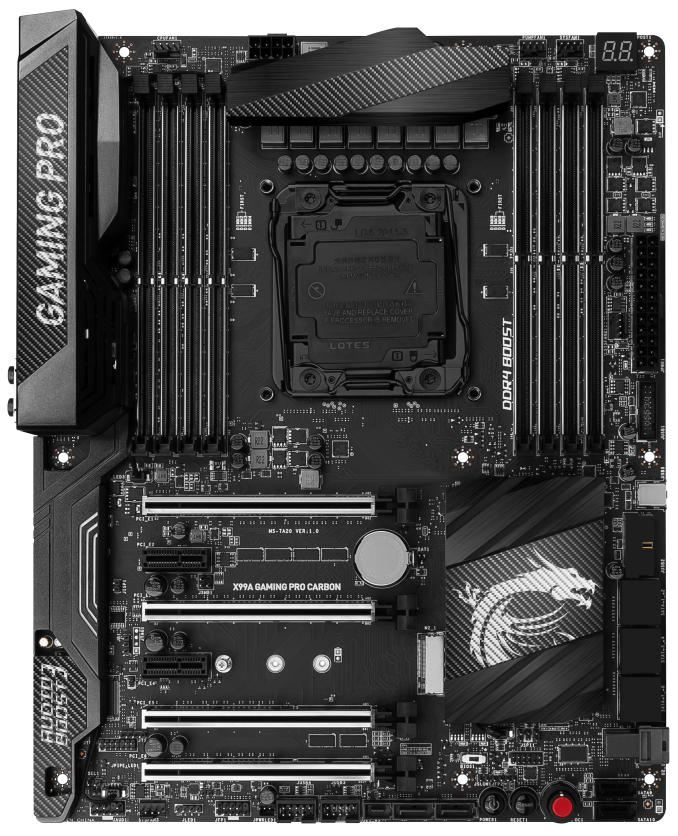 With the carbon styling, the whole PCB gets a matt black finish, making the traces between components less obvious. As a result, the socket area looks clean for any users wanting to prepare the motherboard for sub-zero cooling to prevent moisture. Above the socket are eight premium chokes with a heatsink over the power phases, but based on the boards pricing this is not connected to other heatsinks. The socket area has immediate access to four 4-pin fan headers: a CPU header to the top left above the DRAM slots, a liquid cooling pump fan header in the top right above the DRAM, a SYS fan header next to this, and the fourth is between the 24-pin ATX connector and the right-hand side DRAM slots. There is one other header on the bottom row of the board.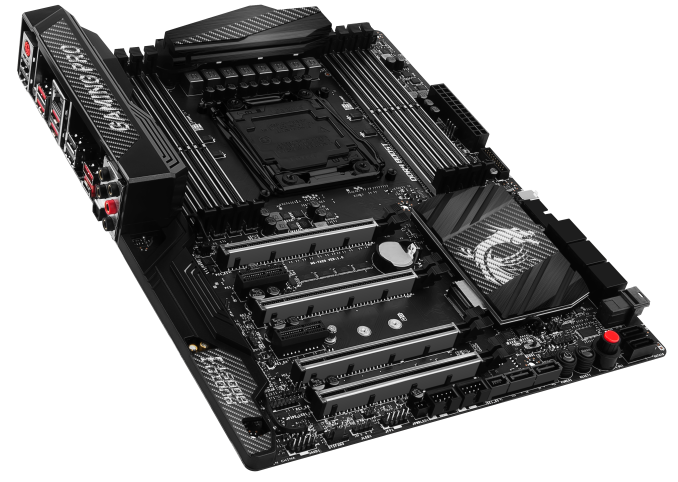 As mentioned before, the DRAM slots are reinforced to guard against bending or additional stress that might occur during abnormal use. We reviewed a motherboard recently that also had this effect, but the spacing between the DRAM slots was uneven (due to resistors in-between), and it looked odd. The X99A Gaming Pro Carbon doesn't have this issue through. Interestingly, the primary DRAM slots on each side are the outermost slots and then two inside that, in a 1/2/3/4/8/7/6/5 configuration left to right, and 1/3/5/7 are the primary ones. Typically we see a 1/2/3/4/5/6/7/8, which may lead to an abnormal balance when only four slots are populated. Each of the slots uses single sided latches, making it easier to remove memory when a large GPU is in place but users should make sure that the DRAM is firmly pushed into each slot.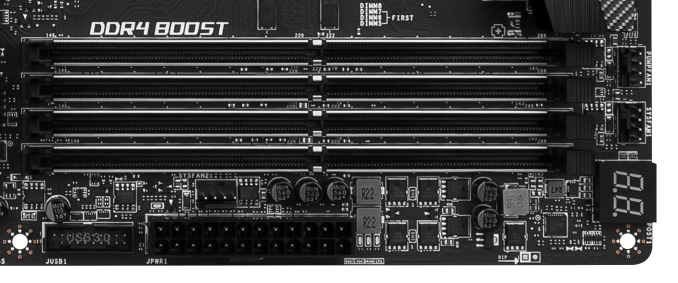 On the top right of the motherboard, next to the two fan headers, is a two-digit debug display which can be helpful for debugging any POST issues. After POST it doubles as a CPU temperature reading, and can be useful if a processor is going up in temperature due to dust in the chassis. Beneath this are the 24-pin ATX power connector, a 4-pin fan header, and a USB 3.0 header from the chipset. Next to the USB 3.0 header is an internal USB 3.0 Type-C port, useful for internal USB Type-C devices or, as I think MSI intends, for users to place a Type-C pass through on the front panel of a chassis. We get a second USB 3.0 chipset header next to the Type-C, at 90 degrees similar to the SATA ports.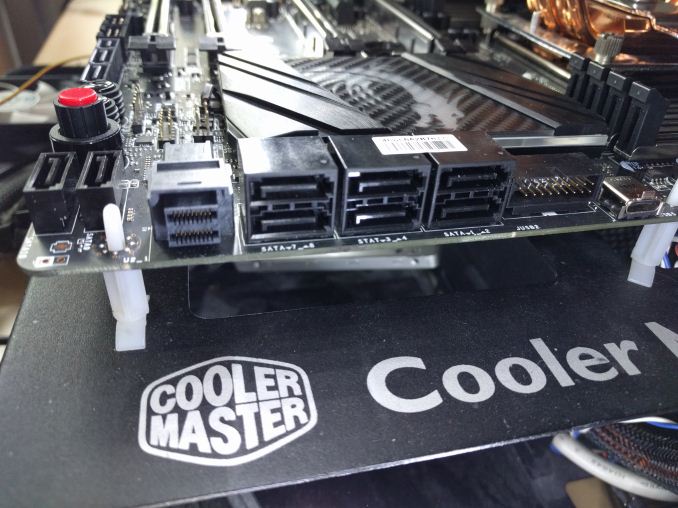 The storage area of the motherboard is a little varied. Remember with X99 that the chipset supports 10 SATA ports, with the first six from the primary AHCI controller and supporting RAID, while the secondary AHCI controller can supply four ports but these are not for RAID. On the board itself we start with six SATA ports, and the first two pairs are from the primary AHCI controller but the third pair is from the secondary controller and not for RAID. Then we get a U.2 port, which I want all motherboard manufacturers to have as there is at least one consumer drive that supports it, but then we get another two SATA ports. This pair is from that secondary controller, and then over the power/reset buttons is a third pair from that primary AHCI controller for RAID. This final pair can also support a SATA Express connection, despite the death of that standard for storage late last year.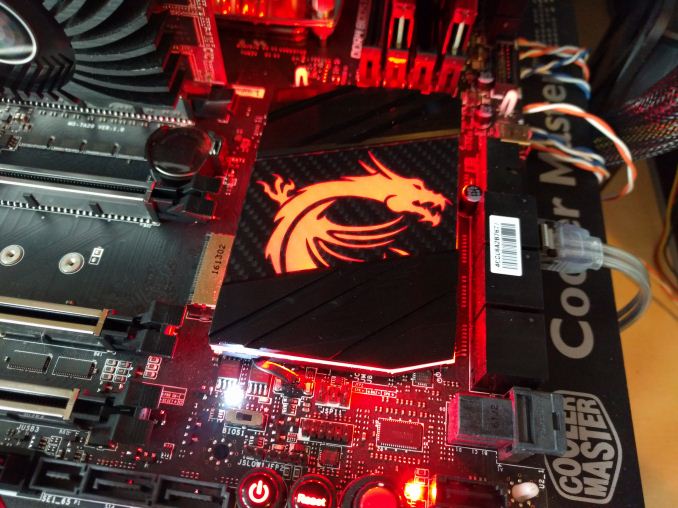 There is also an M.2 slot between the PCIe slots, and it supports PCIe 3.0 x4 or SATA drives. It is worth noting that there is a conflict between this and the U.2 port: in PCIe mode, only one can be used at once. For users who want more than one PCIe device, a PCIe slot will have to be used.

Moving to the bottom of the board, aside from the SATA ports, we get power/reset buttons on the right side along with a big red knob. This is a rotating switch with 8 points that manages the system level overclock. In previous generations from MSI we had the single button OC Genie, well it is now upgraded to eight different options, all of which are in the BIOS and we'll go through them then. Beside all these buttons is a BIOS select switch, a SLOW jumper for LN2 users wanting to boot into a slow mode, and a header for the LEDs in the chipset heatsink (see below).
Moving to the bottom left of the board and we get two USB 2.0 headers, an LED power header for an LED strip, and then eventually the front panel header. I'm surprised the front panel header is this far along, meaning that system builds will require long front panel leads and sufficient space to make sure they are hidden if you want an aesthetic build from this motherboard. Aside from these, there is a LED control header that controls color, that final 4-pin fan header, and the audio header. There is also a LED connection here for the LEDs in the audio cover.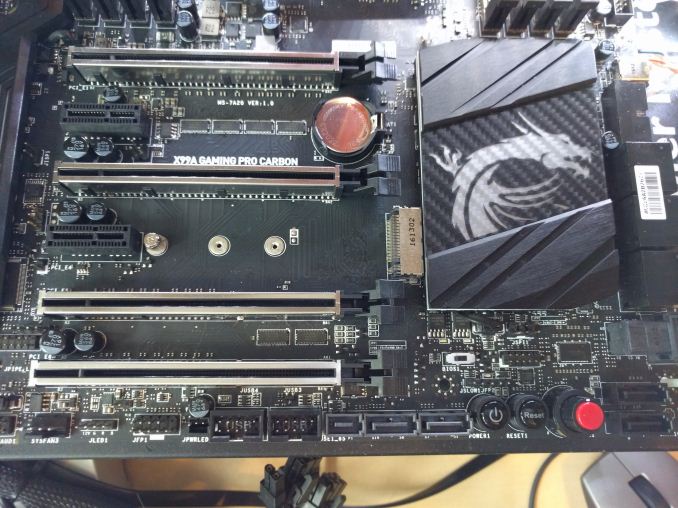 For the PCIe slots, MSI has gone with a layout conducive to three large PCIe devices, allowing for three dual-slot GPUs. That being said, all four of the shielded slots are powered by the CPU, giving up to four-way GPU when different sized coolers (or liquid cooling) are used. As a result users can go from x16/x16/x0/x8 to x8/x16/x8/x8 as required. In between all these are two PCIe 3.0 x1 slots for additional cards such as Wi-Fi, although PCI_E6 shares bandwidth with the U.2/M.2 arrangement, making it invalid when either of those two slots are in use.
The audio package is an enhanced Realtek ALC1150 audio solution, which is commonplace on motherboards of this price. This means, along with other upgrades, we get PCB separation of analog and digital signals, filter caps, an EM shield over the codec, extra plating on the audio jacks, and in this case, an extended shield over the audio section to assist with the aesthetic. This section also lights up as well. The audio solution makes use of the Nahimic software package, which we will go into in the software section.

On the rear panel, from left to right, we have a combination PS/2 port, two USB 2.0 ports, a BIOS reset button, four USB 3.0 ports in red (from a VIA VL805 USB 3.0 hub), the Intel I218-V network port, two more USB 2.0 ports, a USB 3.1-A port, a USB 3.1-C port (both from an ASMedia ASM1142 controller), and audio jacks with SPDIF output.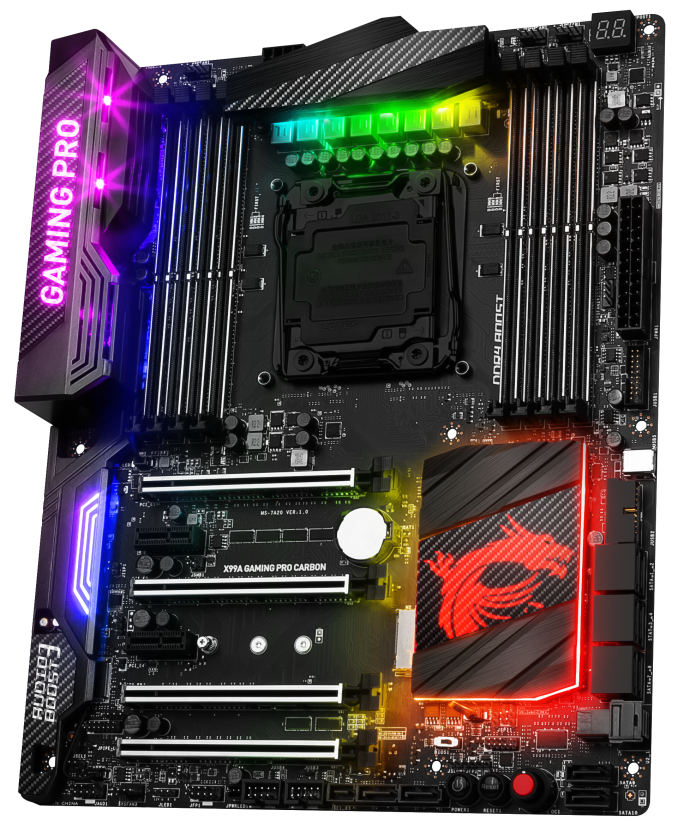 This board has 3-4 LED zones to control, from the audio, rear panel, main chipset, and power delivery. As we'll explain later, there are a number of different ways to set the colors to take advantage of the RGB nature of the LED configuration.