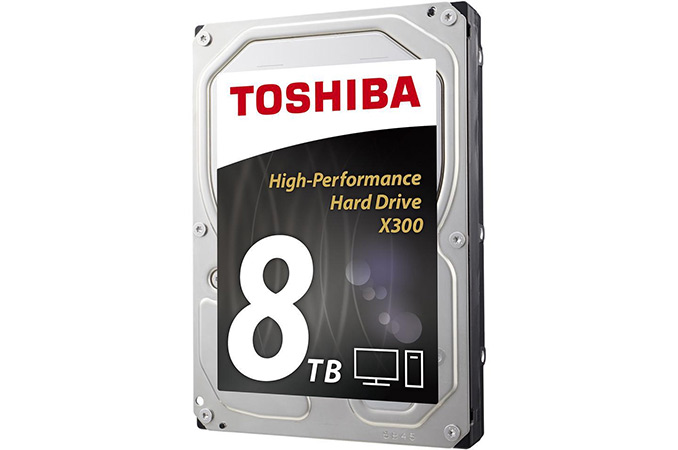 Toshiba has started to sell a new, 8 TB version of its X300 3.5" desktop hard drive. The new X300 8 TB hard drive relies on a specially developed platform with enterprise features that promises to enable extended reliability and has two performance-optimizing technologies. However what is especially noteworthy is that the price of this 7200 rpm-class HDD is considerably lower than the price of competing 7200 rpm-class 8 TB PMR internal hard drives.
The Toshiba X300 family of hard drives now consists of 4 TB, 5 TB, 6 TB and 8 TB models that have 7200 RPM spindle speed and 128 MB cache. Toshiba is not disclosing the capacity of the platters that it uses for the 8 TB HDD, but only says that they feature perpendicular magnetic recording and thus the drive has predictable performance and behavior. Apart from increased capacities compared to Toshiba's previous-gen P300-series (aka DT01ACA***) hard drives for desktops, the X300 lineup boasts higher performance and new features designed to improve the reliability of the HDDs.
When it comes to the performance of the 8 TB model in particular, the drive uses platters with a higher areal density than its predecessors, as well as a 128 MB cache (up from 64 MB on P300-series drives). While Toshiba is not confirming this, based on what we know about the X300 series the 8 TB model most likely uses six 1.33 TB PMR platters, as opposed to 1 TB PMR platters in the other models. Consequently the 8 TB model has a higher areal density than the other X300 drives, which means that its sequential read/write performance should also be higher. Furthermore, in a new feature that appears to be unique to the 8 TB model, the cache of the drive features a self-contained cache algorithm with on-board buffer management, which is said to improve the cache allocation of read and write operations to increase performance..
Toshiba is not disclosing exact performance figures for the 8 TB X300, but the company's N300 8 TB HDD launched earlier this year and and is believed to be based on the same platters. Taking a look at that drive we find a maximum sustained transfer rate of around 240 MB/s, and we expect that the 8TB X300 is in the same ballpark.
Toshiba X300-Series HDDs
HDWF180XZSTA
HDWE160XZSTA
HDWE150XZSTA
HDWE140XZSTA
Capacity
8 TB
6 TB
5 TB
4 TB
RPM
7200 RPM
Interface
SATA 6 Gbps
DRAM Cache
128 MB
(with performance enhancing algorithm)
128 MB
Average Latency
4.17 ms
MTBF
1 million hours (?)
Rated Annual Workload (read and write)
180 TB/year (?)
Warranty
2 years
Price
$254.99
$189.99
$159.99
$132.99
Meanwhile the similarities between the 8 TB X300 and higher-end HDDs for NAS applications don't end with just their performance. The new client drives rely on a platform that attaches the motor both to the top and to the bottom of the HDD to reduce system-induced vibrations, which improves the drive's reliability and tracking accuracy for higher performance. Back in the day, top and bottom attached spindles were only used on enterprise-class HDDs, but in the recent years higher-end desktop drives also inherited the feature, partly because they use the same physical platform (albeit, with different heads, set of sensors, firmware, etc.). In addition, the X300 drives have integrated shock sensors that help the HDD to protect platters against scratches and other negative effects of shocks.
Toshiba's 8 TB X300 HDD is currently available from Newegg for $254.99. In fact, the price of the hard drive is one of its undisputable trumps because it is cheaper than any other 7200 rpm-class PMR hard drives of the same capacity. This includes not only task-specific drive categories such as enterprise, NAS, workstations, but also general desktop drives, which as of late have carried higher MSRPs. As a result, Toshiba has a chance to lure customers with a combination of high performance and reliability in a desktop drive with a relatively affordable price.
Brief Price Comparison of Consumer and NAS 8 TB PMR HDDs at Newegg
Toshiba
X300
HDWF180XZSTA
Toshiba
N300
HDWN180XZSTA
Seagate
BarraCuda_Pro
ST8000DM005
WD
Red Pro
WD8001FFWX
WD
Red
WD80EFZX
WD

WD80EZZX
Capacity
8 TB
RPM
7200 RPM
5400 RPM
Interface
SATA 6 Gbps
DRAM Cache
128 MB with performance enhancing algorithm
128 MB
256 MB
128 MB
Rated Annual Workload (read and write)
180 TB
300 TB
unknown
Warranty
2 years
5 years
2 years
Price
Total
$254.99
$279.99
$320.24
$329.99
$279.99
$230.01
per GB
$0.0318
$0.035
$0.04
$0.0412
$0.035
$0.0287
Related Reading:
Source: Toshiba