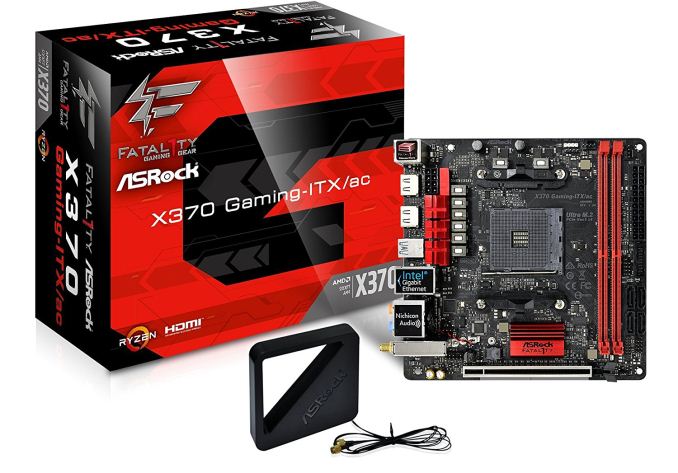 With high performance desktop ITX options appearing more frequently with each new generation of chipset, ASRock released a pairing of AM4 offerings to satisfy small form factor enthusiasts. Although the ASRock X370 Gaming-ITX/ac is one of the most expensive AMD Ryzen compatible motherboards on the market, it tries to offer more than the standard mini-sized motherboard.
Other AnandTech Reviews for AMD's Ryzen CPUs and X370/B350
The AMD Ryzen 3 1300X and Ryzen 3 1200 CPU Review: Zen on a Budget
The AMD Ryzen 5 1600X vs Core i5 Review: All Ryzen 5 CPUs Tested
The AMD Zen and Ryzen 7 Review: A Deep Dive on 1800X, 1700X and 1700
The AMD Ryzen 5 2400G and Ryzen 3 2200G APU Review: Marrying Zen and Vega
To read specifically about the X370/B350 chip/platform and the specifications therein, our deep dive into what it is can be found at this link.
Motherboards Tested
The ASRock X370 Gaming-ITX/ac Motherboard Review
The X370 Gaming-ITX/ac is marketed towards gamers with the board being associated Fatal1ty branding; ASRock has a branding deal and partnership with the successful early-2000s gamer, Johnathan 'Fatal1ty' Wendel. The idea is that being gaming focused - there will be gaming features. This starts with a typical gaming color scheme: an all-black PCB with a pairing of metallic red power delivery chipset heatsinks.
With a high specification and price tag to match, the ASRock X370 Gaming-ITX/ac targets users wanting to maximize the added benefits of the X370 chipset, but without sacrificing on key components such as power delivery that you usually get accustomed to dropping from ATX to ITX. With less PCB space available to fit necessary and vital key components onto, the costs are somewhat higher when comparing ITX boards against quality offerings from the ATX ranges in a similar price range.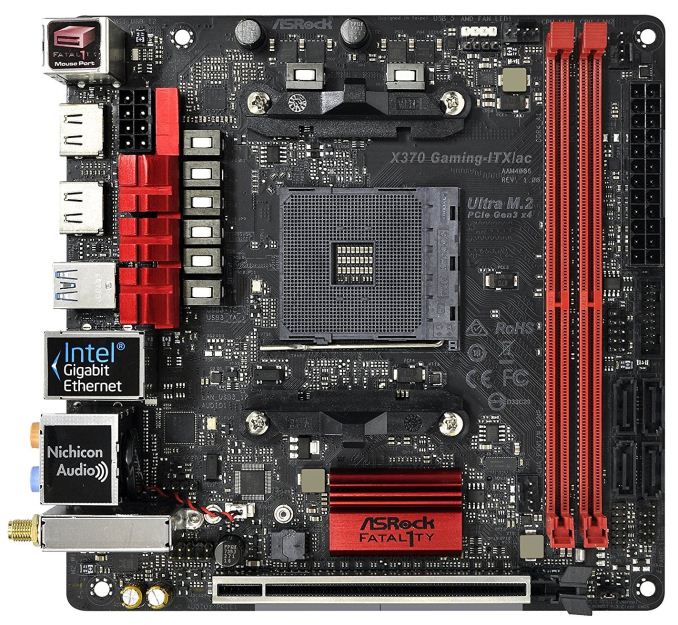 There are very few specific 'gaming' hardware features these days, with most brands now driving their gaming philosophy through the software, although the wording can sometimes be used to indicate high-end components. This means that for the ASRock X370 Gaming-ITX/ac, there is the high-end Realtek ALC1220 audio codec, which is complimented by a pairing of Nichicon gold audio capacitors, an Intel I211-AT gigabit ethernet controller, and an Intel 802.11ac Wi-Fi Wireless AC card.
The board features dual HDMI 1.4b outputs, and these dominate the rear panel real estate as they are laid out side by side, as opposed to being vertically stacked. For high speed USB connectivity on the rear panel, there are two USB 3.0 Type-A ports (dark blue), two USB 2.0 ports, a single USB 3.1 Type-A port and a single USB 3.1 Type-C port. For users requiring more USB connections, two front panel headers are there to be used, which offer support for an additional two USB 2.0 ports and two USB 3.1 5GBs ports.
On storage, a total of four SATA 6GBs ports can be found clustered together just below the 24pin ATX power connector. Following the usual trend with ITX motherboards, all of the available SATA connectors feature straight up ports which are cheaper to use and are also easier to implement, although can be a little unsightly. A single M.2 slot can be found on the rear of the PCB with NVMe SSDs being supported as well as traditional and cheaper SATA based M.2 drives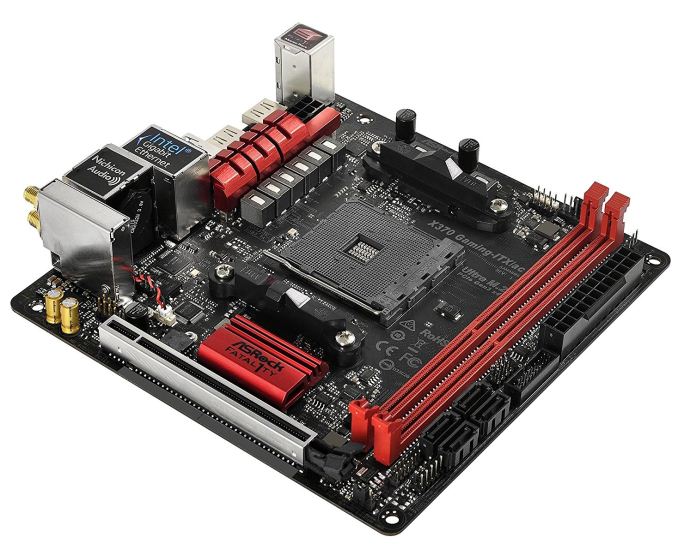 For performance, the system came away with one obvious win so far in our AMD AM4 motherboard testing: POST time. The time from the system starting to the Windows screen loading was the lowest we have seen so far, and by several seconds. This shouldn't be attributed to the size or lack of controllers - other mini-ITX motherboards we have tested fell around the same time as the larger ATX boards, but the ASRock X370 Gaming-ITX/ac took a clear lead. The board also has good numbers for power and audio, but doesn't follow the other ASRock boards in having the best DPC latency (it still hits middle of the pack). General CPU and GPU performance were also middle of the pack for the most part, eeking out wins in video encoding but falling slightly behind in Total War, but not by much. It still hit our 3.9 GHz metric on the Ryzen 7 1700 when overclocked.
Overall, the ASRock X370 Gaming-ITX/ac is an expensive mini-ITX motherboard, and will be directly compared to ATX boards at the same price. For the most part, ASRock has ensured that this motherboard offers the higher-end components, which most mini-ITX motherboards often skimp on to go for the cheaper market. The high-end Realtek ALC1220 codec, the Intel networking, and USB Type-C are all features that can be removed for a cheaper product, but ASRock here has wanted to ensure that users can still get premium when going for a small form factor build.
Note: BIOS 4.50 or better is required for the Ryzen 2000-series processors.
Ryzen 7 1700 Overclocking
Thanks to the unlocked multipliers on the Ryzen range of desktop processors, getting extra performance through the task of overclocking is easier than ever before. As far as the ASRock X370 Gaming-ITX/ac motherboard goes, it packs a very hefty power delivery for an ITX offering, which should put it in very good stead for users wanting stability when pushing their processors past the chips boost values. With no automatic overclocking options in the BIOS, aside from the ability to enable XMP, all overclocking has to be done manually. The ASRock UEFI BIOS itself is a relatively easy BIOS to navigate around and doesn't feature much of the aesthetic fluff found with other manufacturers. All the options needed can be found in the OC Tweaker panel with the multiplier and Core Voltage being made available after selecting the CPU Frequency and Voltage Change option from auto to manual.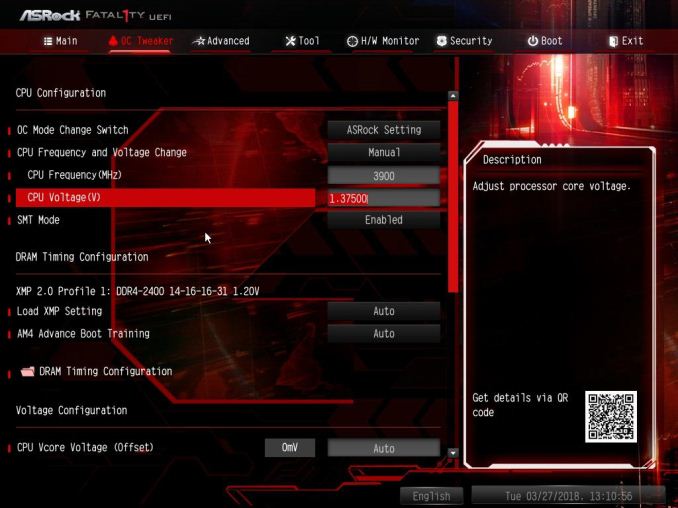 AMD's current best Ryzen 7 processors can push the clock speeds to 4.2 GHz with ambient cooling, whilst our Ryzen 7 1700 sample used for testing can hit up to 4.0 GHz at around the 1.375-1.4 volts mark.
Methodology
Our standard overclocking methodology is as follows. We select the automatic overclock options and test for stability with POV-Ray and OCCT to simulate high-end workloads. These stability tests aim to catch any immediate causes for memory or CPU errors.
For manual overclocks, based on the information gathered from previous testing, starts off at a nominal voltage and CPU multiplier, and the multiplier is increased until the stability tests are failed. The CPU voltage is increased gradually until the stability tests are passed, and the process repeated until the motherboard reduces the multiplier automatically (due to safety protocol) or the CPU temperature reaches a stupidly high level (100ºC+). Our test bed is not in a case, which should push overclocks higher with fresher (cooler) air.
Overclocking Results
Our Ryzen 7 1700 CPU does have a limitation between 3.9 GHz and 4.0 GHz; at least on the boards we have tested thus far. This is down to silicon lottery and a combination of a sharp ramp of voltage to temperature when moving up each different step; therefore, cutting out/throttling due to thermal limitations when pushed too far on ambient cooling.

The testing shows that the ASRock X370 Gaming-ITX/ac motherboard slightly undervolts the processor when at full load, but not by an excessive amount. A stable overclock of 4.0 GHz was achieved with a set voltage of 1.4 volts within the BIOS, which equated to 1.376 volts under load within Windows. A consistent increase in performance was noted in POV-Ray, and temperatures with our Thermaltake Floe Riing 360mm test bed cooler were not the limiting factor.
Wait a Second, Why Test X370 if X470 is Just Around The Corner?
Section by Ian Cutress
A lot of discussion is about AMD's upcoming launch, which is set to include a new motherboard chipset known as X470. We have had emails about our last B350 review, stating what was the point given that this new AM4-based chipset was around the corner, and I fully expect more comments on this article about it as well. The reasons are multiple.
One) X470 isn't replacing any of the current motherboard stack. X370, B350 and A320 are still going to be produced and sold alongside X470. There might be fewer new models compared to the latest and greatest, but motherboard vendors are still set to sell all of them side by side.
Two) All of these motherboards will have forwards/backwards compatibilty with the AM4 socket. Dropping in a Bristol Ridge or the latest mainstream Ryzen, with a sufficiently updated BIOS, will be possible. AMD has stated that the AM4 socket, and my extention the chipsets, will be on a long-term support structure. So the motherboard vendors are still set to run updates for the chipsets that exist.
Three) When we started our AM4 reviews, we tested a number of motherboards all at once, and have gone through the process of writing up our analysis one-by-one. The analysis, for current owners or to-be owners (of new or used), is a very important part of that process to help making purchasing decisions. Not everyone is buying the latest, and not everyone is buying new. We believe having that data on hand, especially when enabled through a Google search six months later down the line, is important.
We still have motherboard vendors asking if we can review their current-generation AM4 motherboards, regardless of what is coming around the corner. You might be amazed and how soon after recieving a sample we get emails asking 'when will it be published?'! But the bottom line is that sales do not stop just because something newer is about to come out, and we think that having our analysis online can act as a good reference for those that need it.
For those waiting on X470 reviews, we have one or two waiting in the wings. Stay tuned!