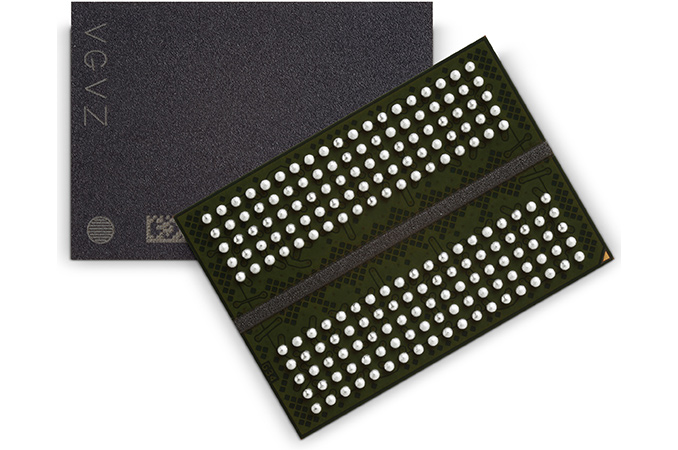 This morning Micron is announcing that they've kicked off production of their next-generation GDDR6 memory. This next step in production comes on the heels of their internal qualification, which was completed in late 2017, and arrives just in time to reach their H1'2018 mass production goal. With this announcement Micron has become the third memory and final vendor among the industry's Big 3 to produce GDDR6, as the pieces continue to fall into place for GDDR6 to become the true successor to the now decade-old GDDR5.
For Micron's product lineup they're launching with 8Gbit chips at a few different speeds. For the graphics market – where the bulk of consumer interest in GDDR6 certainly lies – Micron is releasing chips rated for 12Gbps and 14Gbps, both of which operate at 1.35v. This is down from 1.5-1.6v for GDDR5, and is where a good chunk of GDDR6's power consumption savings come from. Meanwhile a bit farther down the line Micron intends on releasing 16Gbps chips as well (and indeed already has part numbers for them).
Micron 8 Gb GDDR6 Memory Chips
Market
Part Number
Packaging
Data Rate
Bandwidth
per Chip
Voltage
Organization
Graphics
MT61K256M32JE-14:A
GDDR6
180-ball
14 Gbps
56 GB/s
1.35 V
256Mx32

MT61K256M32JE-12:A

12 Gbps
48 GB/s
1.35 V
Networking
MT61M256M32JE-12N(IT):A
12 Gbps
48 GB/s
1.25 V

MT61M256M32JE-10N(IT):A

10 Gbps
40 GB/s
1.25 V
Automotive

MT61M256M32JE-12AAT:A

12 Gbps
48 GB/s
1.25 V

MT61M256M32JE-10AAT:A

10 Gbps
40 GB/s
1.25 V
Over time, GDDR6 will be superseding both GDDR5 and the lightly adopted GDDR5X for graphics customers. In the case of product lines moving from GDDR5, GDDR6 is a full generational jump over the previous memory, with even the slower 12Gbps chips offering a full 50% better bandwidth than the fastest GDDR5 bins. As for product lines that have been based around GDDR5X, there's also a performance advantage, though not by as much; 14Gbps GDDR6 represents a 17% increase in bandwidth over the fastest GDDR5X SKUs available today.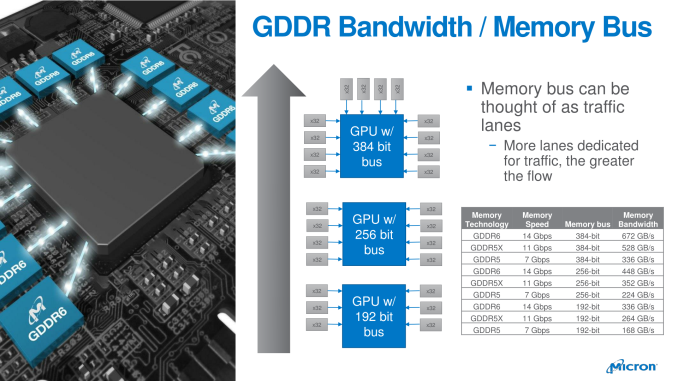 Micron of course was the only memory vendor that ended up producing GDDR5X, and while not a failure for the company, the memory never did get any traction outside of NVIDIA's faster Pascal products. GDDR6, by contrast, is on track to have a much more successful life, with multiple vendors supplying it and a lot more interest from customers outside the graphics space. Though this does mean that GDDR5X's life is going to be cut somewhat short; Micron has confirmed that outside of any projects left in the development pipeline, they're done with GDDR5X. So while the technology was initially slated to get to 16Gbps, it will be GDDR6 that actually gets them there, with Micron leveraging what they learned from GDDR5X in the process.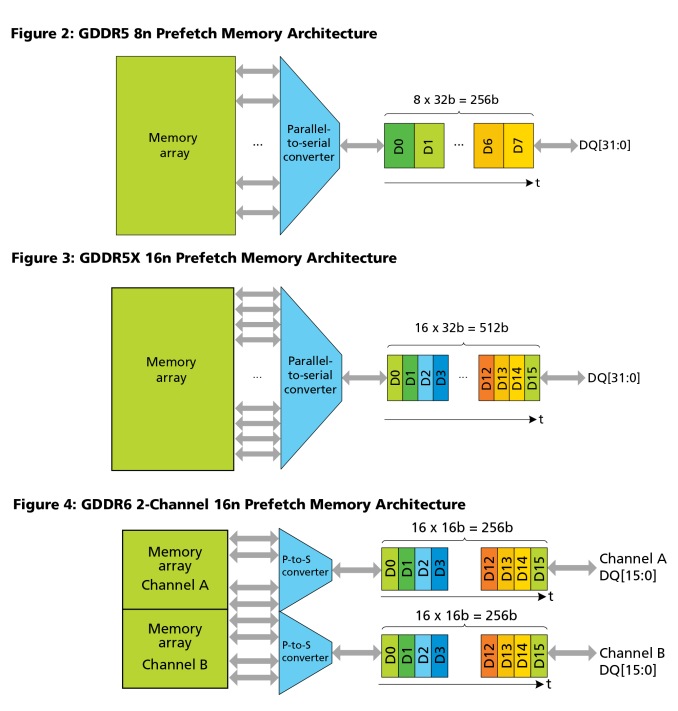 On which note, for those wondering what the biggest difference is between GDDR5X and GDDR6, it comes down to the number of channels. Whereas both GDDR5 and GDDR5X used a single 32bit channel per chip, GDDR6 instead uses a pair of 16bit channels. For graphics this doesn't have much of an impact since GPUs already read and write to RAM in massive sequential parallelism, however it's a more meaningful change for other markets. In this case the smaller memory channels will help with random access performance, especially compared to GDDR5X and its massive 64 byte access granularity.
Speaking of those non-graphics customers, for the automotive and networking markets Micron is offering the same 8Gbit capacity at speeds of 10 and 12 Gbps. In the case of these markets Micron is running their memory at a slightly lower voltage- down to 1.25v – offering even lower power consumption in trade for slightly lower data rates.
Finally, further out, Micron is already looking at faster and higher density memory options. The company already has 16Gb parts in their development pipeline (the GDDR6 spec allows for up to 32Gb), which will finally offer a long-awaited capacity bump over 8Gb GDDR5(X). As for faster speeds, besides their forthcoming 16Gbps products, the company is also playing with even faster speeds in their labs, where they've recently been able to get GDDR6 up to 20Gbps. Now it does go without saying that faster memory speeds are much more future looking – in part because there needs to be memory controllers capable of driving such fast memory – but Micron seems cautiously optimistic.