With the launch of the new AMD B450 budget focused chipset, we're taking a look at two Fatal1ty gaming branded ASRock motherboards; the B450 Gaming ITX/ac and the Fatal1ty B450 Gaming K4. Both models look to offer good value for money to gamers on a strict budget but don't need features such as NVIDIA SLI multi-graphics card support.
Analyzing B450 for AMD Ryzen: A Quick Look at 25+ Motherboards
ASRock B450 Gaming K4 Overview
The ASRock B450 Gaming K4 has lots of potential for users looking to a sub $100 ATX sized motherboard as the foundations of a budget-friendly Ryzen APU system, or even for a single carded gaming goliath. While not laden with quite as many premium controllers as its smaller sized B450 Gaming ITX/ac sibling, the B450 Gaming K4 is a direct replacement of the B350 Gaming K4 which we reviewed earlier on in the year. While the B350 Gaming K4 cost around $90 at the time of the review, the B450 Gaming K4 launches in at a slightly more expensive $100 and a lot of the features remain the same, there are some notable differences to cover; positive differences I should iterate.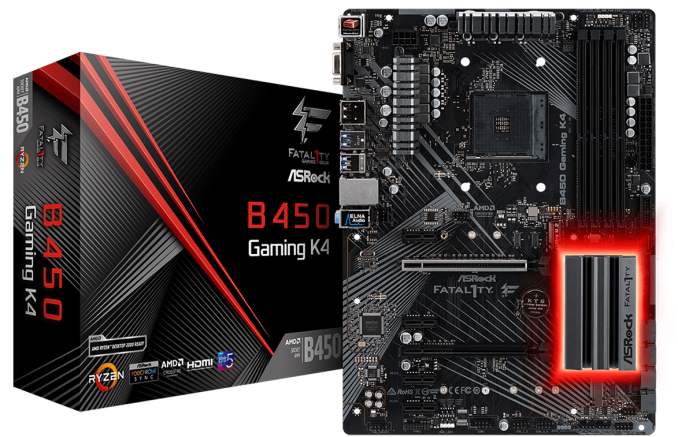 While the bulk of the differences appear to come from a more subtle looking design, the B450 Gaming K4 doesn't specifically conform to what is generally offered from a Fatal1ty branded motherboard with red heatsinks. The B450 variation has dark grey power delivery and chipset heatsinks, with integrated ASRock Polychrome compatible RGB LEDs underneath the chipset heatsink; these can be customized through the BIOS or the ASRock Polychrome RGB software utility. The chipset choice is relatively similar with both Gaming K4's featuring a single Realtek ALC892 audio codec with three 3.5mm audio jacks on the rear panel. The B350 Gaming K4 uses a Realtek RTL8111G Gigabit LAN controller whereas the B450 Gaming K4 uses a slightly newer RTL8111H model. The biggest addition to the newer B450 Gaming K4 is the inclusion of USB 3.1 10 Gbps connectivity with a Type-A and a Type-C both being featured. The USB 10 Gbps capability and updated RGB LED lighting under the heatsink is likely to justify the extra $10 cost to most, making the B450 Gaming K4 emerge as the more appealable option of the two as it currently stands.
The overall performance given from the ASRock Fatal1ty B450 Gaming K4 is 'acceptable', however it often performs last (within margin of error) in most of the CPU and GPU performance tests. For power, like the B450 Gaming ITX/ac, the figures taken from the idle power consumption testing prove fruitful, but at maximum load, the B450 Gaming K4 manages the largest power draw from all of the AM4 socketed motherboards tested so far. DPC Latency is something most vendors don't optimize for, nonetheless normally ASRock performs consistently well here, but the B450 Gaming K4 is the exception to the rule with the only board scoring worse is the Biostar X370GTN. In our 7-Zip compression testing and 3DPM algorithm tester, the Gaming K4 sits at the bottom of the pack and the results in our gaming benchmark suite prove much of the same. While these are marginally worse than the next lowest scoring AM4 motherboard in the graphs, none of the results stand out as an anomaly, when a board consistently scores lower, it could indicate inefficient operation or firmware troubles; all results were in the margin of error.
Board Features
The B450 Gaming K4 has a range of decent controllers such as a Realtek pairing of controllers: an ALC892 audio codec and RTL8111H Gigabit networking controller. The primary target for the Gaming K4 is gamers on a budget and in ASRock's infinite efforts to supply quality componentry, while keeping costs as low as possible, users looking to make use of the HDMI 2.0 and DisplayPort 1.2 outputs with can do so with the Ryzen based APUs, the Ryzen 5 2400G ($169) and Ryzen 3 2200G ($99).
ASRock Fatal1ty B450 Gaming K4 ATX Motherboard
Warranty Period
3 Years
Product Page
Link
Price
$100
Size
ATX
CPU Interface
AM4
Chipset
AMD B450
Memory Slots (DDR4)
Four DDR4
Supporting 64GB
Dual Channel
Up to DDR4-3200+
Video Outputs
1 x HDMI
1 x D-Sub
1 x DisplayPort 1.2
Network Connectivity
Realtek RTL8111H Gigabit LAN
Onboard Audio
Realtek ALC892
PCIe Slots for Graphics (from CPU)
1 x PCIe 3.0 x16
1 x PCIe 3.0 x4
PCIe Slots for Other (from PCH)
2 x PCIe 2.0 x1
Onboard SATA
Six, RAID 0/1/10
Onboard M.2
1 x PCIe 3.0 x4/SATA
1 x PCIe 3.0 x2/SATA
USB 3.1 (10 Gbps)
1 x Type-A Rear Panel
1 x Type-C Rear Panel
USB 3.0 (5 Gbps)

4 x Type-A Rear Panel


1 x Header (two ports)
USB 2.0
2 x Rear Panel
2 x Header (four ports)
Power Connectors
1 x 24-pin ATX
1 x 8pin CPU
Fan Headers
1 x CPU (4-pin)
1 x CPU/Water Pump (4-pin)
2 x System (4-pin)
IO Panel
1 x USB 3.1 Type-A
1 x USB 3.1 Type-C
4 x USB 3.0 Type-A
2 x USB 2.0 Type-A
1 x Network RJ45 (Realtek 8111H)
1 x HDMI
1 x D-Sub
1 x DisplayPort 1.2
1 x Combo PS/2
3 x 3.5mm Audio Jacks (Realtek)
The B450 Gaming K4 has support for up to DDR4-3200 memory with a maximum capacity of up to 64 GB (4 x 16 GB) across the four available RAM slots. While the memory compatibility isn't necessarily an improvement going from the B350 Gaming K4 to the B450 version, there is a notable difference to the speeds supported at the launch of the B350 chipset which did get rectified by a range of firmware updates; while not as impressive right now, it is still an improvement between the two launches and shouldn't be dismissed.
ASRock B450 Gaming K4 Visual Inspection
While not a usual color scheme associated with the ASRock gaming brand, the B450 Gaming K4 has a pairing of dark grey heatsinks with the chipset heatsink using the branding. On top of this, or should I say underneath, we have the chipset heatsink which has a spread of RGB LEDs that conforms to ASRock's Polychrome Sync RGB standard. This feature allows users to sync up compatible components such as cases, case fans, memory, power supplies and even SSDs for a more uniformed style. The RGB options don't just stop there as ASRock has also included an addressable LED header as well as a standard RGB header to allow for further customization options.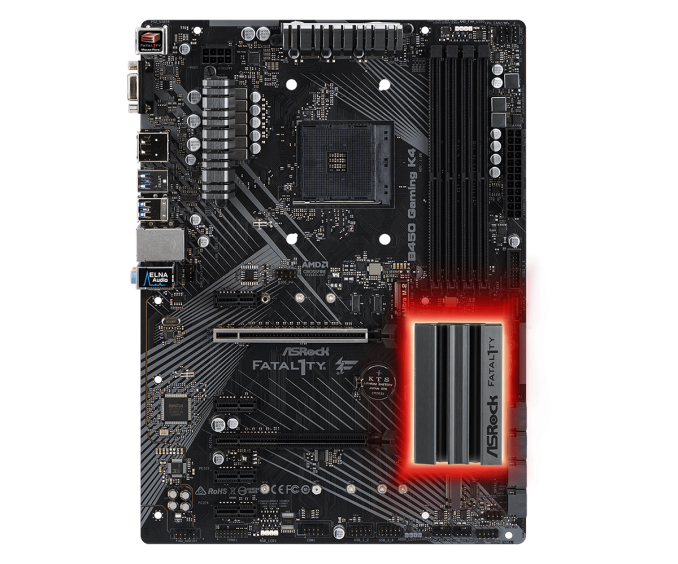 The B450 Gaming K4 offers support for DDR4-3200 memory and with four available slots running in dual-channel, up to a total of 64 GB (4 x 16 GB) of system memory can be installed. The B450 Gaming K4 shares the same PCIe layout as on the B350 Gaming K4 with a full-length PCIe 3.0 x16 slot with ASRock's Steel Slot armor protection, a second full-length PCIe 2.0 slot operating at x4 and four additional PCIe 2.0 x1 slots. While both full-length slots are capable of running 2-way AMD Crossfire in an x16/x4 configuration, NVIDIA SLI which requires a minimum of eight PCI lanes to operate is not supported. Cooling support comes in the way of a single 4-pin CPU fan header, one 4-pin secondary CPU/water pump header and three 4-pin headers dedicated to case fans.
In regards to the audio options, the audio area of the PCB has a very simplistic set of black audio capacitors which complements the Realtek ALC892 audio codec. The ALC892 codec offers three 3.5mm audio jacks on the rear panel, with official support for up to 7.1 surround sound. The networking capabilities on the B450 Gaming K4 consist of a single Realtek RTL8111H Gigabit controller with a single LAN port on the rear panel so users can get connected to a network.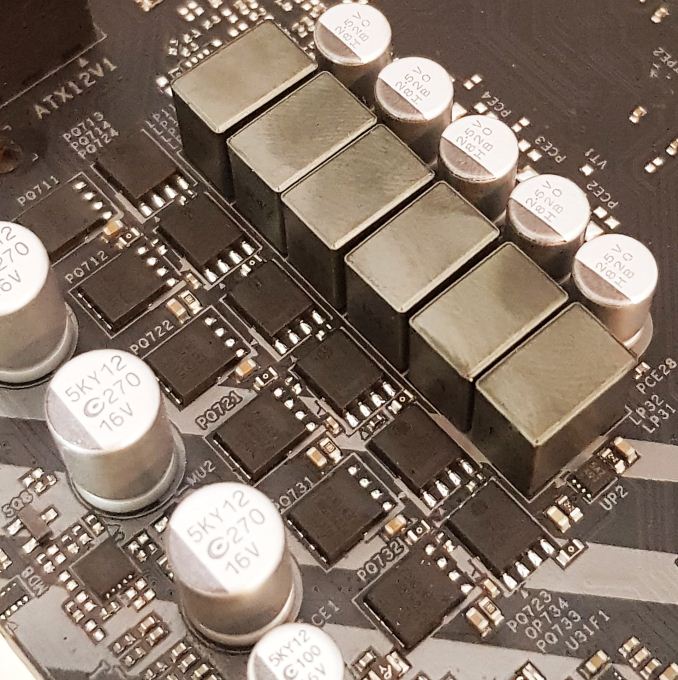 The power delivery on the ASRock B450 Gaming K4 gets really interesting for a number of reasons. The first is that the product page advertises a 9-phase design and while from a quick glance with the heatsinks on it would appear so. With the heatsinks off however, this is not the case with the Intersil ISL95712 PWM controller only being capable of a maximum of 4+3 channels. This means what effectively looks like a 6+3 configuration on the surface, the power delivery is actually running 3+3 with the six NIKOS PK618B high side and six NIKOS PZ0903BK low side MOSFETs being shorted together without the use of a doubler. The SoC section has three NIKOS PZ0903BK low side MOSFETs with a pairing of NIKOS PK618B high side MOSFETs with each of the phases each having a choke.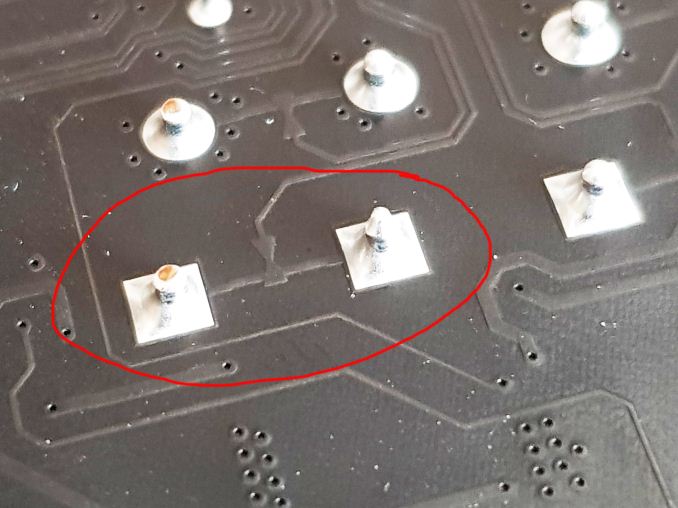 The short between two NIKOS PK61B high side MOSFETs on the CPU phases
While this type of configuration is still ample for general everyday usage, it's very misleading as what looks like a 9-phase design is actually running at 3+3 and is essentially missing a third. While there is 'technically' nine phases, the IR95712 PWM controller has a maximum capacity for 4+3; this is very deceptive of ASRock.
Motherboard Power Delivery
Motherboard
Controller
H-Side
L-Side
Chokes
Doubler
ASRock B450 Gaming ITX/ac
ISL95712
(6+2)
10
10
8
0
ASRock B450 Gaming K4
ISL95712 (3+3)
12
9
9
0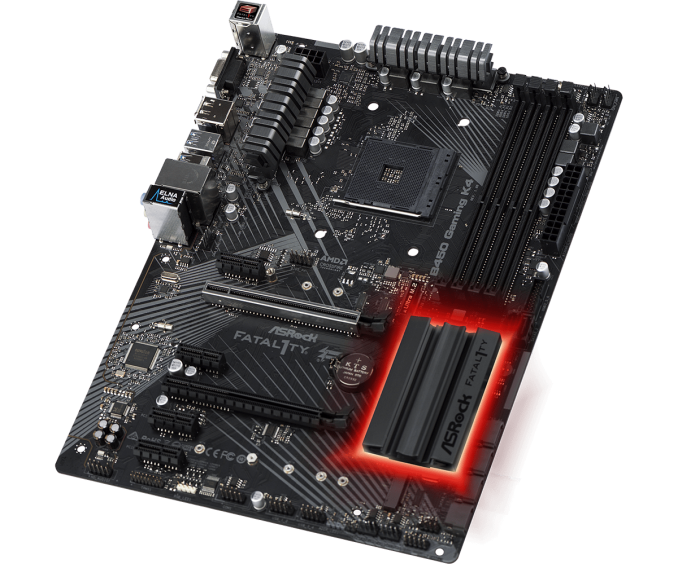 Focusing on the storage options, the B450 Gaming K4 has a total of six SATA ports. These are split into two sections with two of the SATA ports featuring straight angled located directly below the 24-pin ATX motherboard power input. The remaining are lined horizontally stretching from the side of the chipset heatsink towards the bottom right-hand corner of the board. A total of two M.2 slots are present with the top slot featuring a PCIe 3.0 x4 interface and has support for M.2 2280 drives. The bottom slot accommodates drives up to M.2 22110 and has support for both SATA and PCIe drives up to a maximum of PCIe 3.0 x2. It should be noted that the bottom M.2 slot shares bandwidth with two SATA 6 Gbps ports and when a drive is installed into either/or, the opposing slot/slots will be disabled.

Much like with the B450 Gaming ITX/ac, the B450 Gaming K4 adds USB 3.1 10 Gbps connectivity to the B450 Fatal1ty range with both Type-A and Type-C 10 Gbps ports featured. In addition to this, is a further four USB 3.1 5 Gbps Type-A and two USB 2.0 ports. The biggest difference between the B350 and B450 Gaming K4 comes in the available video outputs with the B450 Gaming K4 dropping DVI-D for a single DisplayPort 1.2 output. Padding out the video capabilities is a single D-Sub port and an HDMI output. The three 3.5mm audio jacks are powered by the Realtek ALC892 audio codec while the LAN port takes its orders from the comparable Realtek RTL8111H Gigabit networking controller; the Realtek ALC892 and RTL8111H controllers are a frequent pairing on boards looking to offer good quality controllers, but without the ever-rising price tag the premium boards command.
In the Box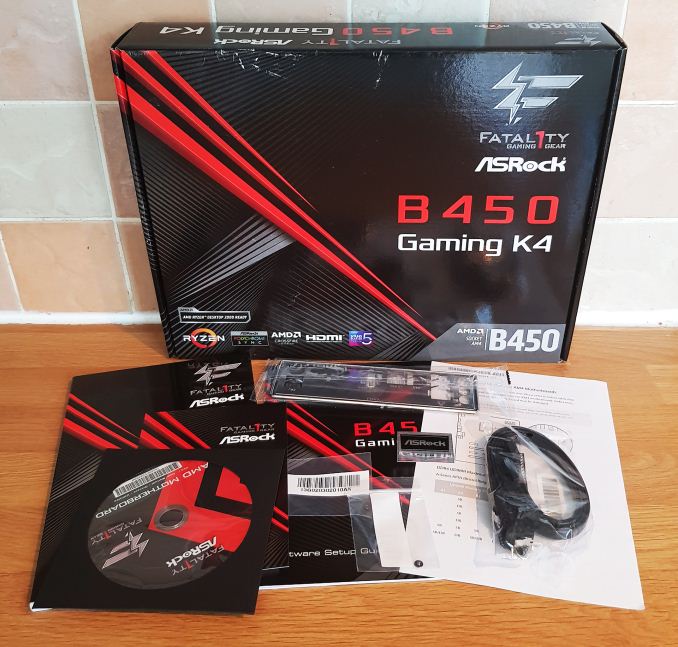 The accessory and bundle packed supplied with the ASRock B450 Gaming K4 are relatively basic with an array of manuals, a driver disk and a Fatal1ty themed rear I/O plate. The board also comes with two SATA cables to get the system operational out of the box.
Driver Disk
Quick Start Software Guide & User Manual
M.2 Drive Mounting Screw
Rear I/O Plate
Two SATA Cables (One right-angled- and one straight)
ASRock Postcard
ASRock Sticker