Objective Testing

For testing memory usage we opened up each of our testing sites in a separate tab and then checked how much memory each application was using. Since we're now using Vista, the Internet Explorer results should be more representative of actual memory usage since it's no longer integrated in to Explorer.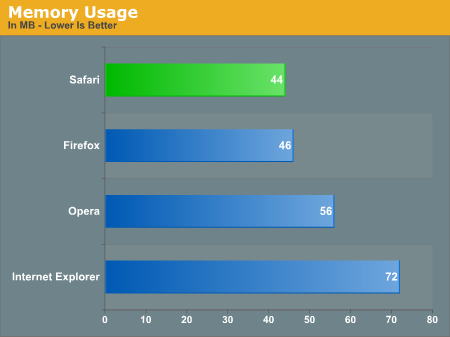 Other than Internet Explorer at 72MB, the rest of the browsers are fairly close. Safari comes out on top at 44MB, barely edging out Firefox at 46MB.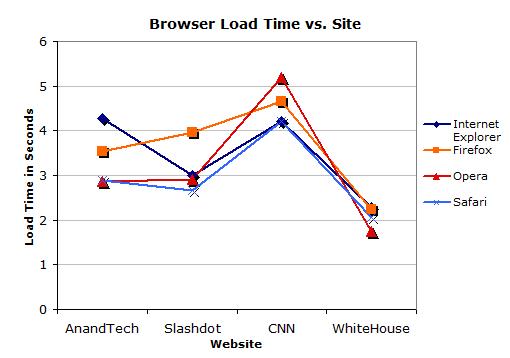 Not surprisingly, there's no clear-cut winner as certain browsers tend to favor one site over another. Firefox is the slowest by a good margin, while IE and Opera do well except for faltering at rendering AnandTech and CNN respectively. In line with Apple's claims, Safari is the fastest browser on average, however it only actually takes Slashdot, otherwise it loses or is in a dead heat. We suspect that this is the case overall too, for most sites Safari won't be significantly faster than at least one other browser but it's fast enough to vie for the top.
Compatibility testing was surprisingly hard, largely because it's not a true compatibility test until we somehow manage to break something. Try as we might, the biggest incompatibility we could find was a minor graphical problem with a date header at the gaming news site Blue's News. Safari otherwise was able to properly render every site we visited. The only weakness we know of here, and this applies to every other non-Microsoft browser too, is that some sites still require ActiveX controls which only Internet Explorer supports.


Internet Explorer


Safari