After originally missing its initial launch window of late June, and again missing a soft launch target of 2 weeks ago, the first Radeon HD 7970 GHz Edition card has finally turned up in our weekly scouring of Newegg. And boy is it a doozy.
As we mentioned in our previous update, AMD's partners have decided to take a slightly different direction with the 7970GE than AMD originally intended. Instead of shipping straightforward reference and semi-custom 7970GE cards, partners have chosen to integrate the binned Tahiti GPU into their existing high-end product lineups. As a result the 7970GE is effectively a month behind schedule, but this also means the first cards are more powerful than the "mere" reference 7970GE we saw back in June.
Radeon HD 7970 GHz Edition Specification Comparison
Sapphire Toxic 7970GE 6GB "Lethal"
Sapphire Toxic 7970GE 6GB "Stock"
AMD Radeon HD 7970 GHz Edition
AMD Radeon HD 7970
Stream Processors
2048
2048
2048
2048
Texture Units
128
128
128
128
ROPs
32
32
32
32
Core Clock
1150MHz
1050MHz
1000MHz
925MHz
Boost Clock
1200MHz
1100MHz
1050MHz
N/A
Memory Clock
6.4GHz GDDR5
6GHz GDDR5
6GHz GDDR5
5.5GHz GDDR5
Memory Bus Width
384-bit
384-bit
384-bit
384-bit
VRAM
6GB
6GB
3GB
3GB
FP64
1/4
1/4
1/4
1/4
Transistor Count
4.31B
4.31B
4.31B
4.31B
PowerTune Limit
?
250W+
250W+
250W
Manufacturing Process
TSMC 28nm
TSMC 28nm
TSMC 28nm
TSMC 28nm
Architecture
GCN
GCN
GCN
GCN
Launch Date
07/30/2012
07/30/2012
06/22/2012
01/09/2012
Launch Price
$699
$699
$499
$549
The first 7970GE card to ship is a prime example of this strategy: Sapphire's Toxic HD 7970 GHz Edition 6GB. As many of our long-time readers are aware, Sapphire uses their Toxic sub-brand to house their customized high-end factory overclocked parts, and the 7970GE Toxic is no exception. On top of the custom PCB and custom cooler one would expect to find in a fully-custom card, Sapphire is shipping the card with a base clockspeed of 1050MHz, a further 50MHz beyond the 7970GE's reference base clock. The boost clock is in turn also raised by 50MHz, giving the card a 1.1GHz boost clock at stock.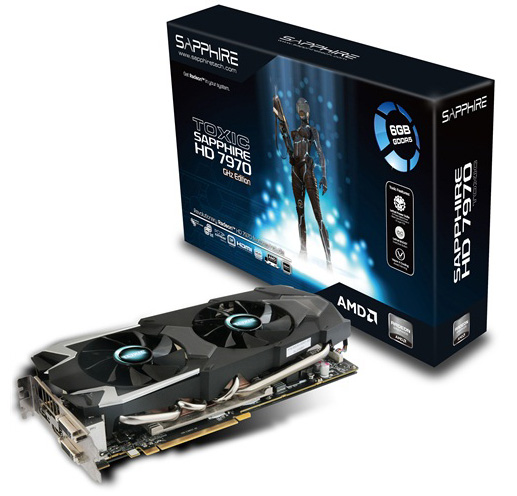 However it appears that Sapphire hasn't stopped there, as 1050MHz is only one of two configurations the 7970GE Toxic supports. The 7970GE Toxic ships with a second, higher clocked performance BIOS which is enabled by the "Lethal Boost Button" on the card, which switches the card over to this second BIOS. The second BIOS in turn is truly an overclocked BIOS, with Sapphire bumping up the core clock by a further 100Mhz and the memory clock a further 400MHz, to a final clockspeed of 1150MHz base clock, 1200MHz boost clock, and 6.4GHz memory clock. Compared to the reference 7970 that was launched back in January this is a significantly higher clocked card (nearly 25%), which makes for an abnormal mid-cycle performance improvement for the still-young 7970.
Now for the bad news: the first 7970GE is going to set you back $699. Custom cards always carry a premium and the Toxic lives up to that expectation just as well as it does any other. Between the factory overclock, greater amount of RAM, and other custom functionality, Sapphire is charging a $200 premium over what a reference 7970GE would go for. Every indication so far is that the rest of AMD's partners will be going in the same direction by using the 7970GE for custom cards, so at this point it's we're unsure if we'll see anything with the performance or the price of the reference 7970GE. We're not sure that's a good thing here – one of the great things about the 7970GE was that it established an official SKU for AMD's direct GTX 680 competitor – but for now it is what it is.
Source: Newegg