Brightness and Contrast
For this review, I altered the way I measure brightness and contrast. With display vendors including dynamic modes that shut off the backlight completely on all-black screens, those can't be used for testing anymore as it leads to infinite contrast ratios. Additionally it doesn't do a real world, accurate test of what the real contrast and brightness levels would be. Instead I am now measuring the screen using a 5x5 ANSI contrast pattern, once regular and once reversed. This allows for getting a better idea of panel response, and it will reward companies that use better backlighting systems (like LED array systems) that have precise control, less backlight bleeding, or that move to a technology like OLED in the future.
The downside is that new results are not directly comparable to old results. It also doesn't scale well from a large display to a smaller display, as the smaller targets on small displays mean you might more easily read light from another target. I would expect that numbers now will look a little worse than before because of the harder testing, and nowhere near the ridiculous numbers often quoted by vendors. It will provide better data for the readers, however, and so it is the way to move forward.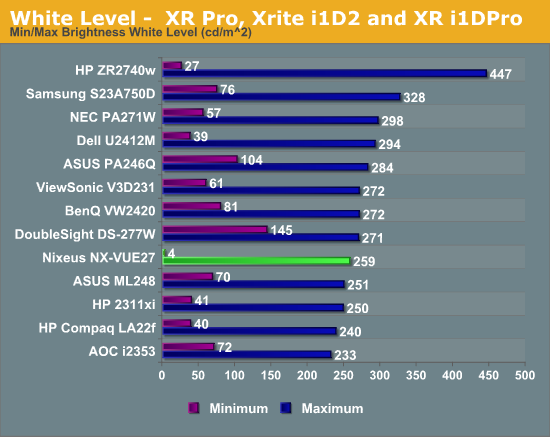 With the brightness set to maximum we get a white level in the center of the ANSI pattern of 259 nits. This is lower than I expected from the specs, but a full field white might be able to generate a brighter square as well. For the minimum white level I set the brightness level down to 20. With it set to 19 I could get a reading on white of around 1 nit, but black was below what the meter could read, and so I had to set it up to 20. Set here, I had 3.8 nits of light output (which is rounded up to 4 in the chart). Some displays only get down to 70-80 nits, which might be brighter than some users want, so this is a good number to see. I just wish the brightness control functioned all the way down to 0 to provide better control of the backlight overall.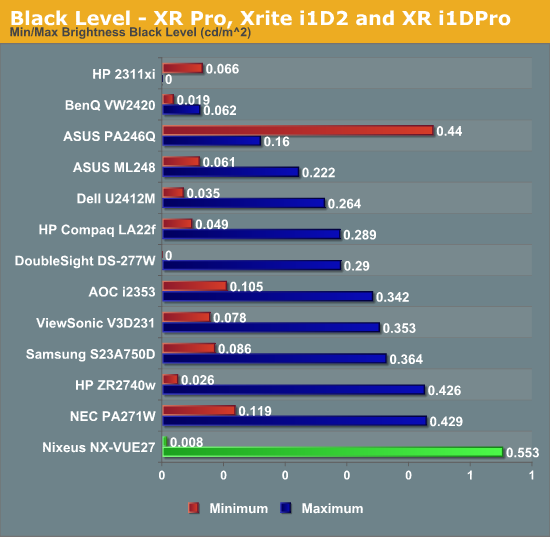 The black level of the Nixeus with the backlight set to maximum is 0.553. This seems high, but this is our first pass with the new ANSI testing method, so we will have to see if this winds up being high or low after a couple more reviews. The black level of the Nixeus with the brightness at 20 is 0.008 nits, which is quite low. It's really as low as we've measured before, but this is somewhat a result of a backlight that stops being functional below this setting.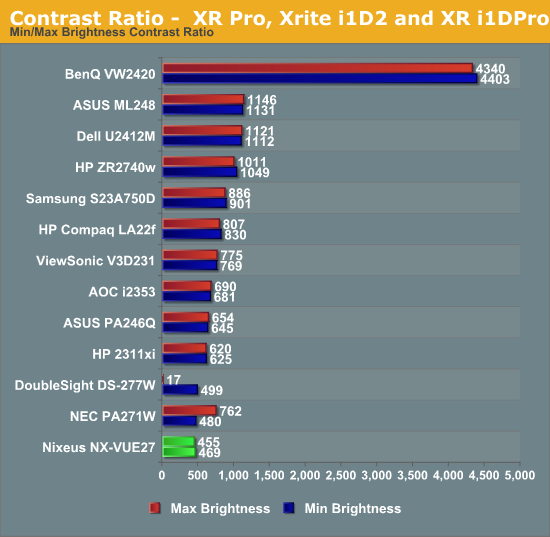 The resulting contrast ratios here are 469:1 at maximum and 455:1 at minimum. These unfortunately come in at the bottom of the list for 27" monitors--and really it's the bottom of the chart for all the monitors we have reviewed recently. Getting good contrast ratios becomes harder as the display gets larger, and the backlighting systems to really pull them off become more expensive. I think we are almost stuck with these lower contrast ratios until we start to see more screen innovations, like OLED or backlit-LED array displays, but those are also very expensive. I'm not too happy about the sub-500:1 number as dynamic range is very important in a display, but it's a compromise you'll have to weigh yourself.