Part II: AVADirect Clevo P170EM Gaming Notebook with GeForce GTX 680M
We took Clevo's P170EM for a spin last week, equipped with a Radeon HD 7970M and a variety of other high-end options. Today we have our follow up where we use the same core hardware but with NVIDIA's GTX 680M in place of AMD's top mobile GPU. Now that we have an apples-to-apples comparison between the two fastest mobile GPUs, who can claim the mobile gaming crown?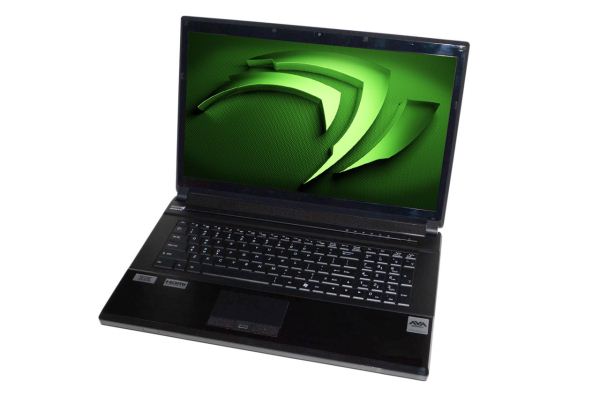 For this second installment, we've taken some time to run additional gaming tests, we've updated the BIOS and rerun battery life numbers, and we take a detour into discussing drivers and GPU utilization figures. Having spent more time using the P170EM, I'll also try to reevaluate the overall package in light of the above areas to see if I might have been a bit too harsh with my initial assessment. If you need a fast desktop replacement/gaming notebook, is Clevo the way to go?
Let's start with a quick recap of the laptop hardware—everything is the same, other than the change in GPU and a slight difference in RAM (the brand, not the speed).
AVADirect Clevo P170EM Gaming Notebook Specifications
Processor
Intel i7-3720QM
(Quad-core 2.60-3.60GHz, 6MB L3, 22nm, 45W)
Prolimatech PK-3 Thermal Compound
Chipset
HM77
Memory
Corsair Vengeance 8GB (2x4GB) DDR3-1600
(Running at 9-9-9-24-1T Timings)
Graphics
Intel HD 4000
(16 EUs, up to 1250MHz)

NVIDIA GeForce GTX 680M 2GB GDDR5 (Optimus)
(1344 cores at 720MHz, 256-bit GDDR5-3600)
Display
17.3" WLED Matte 16:9 1080p (1920x1080)
(Chi Mei N173HGE, 72% Gamut)
Note: LCD upgrade currently not available
Storage
256GB SATA 6Gbps SSD (Crucial M4-CT256M4SSD2)
Optical Drive
DVDRW (Slimtype DS8A8SH)
Networking
802.11n dual-band 450Mb WiFi (Intel Ultimate-N 6300)
Gigabit Ethernet (Realtek RTL8168/8111)
Audio
Realtek ALC269
Stereo Speakers
Headphone/Microphone jacks
Capable of 5.1 digital output (HDMI)
Battery/Power
8-cell, 14.8V, 5200mAh, ~77Wh
FSP Group 220W Max AC Adapter (19.0V, 11.57A)
Front Side
IR Port
Left Side
Memory Card Reader
1 x USB 3.0/eSATA Combo
2 x USB 3.0
Gigabit Ethernet
Mini-FireWire (1394A)
Right Side
DVDRW
Headphone
Microphone
Line-Out
Line-In
1 x USB 2.0
Back Side
2 x Exhaust Vents (CPU/Chipset and GPU)
DisplayPort
HDMI
Dual-Link DVI-D
AC Power Connection
Kensington Lock
Operating System
Windows 7 Home Premium 64-bit
Dimensions
16.22" x 10.87" x 1.65-1.79" (WxDxH)
(412mm x 276mm x 41.8-45.4mm)
Weight
8.58 lbs (3.9kg) (DVDRW + Single HDD)
Extras
HD Webcam
102-key Keyboard with Standard 10-key
Configurable backlighting for keyboard (7 colors)
Memory Card Reader (MMC/MS Pro/SD)
Warranty
Standard 1-year Warranty
$103 for 2-year Clevo Warranty
$211 for 3-year Clevo Warranty
Price
Starting at ~$1489 (Oct. 12, 2012)
As configured: $2249 (with 1-year Warranty)
We've covered all of this previously, so we won't dwell on things too much. Note that this laptop has a matte LCD, but when we first received our sample AVADirect listed a high gamut matte LCD option as a ~$150 upgrade. We're not sure what panel is used for the standard matte LCD, but it's a "free" upgrade from the glossy panel at AVADirect so it may not deliver results quite as good as this panel. In a direct price comparison, the difference between the HD 7970M and the GTX 680M is currently $274, so we're looking at $1975 vs. $2249 for the AMD vs. NVIDIA matchup; that's a price difference of just under 14%, so ideally you'd want the GTX 680M to be at least 14% faster to warranty the upgrade.
Second, we noted on the AMD unit that the Kingston HyperX RAM didn't have a working profile for DDR3-1600 operation on the P170EM, but the Corsair memory addresses that "shortcoming". In practice, outside of a few specific benchmarks (that are more theoretical than practical in nature), there's no performance difference between DDR3-1333 and DDR3-1600, but with pricing being the same there's also no reason I can see to opt for RAM that won't run at 1600MHz in this particular notebook. In other words, we recommend getting the Corsair Vengeance RAM (or some other RAM that you know will run at 1600MHz).