With our change to CalMAN, we will also now be evaluating displays for their grayscale and gamma point. Previously we only targeted a gamma of 2.2 in calibrations but never measured it in the end. Now we will be choosing two targets in our reviews. For light output of 200 cd/m², we will target the same gamma of 2.2 right now. 2.2 gamma is still a de-facto standard, and is the standard for Apple computers and devices as well as video content. For our second calibration we target 80 cd/m² with an sRGB gamma curve. Both of these are specified in the sRGB standard, so those doing professional print or computer graphics work would likely want this.
Hopefully a display will be able to handle both of these tests, and we will also check for the grayscale quality on its own by checking 21 points, just like we do with our tablet and smartphone reviews. This will provide you with more data, as well as consistent data for the different devices.
| | | | |
| --- | --- | --- | --- |
| | Pre-Calibration | 200 cd/m² Target | 80 cd/m² Target |
| White Level | 201.5 | 198.4 | 80.1 |
| Black Level | 0.1689 | 0.1644 | 0.067 |
| Contrast Ratio | 1193:1 | 1207:1 | 1197:1 |
| Average CCT | 6545 | 6537 | 6599 |
| Gamma | 2.1648 | 2.2128 | 2.4109 |
| Average dE2000 | 2.3847 | 0.535 | 0.6238 |
Looking at the RGB Balance for the data, the pre-calibration data starts out a bit too-blue, then develops a red tint, before finally winding up with a lack of green at the top of the grayscale. The average CCT remains close to 6503K overall, but the RGB balance shows that there is a lack of correct balance in there. Looking at the post-calibrations numbers for 200 and 80 cd/m², we see almost no deviation at all in the RGB balance, which is much better. The 80 cd/m² results have a bit too much blue perhaps, but overall they're acceptable.

The pre-calibration gamma point is very close to the 2.20 target, but looking at the chart we see some issues. The gamma point rises and falls across the grayscale, which will leads to midtones and highlights not having the correct level of light output, and will lead to a less dynamic image. The overall number is good, but the chart shows that it's not quite right. The 2.20 target for our 200 cd/m² calibration is much better, with a very linear 2.20 gamma across the whole grayscale. There are a couple small bumps in there, but nothing that would be visible in daily use.
The sRGB target is different, as the gamma isn't linear across the whole grayscale. Instead the shadows start at 1, and it ramps up as you leave the shadows, which results in an average gamma across the grayscale of 2.40 in the end. Because of this it's far more important to look at the actual graph than the final number, and here the LG 29EA93 does very well at tracking the target. Once calibrated, the gamma curve for the LG is very good with either sRGB or Power Law targets.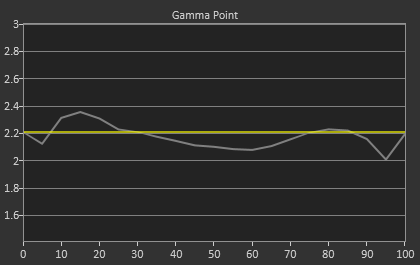 The grayscale dE2000 values takes all of this data into account. Pre-calibration, the dE2000 starts out well in the shadows, but by the end of the grayscale we have dE2000 values above 3, indicating a visible grayscale error that we can see even in motion. The average error is pretty low, but by the end it's higher than we would like. Post-calibration, both grayscales are free of all visible error. There isn't a single point that is above 2.0, and no one should be able to see any errors in real world use. In the end, the grayscale is basically perfect for these displays after calibration.

Pre-calibration, the LG 29EA93 is good, but not great. Post-calibration, it's virtually perfect and will be basically free of visible errors when being used.