Interestingly enough, this is the first Extreme Edition CPU I've had the opportunity to review since I started at AnandTech. The first Intel Extreme I've actually ever spent any time with, even. So I was definitely intrigued. This is more than overkill for my use cases, but damn if I wasn't psyched to benchmark it. My reaction was actually akin to a clip from Top Gear that I'm rather fond of:
So, anyways, the i7-4930MX. It's a quad-core, eight thread CPU clocked at 3GHz and a max turbo that's nearly at the magical 4GHz mark. The 57W TDP of the CPU alone is more than the entire thermal envelope of the last notebook I reviewed....times two and a half. As such, this is the fastest notebook we've got on our charts, though we'll be updating these shortly when we add a second i7-4930XM equipped MSI GT70 to the list.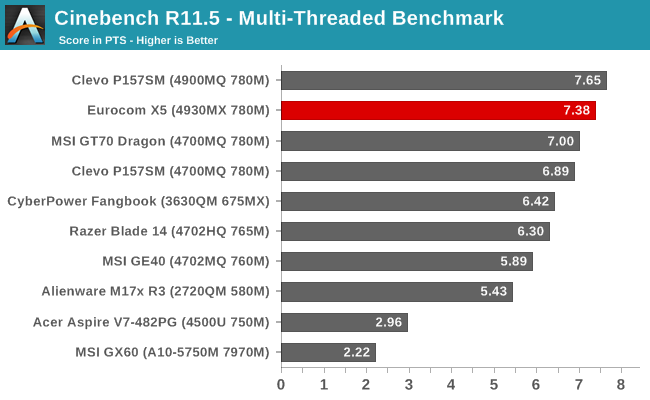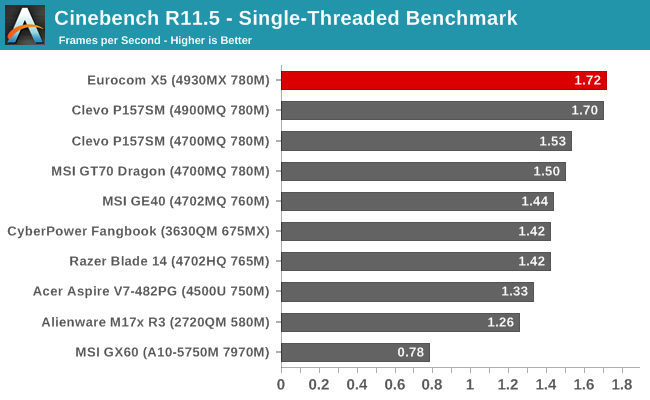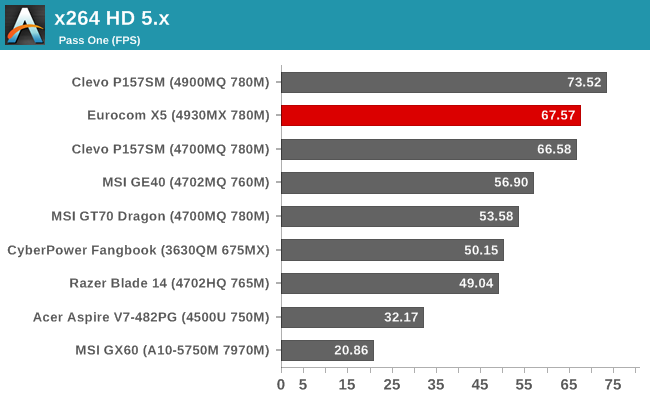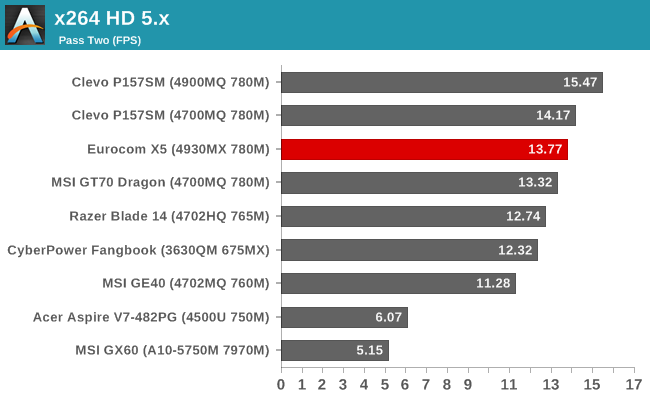 The primary points of comparison for our Eurocom X5 test unit are the MSI GT70 Dragon and the Mythlogic (Clevo P157SM) – as outlined in the introduction, the two have a fair amount of similarity in specification and target market. The two key performance differences come in the CPU – the MSI had the i7-4700MQ (2.4GHz base, 3.4GHz turbo) and the P157SM has an i7-4900MQ (2.8GHz base, 3.8GHz Turbo) – and storage, with the MSI's multi-mSATA SSD RAID configuration and Mythlogic's 512GB mSATA.
It's interesting to look at the MSI, which is by all accounts an extremely powerful computer, and see how much faster the Eurocom's Extreme Edition processor is in some of the CPU intensive tasks. It's awesome. There has never been a faster mobile processor, and that makes this (and every other) Extreme Edition CPU special. On the other hand, the i7-4900MQ is basically half the price and in several benchmarks it delivers higher performance, suggesting there are other factors at play.
Unless your name is Smaug and you live in a castle buried in gold, I don't think the Extreme Edition is necessarily the most prudent financial decision. But bragging rights cost money, and so does the cutting edge in performance. Now, to top this, I want a mobile hex. That'd really be something.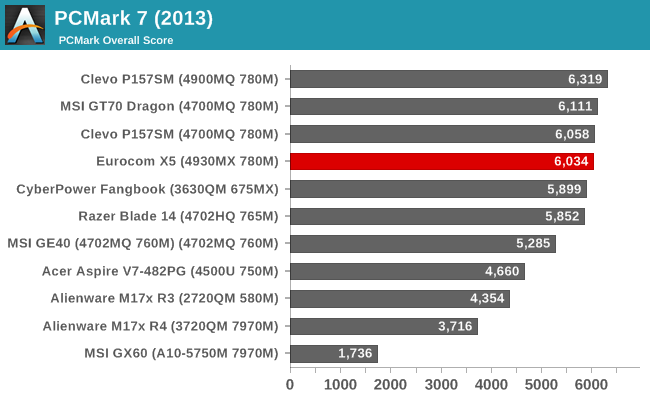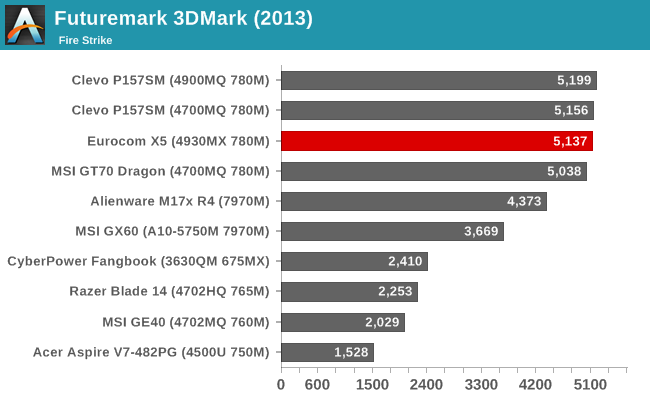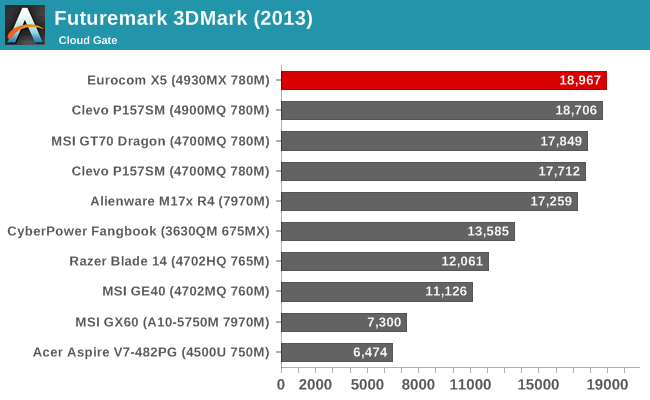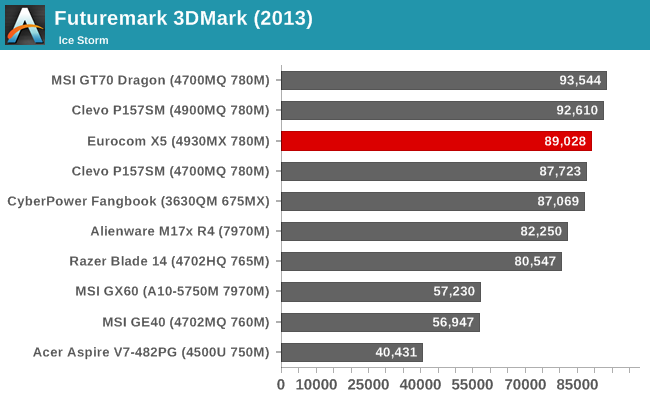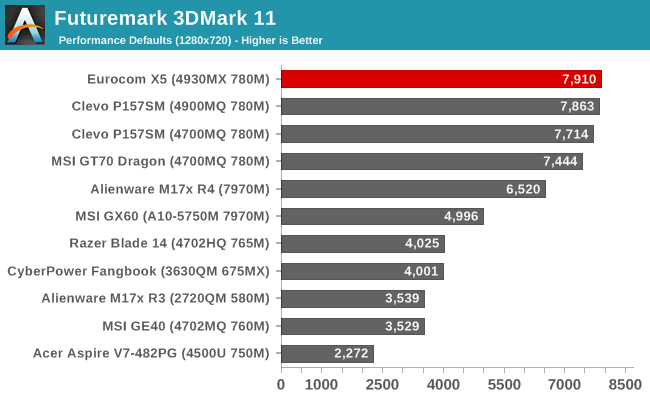 3DMark basically tells a similar story, again with the fastest systems swapping places. Drivers are likely playing more of a role here as well, and our test drivers on the Eurocom are slightly older than what we used with the Mythlogic. Let's see how things go in actual games.