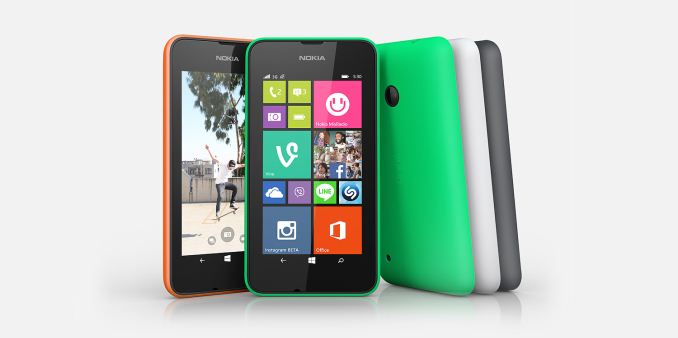 Nokia has had a lot of success with Windows Phone in the more budget-oriented segment of the market. The Lumia 630, which we recently reviewed, does well in its position in the $150-200 device bracket. But Nokia is hoping to target buyers at even lower price points with the new Lumia 530 which positions itself to take on other Android devices at the $100-150 segment of the market. At least in its name it is a successor to Nokia's Lumia 520 which was the most popular Windows Phone, and the two are compared down below.
Lumia 520 and 530
Lumia 520
Lumia 530
SoC
1GHz Dual Core Krait (MSM8227) + Adreno 305
1.2GHz Quad Core Cortex A7 (MSM8212) + Adreno 302
Memory
512MB LPDDR2
512MB LPDDR2
Storage
8GB NAND + MicroSDHC
4GB NAND + MicroSDXC
Display
4" 800x480 WVGA LCD
4" 854x480 FWVGA LCD
Cellular Connectivity
GPRS/EDGE/HSPA+
GPRS/EDGE/HSPA+
Dimensions
119.9 x 64 x 9.9 mm, 124g
119.7 x 62.3 x 11.7 mm, 129g
Camera
5MP Rear Facing w/ F2.4 aperture
5MP Rear Facing w/ F2.4 aperture
Battery
5.291Wh
5.291Wh
OS
Windows Phone 8.1
Windows Phone 8.1
Other Connectivity
802.11b/g/n + BT 4.0, USB2.0, GPS/GNSS
802.11b/g/n + BT 4.0, USB2.0, GPS/GNSS
SIM Size
Micro-SIM
Micro-SIM (dual SIM variant)
As you can see, the Lumia 530 has many similarities to its predecessor. Inside it makes the move from Qualcomm's Snapdragon S4 platform to the newer Snapdragon 200 platform. It'll be interesting to see how the quad core 1.2GHz Cortex A7 implementation fares against the 1GHz dual core Krait implementation. The GPU takes a performance hit, going from the Adreno 305 to the 302. Storage similarly takes a small step down with half the internal NAND of the Lumia 520, but with support for MicroSDXC up to 128GB rather than 64GB in the 520. RAM and connectivity remains the same with 512MB of LPDDR2 memory, single stream 802.11n WiFi, Bluetooth 4.0, and 21.1Mbps HSPA+. The battery chemistry remains the same as well at 1430mAh and 3.7V.
The front of the device sports an 854x480 LCD display, with the extra 54 pixels compared to the Lumia 520 being used for the on-screen buttons in a similar fashion to the Lumia 630. The move from a 15:9 display aspect ratio to a 16:9 ratio allows for a small decrease in the width of the device. The 530 has an appreciable increase in thickness compared to its predecessor with a thickness of 11.7mm at its thickest point compared to 9.9mm on the 520. No apparent changes to the camera have been made with a 5MP F2.4 sensor on the back and there's no front-facing camera.
The 530 seems like a mixed bag of upgrades and downgrades compared to the 520. At 4GB of storage it really necessitates buying a MicroSD card even for users who rarely use apps, while the 8GB in the 520 leaves more breathing room. The increase in thickness is also disappointing but in the 530's price bracket there's no pressure to battle it out for the title of thinnest smartphone. In many ways it feels less like an upgrade and more like a device of its own. It will be interesting to see how users feel it compares to the original Lumia 520.
The Lumia 530 will be launching in single and dual-sim variants in August with a target price point of €85. Ignoring differences in taxes and market situations that translates to rougly $114 in the US or £67 in the UK.
Source: Nokia Conversations