AMD: Polaris Now Accounts for 50% of Channel GPU Revenue
Shipments of AMD's GPUs (both standalone and integrated) were strong in Q3 2016: sales of desktop GPUs were up 34.7% QoQ, shipments of mobile GPUs were up 23% sequentially, supplies of desktop APUs decreased by 10% from the previous quarter and sales of mobile APUs grew by 19.1% QoQ, according to Jon Peddie Research. Overall, AMD's PC graphics shipments increase by 15.4% from the previous quarter, JPR reports.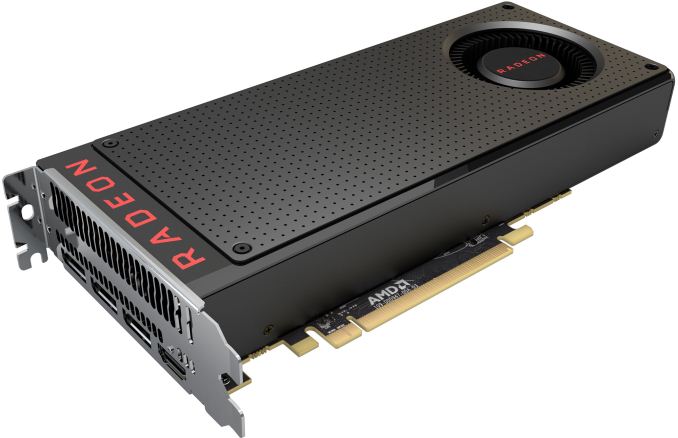 AMD does not disclose a lot of information about its GPU shipments. However, in its recent conference call the company confirmed that its quarterly channel GPU revenue and ASP in Q3 hit record levels since early 2014 and that the Radeon RX accounted for more than 50% of its channel GPU revenue. Furthermore, AMD said that its professional GPU revenue increased for the fourth consecutive quarter.
"The launch of our expanded family of Polaris desktop GPUs and our first full quarter of RX 480 sales drove our highest quarterly channel GPU revenue and ASP since early 2014," said Lisa Su, CEO of AMD, during the conference call with investors and financial analysts. "The Radeon RX GPUs now account for more than 50% of our channel GPU revenue."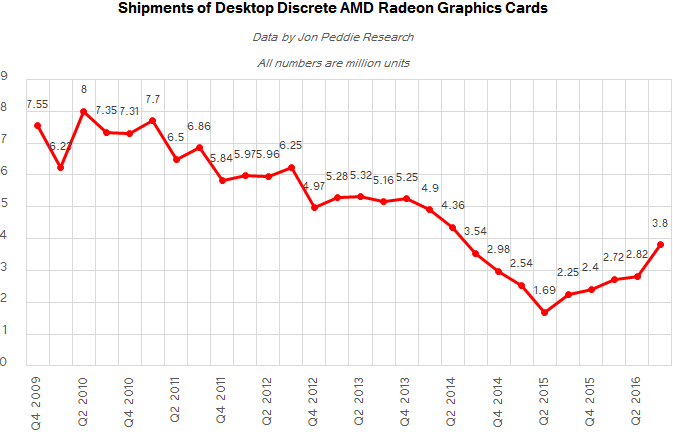 AMD admitted that early in Q3 it could not meet demand for its new products made using 14 nm FinFET (14LPP) process technology, but things got better later in the quarter. As PC makers roll out new systems featuring AMD's Polaris and other chips in Q4, the company hopes to either maintain or even increase its GPU shipments this quarter.
"We are very happy with how Polaris ramped in Q3," said Dr. Su. "The customer demand across all geographies was very strong. Q3 was primarily a channel-based quarter. […] In the early part of Q3, we actually had some supply constraints, given the customer demand, [but] we did catch up towards the end of the quarter. […] As we go into Q4, in addition to the channel partners continuing to ramp, you should expect some OEMs launching in Q4 more broadly."
AMD's sales of desktop discrete GPUs in total for 2016 (Q1 to Q3) have already hit 9.34 million units, which is more than 8.8 million desktop graphics processors the company shipped in 2015. It is unknown whether AMD manages to increase its desktop GPU sales in Q4 substantially over Q3 to actually beat its 2014 results (15.78 million), but it is clear that AMD's desktop GPU business is performing better this year than it did in 2015.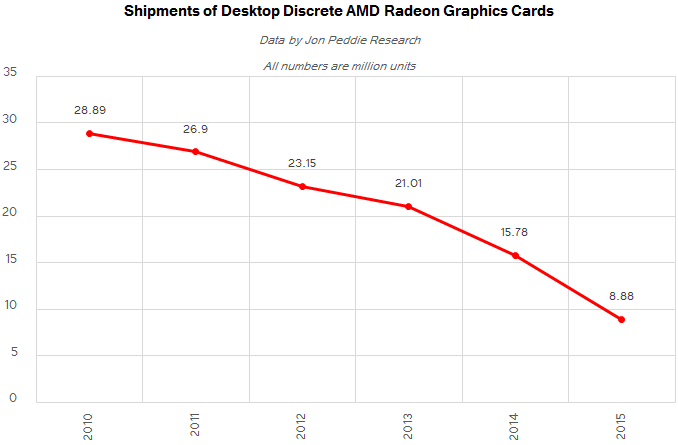 From the market share point of view, it remains to be seen how well AMD will respond to challenges imposed by NVIDIA's Pascal GPUs in the performance market segment (i.e., $100-$249). In Q3 the company had to compete against NVIDIA's Pascal-based GeForce GTX 1070/1080 graphics cards using its products released in 2015 (Fiji) and 2013 (Hawaii). None of those chips are manufactured or supplied today, which is why we see that prices of the Radeon R9 Fury- and the Radeon R9 390-series graphics cards vary greatly (e.g., you can get a Fury X for $299.99 after $30 rebate, or you can get the same card for $799.95). Some of AMD's partners attempt to get rid of older products, others believe that since there will be no more Fiji or Hawaii chips, they will be able to capitalize on short supply of AMD's high-end GPUs in the fourth quarter. In the meantime, AMD itself is gearing up to launch its Greenland/Vega high-end GPU in 2017 and has no plans to ship more Fiji or Hawaii processors (at least in mass quantities for consumer graphics adapters).