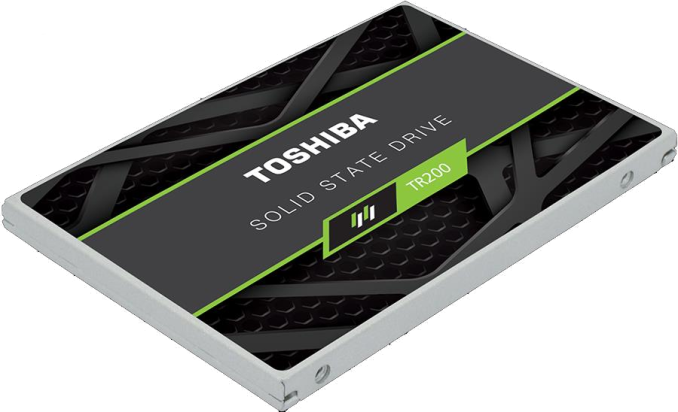 Toshiba has announced their first retail SSDs to use 3D NAND. The new TR200 series will use Toshiba's 64-layer BiCS3 3D TLC NAND, the first generation of their 3D NAND flash technology to be suitable for mainstream mass-market use. The TR200 series is the successor to the OCZ Trion 100 and Trion 150 SSDs, the latter of which was renamed TR150 when Toshiba began assimilating the OCZ brand identity. The TR200 series will not bear the OCZ name, but Toshiba is not completely abandoning the OCZ brand.
Where the previous Trion/TR series SSDs served as Toshiba's entry-level SATA offering and split the market with their MLC-based Vector/VT 180 and VX500, the TR200 will be Toshiba's only retail SATA SSD for this generation. As with most other SSD vendors, Toshiba is no longer using MLC for new mainstream consumer SSDs based on 3D NAND flash. Unusually, Toshiba's TR200 will feature a DRAM-less controller design, which typically restricts the performance to only be competitive in the entry-level segment of the SATA market. The controller may be a descendant of the Toshiba controller used in the OCZ VX500, updated to support TLC and larger capacities. However, it's possible that like previous generations of the TR series, the TR200 is using a re-badged Phison controller—Phison's S11 this time instead of the S10 used in the earlier generations. The ultra-low-end and low-capacity TL100 that was introduced last year is also not getting a direct successor.
Toshiba's OCZ VX500 high-end SATA SSD isn't getting a direct successor based on 3D NAND, but it is not being retired yet either. It remains to be seen whether Toshiba will introduce a NVMe SSD using 3D MLC, but their most likely strategy will be a retail version of the OEM-only XG5 NVMe SSD with 3D TLC. The XG5 is the successor for both the TLC-based XG4 and the MLC-based XG3 whose retail counterpart was the OCZ RD400.
Toshiba SATA SSD Specifications
TR200
TR150
VX500
Capacities
240-960GB
120-960GB
128-1024GB
NAND Flash
64-layer 3D TLC
15nm TLC
15nm MLC
Sequential Read
550MB/s
550MB/s
550MB/s
Sequential Write
525MB/s
530MB/s
515MB/s
4KB Random Read
80k IOPS
90k IOPS
92k IOPS
4KB Random Write
87k IOPS
64k IOPS
65k IOPS
Endurance
60-240 TB
30-240TB
74-592TB
Warranty
Three years
Three years
Five Years
The TR200 carries the same three-year warranty and write endurance ratings as its predecessor. Performance specifications have only changed slightly, with the most significant difference being substantially improved random write performance. Pricing has not yet been announced. The TR200 series will start shipping to retailers this fall. It will compete against Western Digital's SATA SSDs using the same BiCS3 3D TLC NAND, the new WD Blue and SanDisk Ultra 3D. Intel's SSD 545s is already available. Most other SSD vendors can also be expected to soon announce new products featuring 64-layer 3D NAND to ship late this year.
Source: Toshiba