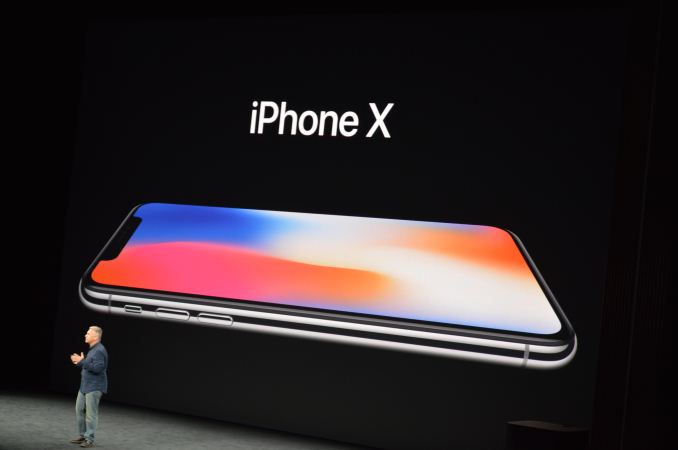 The hot button item expected to come from Apple's announcement today was the set of iPhones being announced. The iPhone 8 and iPhone 8 Plus were the expected models to come to market, but Apple felt that for the 10-year anniversary since the launch of the original iPhone, it should release a new model which 'breaks the standard for another 10 years'. This new iPhone X device goes all in on some significant features that are novel to the Apple smartphone ecosystem: an edge-to-edge OLED display, a TrueDepth front-facing camera system, removal of TouchID in favor of a new facial recognition system called FaceID, and a few new features surrounding the integrated neural engine inside the A11 SoC.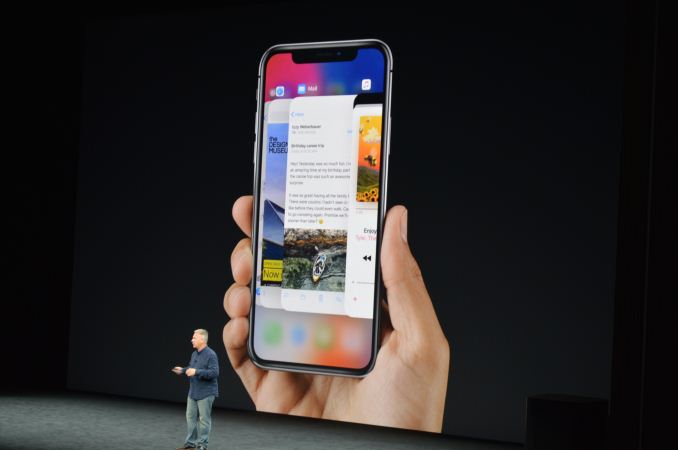 The iPhone X (pronounced iPhone Ten) is a visually significant departure from previous Apple smartphones. The 5.8-inch display is called an 'edge-to-edge' display in the marketing material, citing minimal bezels and taking up pretty much the full real estate of the phone. Apple also dubs this as a new retina display, specifically a 'Super Retina' display, with a 2436x1125 resolution with a pixel density of 458 PPI. The display is Apple's first foray into OLED technology on a smartphone, as 'previous versions of OLED were not sufficient' in previous generations. This means that Apple is promoting features such as HDR10 for high dynamic range, a 1000000:1 contrast ratio, and high color accuracy. That contrast ratio is due to the blacks provided by the OLED display, although it will be interesting to see what the practical limits are. Apple has always been consistent with having superb color accuracy on its smartphones, so we will have to see in our testing if OLED changes things in Apple's qualification process. Also Apple's TrueTone technology makes its way from the iPad to the iPhone. This display technology uses data from the ambient light sensor to detect the ambiance of the surroundings and adjust colors (particularly when reading black on white) and adjusting the display to make it easier to read. The display will also support 3D Touch.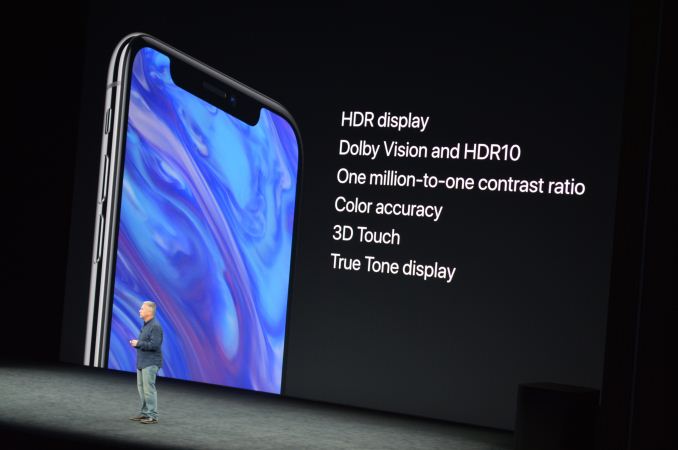 With Apple moving to a full-screen technology like this, there is no room for the standard Home button, and with it, TouchID. As a replacement/upgrade, Apple is implementing FaceID: a set of front-facing technologies that will develop a face-map of a user and embed that as the passcode. This functionality is likely derived from Apple's acquisitions of PrimeSense in 2013 (the IP behind Microsoft Kinect) and FaceShift in 2015. Apple states that the technology uses its embedded neural network engine to speed up facial recognition, but also that algorithms are in place such that the system will work if a user puts on glasses, wears a hat, has different hair, and even in low light. The algorithms will also auto-update as a user grows a beard. A lot of security researchers have questioned this move, while Apple quotes that the possibility for a false positive on TouchID was around 50k-to-1, FaceID should be more similar to a million-to-one. With FaceID, users will be able to unlock the device, as well as use their face to preapprove ApplePay purchases before touching a pay pad.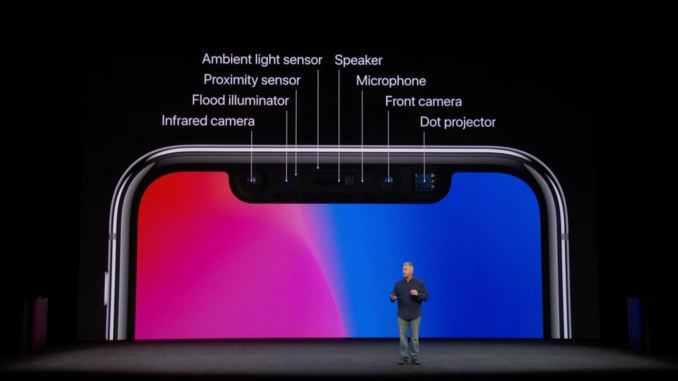 In order to enable FaceID, Apple implemented a small top area for the main hardware. This includes an infrared camera, a flood illuminator, the front camera, and a dot projector. The hardware will map the face in three dimensions with a 5-second startup (when in sufficient light) to produce a face mesh. One version of the mesh, with the textures as part of the algorithm, will be held in a secure enclave for identification and approval. At this point in time, only one face per device can be registered, marking an initial limitation in the hardware. One of the other features for the technology shown by Apple was the ability to generate a face mesh and map new textures to it, such as new SnapChat 'masks', or animated emoji in Message. The hardware will map 50 muscle tracking points, and a user can choose one of twelve animal emoji (fox, cat, dog, pig, unicorn, poop emoji) and record a ten second message where the 'ani-moji' will mimic in real-time how the user is moving and speaking in order to send to the other person. Apples plan here is to open the resources up to developers to use in their own applications.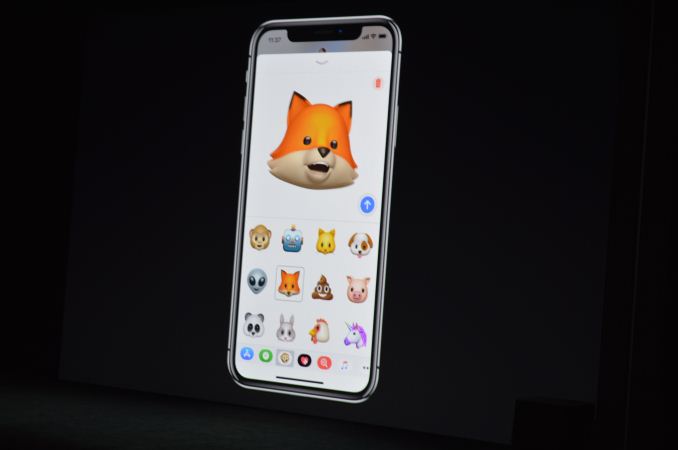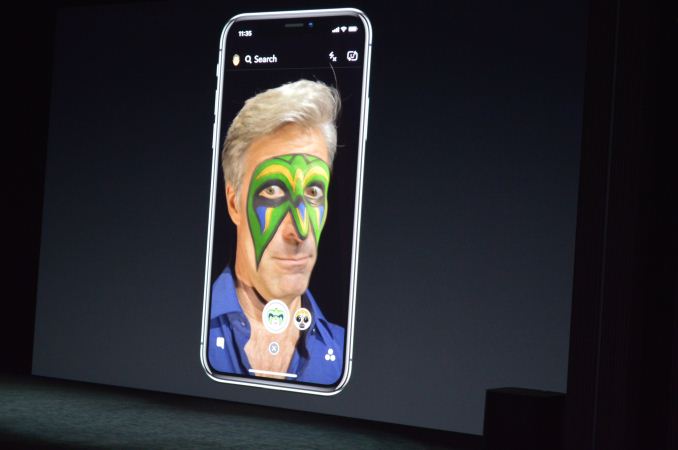 Because the FaceID hardware is essentially an indent into the display, there will be some issues on content that will have to be addressed. On the home screen, Apple has designed the top icons to be inside the two nooks either side of the FaceID hardware, and adjust as needed. As shown by several journalists on the show floor at the launch event, the video will naturally default to fit perfectly without the little nooks, but if a user selects full screen, it will wrap around the FaceID hardware and intrude into the video being watched. Apple usually prides itself in the simplicity in its display support, and this might be a little scratch in that armor.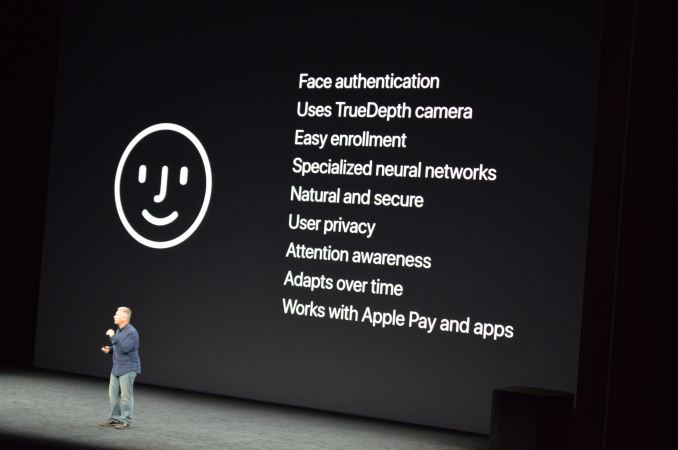 With no home button, Apple is having to implement new interactions to deal with regular home button actions. To wake the phone from a screen off state, a user can tap on the display (or use FaceID if setup). To get to the home screen, the user can swipe up in any application, although this seems a bit fraught with issues, especially with games where swiping up is a key mechanic of the application. In order to get the list of applications in memory, then swipe up but hold the finger down on the screen. Apple neglected to mention how to put the phone to sleep / screen off mode – there is a button on the side, but that is specifically for Siri. In order to get the notifications menu, swipe down from the top.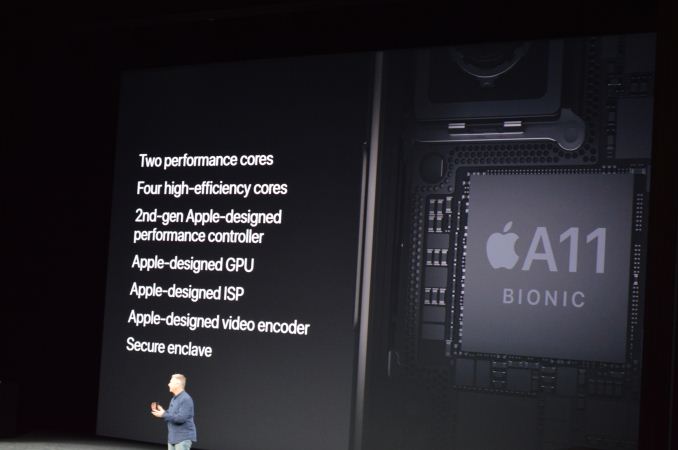 Under the hood, Apple is using its new A11 Bionic processor, with significant upgrades over the A10 and A10X. Details were scarce, but this is a TSMC 10nm design featuring six cores: two high-performance cores and four power efficient cores, with all six cores available for use at the same time. Apple is quoting that the high-performance cores are 25% faster than the high-performance cores in A10, while the high-efficiency cores are 70% faster than their counterparts in A10. No speeds are details about the cores were provided, though some initial analysis online from the code base suggests that the larger cores have two levels of private cache, while the smaller cores only have one level of private cache, with a high level of shared cache between both sets before hitting the DRAM. The A11 SoC will come in at 4.3 billion transistors, and features Apple's second generation performance controller to assist with the 2+4 configuration. Also involved is a new GPU, which Apple states is its own custom design, coming in at 'three cores' (whatever that means in this context) and offers 30% higher performance than the graphics in the A10. Apple also stated that it can offer A10 graphics for half the A10 power, and that the GPU can assist in machine learning. We've seen discussions on Apple's Metal 2 compute already appear at WWDC, so this is likely what Apple is talking about. The SoC also features a new 'Neural Engine' inside, offering two cores and 600 Giga-Ops per second, although no information as to how this inference hardware operates or at what precision (for example, Huawei's NPU gives 1.92 TFLOPs of FP16). Apple was very light on A11 details, so we'll likely revisit this topic later with more details.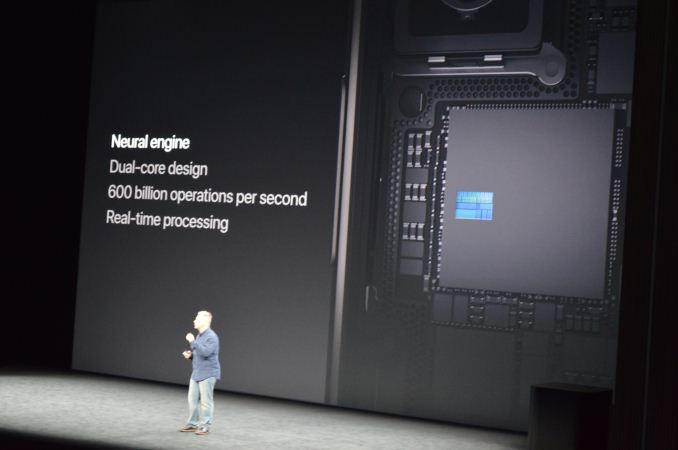 For the camera system, Apple is using a vertical dual camera on the rear of the iPhone X, rather than the horizontal cameras on the iPhone 7 Plus and iPhone 8 Plus. Both of these cameras are new models, both are 12 megapixels, and both come with optical image stabilization. One camera is f/1.8, while the other is f/2.4, with both having larger and faster sensors with deeper pixels than previous iPhones to aid in image focus. Like with the iPhone 8 and iPhone 8 Plus, Apple will use the embedded Neural Engine to assist with photo taking, such as adjusting skin-tone mapping in real-time depending on the environment. The camera also supports dual Quad-LED flash.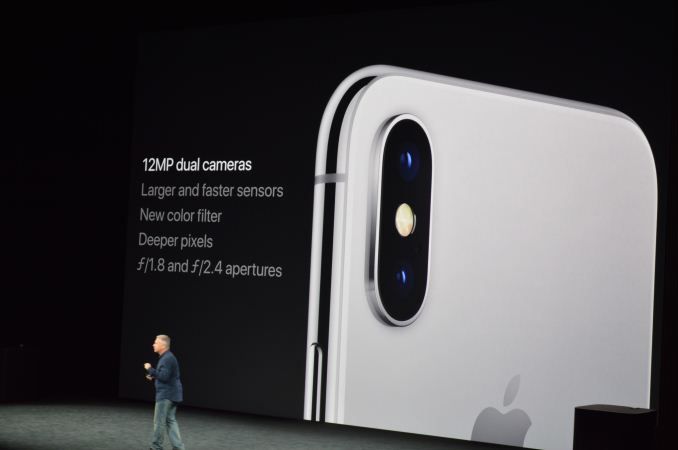 The full design is glass on the back and front, using a new technology that Apple is quoting as the most shatter-resistant glass on an iPhone, and the band in the device will be 'surgical grade stainless steel' rather than aluminum. The iPhone X will be dust and water resistant, although Apple stopped short of giving it a full IPXX rating. Due to the glass, Apple is equipping the iPhone X with wireless charging capabilities using the Qi standard, and will offer a large 'Air Power' pad in 2018 that will allow users to wireless charge the iPhone X, the new Apple Watch Series 3, and the Air Pods all at the same time. Apple did not go into the size of the battery, although it does quote it as having two hours more battery life than the iPhone 7, despite the large OLED display.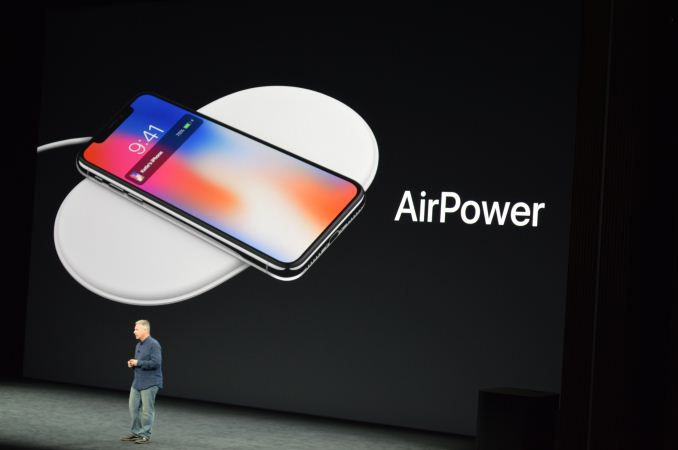 Lots of features that we've seen discussed in previous Apple launches were glossed over here: changes in the haptic feedback, anything about audio (there's no 3.5mm jack, if you were wondering), any hard performance metrics, SoC details about the cores and how/if they are different, or frequencies, or how the Neural Engine is laid out, or even how much DRAM is in the device. This is likely due to the fact that even for a two-hour presentation, time was spent detailing the new features more than the underlying hardware. Unlike other smartphone vendors or chip designers, Apple doesn't do a deeper 'Tech Day' on their hardware, which is a shame.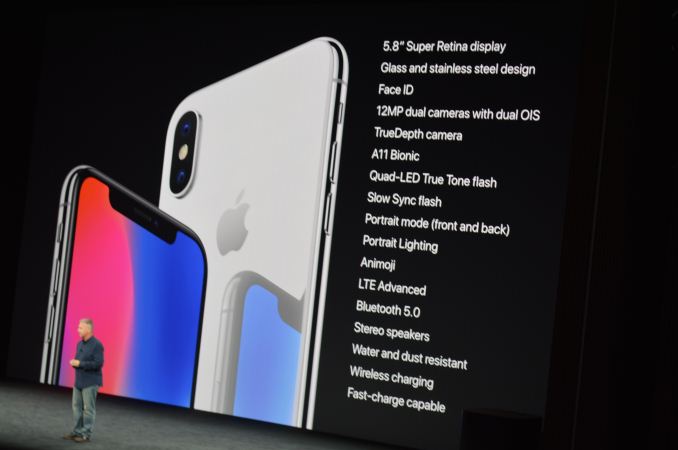 What we do know is that Apple will be offering two storage options, 64GB and 256GB, and two colors in Space Grey and Silver (both of which have a slight pearlescence, according to Apple). The 64GB model will start at $999, and include Ear Pods in the box. The 256 GB model will have some markup, although Apple did not disclose how much. The iPhone X will go up for pre-order on October 27th in around 30 countries, and ship on November 3rd.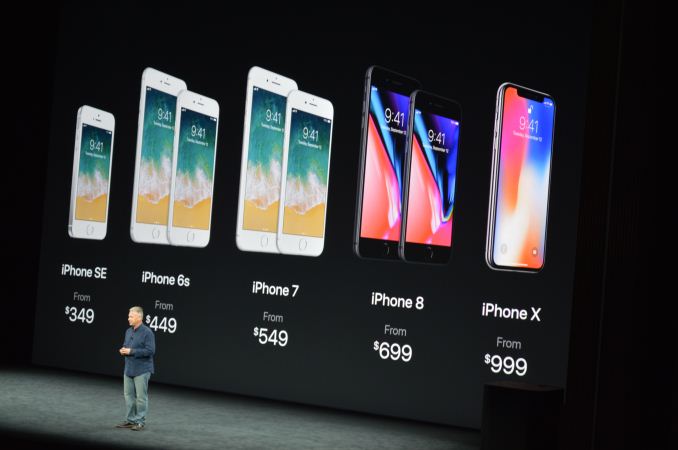 Additional: turns out there are a lot more specifications on Apple's product page that just went live. Key features are screen brightness (625 nits), dimensions (143.6 x 70.9 x 7.7 mm, 174 grams), native FLAC support and HDR video playback support. The 256 GB model will start at $1149, putting a $150 mark-up on the higher capacity, and the Lightning-to-3.5mm cables are still included in the box.
Apple iPhone
iPhone 7
iPhone 7 Plus
iPhone 8
iPhone 8 Plus
iPhone X
SoC
Apple A10 Fusion
2 x 2.3 GHz Hurricane
2 x little cores
Apple A11 Bionic
2 x High-Perf
4 x High Efficiency
GPU
6 Core PowerVR GPU
3-Core Apple Custom
Display
4.7-inch
1334 x 750
IPS LCD
DCI-P3
5.5-inch
1920 x 1080
IPS LCD
DCI-P3
4.7-inch
1334 x 750
IPS LCD
DCI-P3
5.5-inch
1920 x 1080
IPS LCD
DCI-P3
5.8-inch
2436x1125
OLED
DCI-P3
Size / Mass
138.3 x 67.1 x 7.1 mm
138 grams
158.2 x 77.9 x 7.3 mm
188 grams
138.4 x 67.3 x 7.3 mm
148 grams
158.4 x 78.1 x 7.5 mm
202 grams
143.6 x 70.9 x 7.7mm
174 grams
Battery
1960 mAh
(7.55Whr)
2900 mAh
(11.17Whr)
?
?
+2hr over iPhone 7
Wireless Charging
-
-
Qi
Qi
Qi
Rear Cameras
12 MP f/1.8, OIS
Wide Color Gamut
Quad LED True Tone Flash
12 MP, f/1.8, OIS
Wide Color Gamut
Quad LED True Tone Flash
-

12MP ƒ/2.8 Telephoto,


2x Optical
Portrait Mode
-
12 MP f/2.8
Telephoto,
2x Optical
Portrait Mode,
Portrait Lighting
12 MP f/2.4 Telephoto, OIS
2x Optical
Portrait Mode,
Portrait Lighting
Front Camera
7MP ƒ/2.2
Wide Gamut
Retina Flash

7MP ƒ/2.2




Wide Gamut




Retina Flash

7MP f/2.2
Wide Gamut
Retina Flash
Portrait Mode,
Portrait Lighting
Storage
32 / 128 / 256 GB
64 / 256 GB
I/O
Apple Lightning connector
Apple Lightning connector
WiFi
2.4 / 5GHz 2T2R 802.11a/b/g/n/ac, NFC
BlueTooth 4.2
2.4 / 5GHz 2T2R
802.11a/b/g/n/ac, NFC


BlueTooth 5.0

Launch Price
32 GB: $649
128 GB: $749
256 GB: $849
32 GB: $769
128 GB: $869
256 GB: $969
64 GB: $699
256 GB: $849
64 GB: $799
256 GB: $949
64 GB: $999
256 GB: $1149
Source: iPhone X Product Page