Cold Test Results (Room Temperature)
For the testing of PSUs, we are using high precision electronic loads with a maximum power draw of 2700 Watts, a Rigol DS5042M 40 MHz oscilloscope, an Extech 380803 power analyzer, two high precision UNI-T UT-325 digital thermometers, an Extech HD600 SPL meter, a self-designed hotbox and various other bits and parts. For a thorough explanation of our testing methodology and more details on our equipment, please refer to our How We Test PSUs - 2014 Pipeline post.
The new Corsair HX850 falls a little short regarding its 80Plus Platinum certification, failing to achieve >94% efficiency at 50% load with an input voltage of 230 VAC. This result however does not mean that the unit's certifications are false, just that it received its efficiency rating with an input voltage of 110 VAC, under which the 80Plus directive is slightly more lenient. Also note that our ambient temperature is a little higher than the 25 °C recommended by the directive. Despite that, the HX850 has a very high average efficiency of 92.7% within its nominal load range (20% to 100% of the unit's capacity) and gave us fairly good efficiency readings under low loads.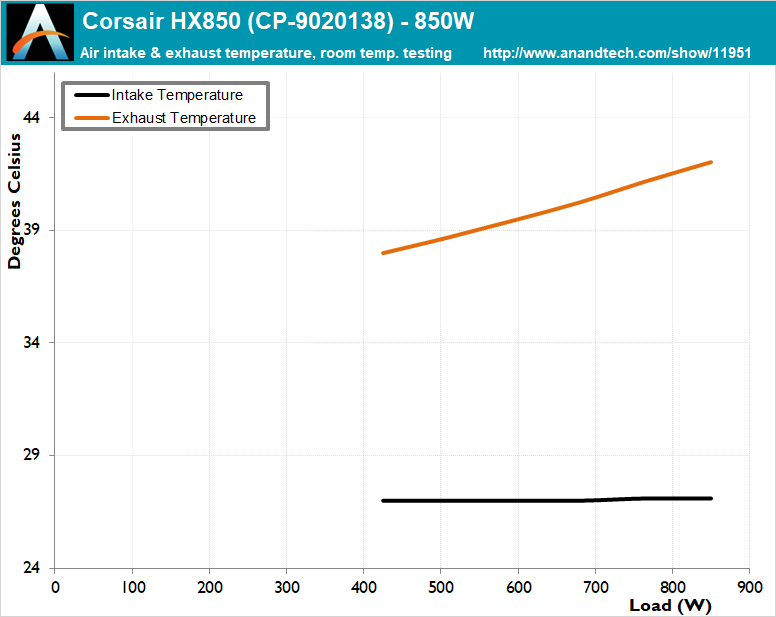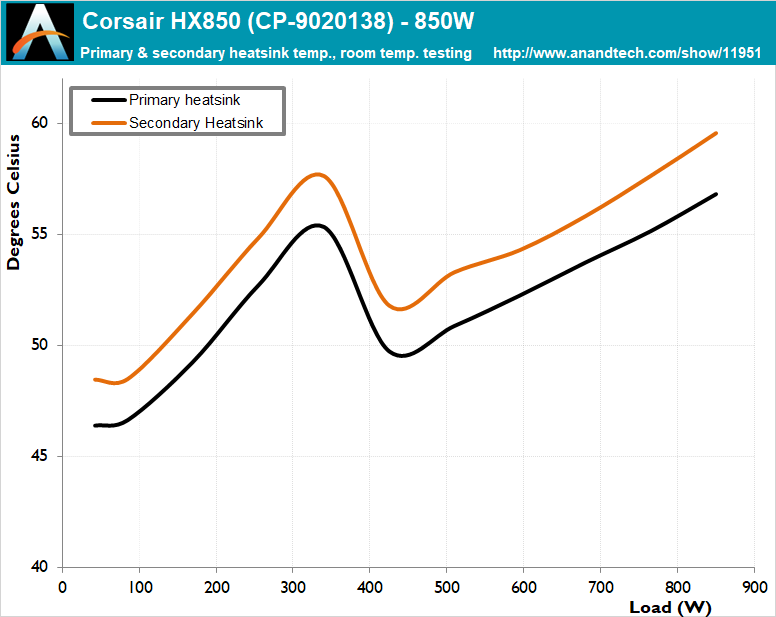 The high efficiency of the Corsair HX850 allows the thermally controlled fan to stay inactive for a very large portion of the load range when the unit is operating in room temperature. Our test sample reached an output of nearly 400 Watts before the fan started to spin. The fan was relatively quiet thorough the entirety of our room temperature testing, reaching high noise figures only when very heavily loaded.