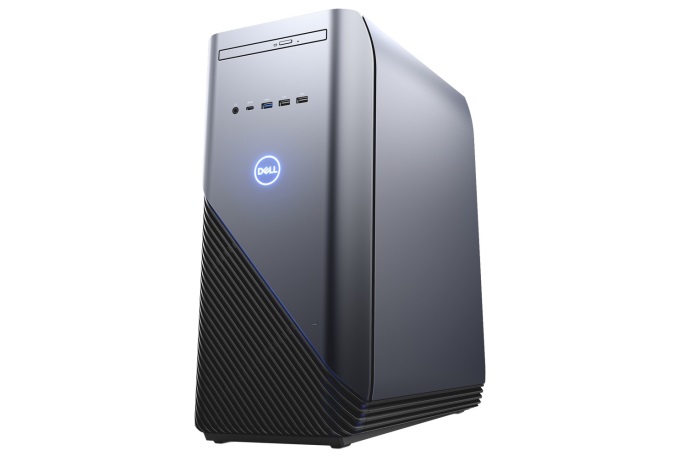 LAS VEGAS, NV — The Inspiron 5680 comes on the heels of the 5675 that was released a few months ago using the AMD Ryzen processors, up to the Octo core Ryzen 7 1700X. The 5680 is the Intel version of these desktops now supporting 8th Generation Intel quad and hex core processors. The 5680 series unlike the 5675, uses only NVIDIA Geforce graphics cards, up to a GTX 1070, to try and satisfy the needs of the intended market, the Mainstream PC gaming audience.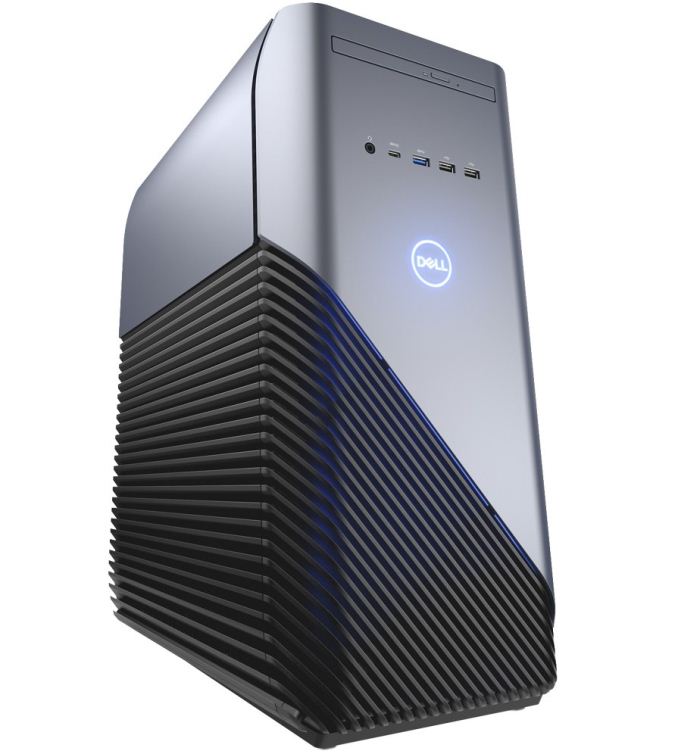 The Inspiron 5680 offers a choice of three processors, the i3-8400 (4-core/4-thread) running at a flat 3.6 GHz, i5-8400 (6-core/6-thread) boosting up to 4 GHz, and the i7-8700 (6-core/12-thread) boosting up to 4.6 GHz. Dell appears to only offer air cooling and does not currently list any liquid cooling options as we see on the Inspiron 5675. I'd imagine this is the case due to the 5680 using a locked processor so there isn't really a need for it.
DRAM support is up to 64GB of DDR4 2400 with configured systems starting with 8GB and 16GB options. For a midrange gaming machine, we would suggest going with 16GB if possible as RAM needs are ever increasing these days. The 5680 also offers three NVIDIA Geforce GPUs starting with the 2GB GTX 1050, a 3GB GTX 1060, and a GTX 1070. The latter two Dell certifies as VR Ready (along with the RX 580 for the 5675).
Internal storage options are plentiful as the 5680 is able to support two drives (M.2 and 2.5-inch). Buyers are able to configure a single 1TB hard drive, or selected either a 128/256GB M.2 SATA SSD along with a 1TB or 2TB hard drive to using 128 or 256GB M.2 SATA SSDs (OS) along with a 1TB or 2TB hard drive (Storage). It also has options for using up to a 32GB Intel Optane device paired with either the 1TB or 2TB hard drive. I am surprised Dell chose to forego M.2 PCIe NVMe drives available option considering the traction they are gathering over time. Still, an SSD is leaps and bounds faster than a hard drive. In total, the case will hold up to 4 storage devices (2x 3.5-inch bays, 1x 2.5" bay, and one M.2 slot). There is also a spare PCIe x16 expansion slot for any AIC
Externally, the Dell Inspiron mid-tower case a very sleek look to it with the front portion grey while the bottom has black ribs running diagonally front of the case and wrapping around the left side to a horizontal orientation. If seeing your components is a need, users can select a windowed side panel as well. Case lighting is not forgotten with that front ribbing including a 'Recon Blue' internal LED that shines out of the front of the case and looks to give it a nice gamer glow. The front panel ports consist of four USB ports, 2x USB 2.0, and 2x USB 3.0 Type-A and Type-C, and the audio combo jack for plugging in your headphone or microphone. Optional for the 5680 and also housed in the top of the front panel is a slim DL DVD burner.
Overall, it looks like both the existing Inspiron 5675 (for those who would like an AMD based system), and the 5680 offer users a lot of options for building a mid-range gaming system. Pricing will start at $749 for the base configuration and go up from there. Dell says these will be available on January 9th.
Dell Inspiron Gaming Desktop (5680)
Model
Inspiron 5680
CPU
Coffee Lake CPUs
i3 8100 (4c/4t 3.6 GHz)
i5 8400 (6c/6t up to 4 GHz Turbo Boost)
i7 8700 (6c/12t up to 4.6 GHz Turbo Boost)
dGPU
NVIDIA Geforce GTX 1050 (2GB GDDR5)
NVIDIA Geforce GTX 1060 (3GB GDDR5)
Nvidia Geforce GTX 1070 (8GB GDDR5)
DRAM
Four DDR4 slots
Up to 64 GB of DDR4-2400 in dual-channel mode
Motherboard
N/A
Storage
SSD
128GB M.2 SATA
256GB M.2 SATA
HDD
1 TB 7200RPM, 6 Gbps
or
2 TB 7200RPM, 6 Gbps
Wireless
Optional WLN-M 802.11ac Wi-Fi + Bluetooth module
Ethernet
1 GbE port
USB
Without Optical Drive -
2 x USB 3.0 Type-A
2 x USB 2.0

With Optical Drive -
1 x USB 3.0 Type-C
1 x USB 3.0 Type-A
2 x USB 2.0

Rear Ports
4 x USB3.0
4 x USB 2.0 Type-A
2 x USB 2.0
Display Outputs
1 x Full-Size DisplayPort
Audio
5 x 3.5mm audio jacks
Card Reader
-
PSU
External 460 W PSU
Warranty
1 Year
Dimensions
Length: 437.53 mm
Width: 216 mm
Height: 458.86 mm
MSRP
Starting at $749
Alienware Command Center
For the Alienware lineup of PCs, Dell has redesigned the Alienware Command Center software with a goal of taking seemingly complex tasks, such as overclocking and modifying frequency and settings and puts them in a simple and safe interface. The software is able to control system lighting effects, thermal and power management, overclocking audio, and peripheral controls in one central location.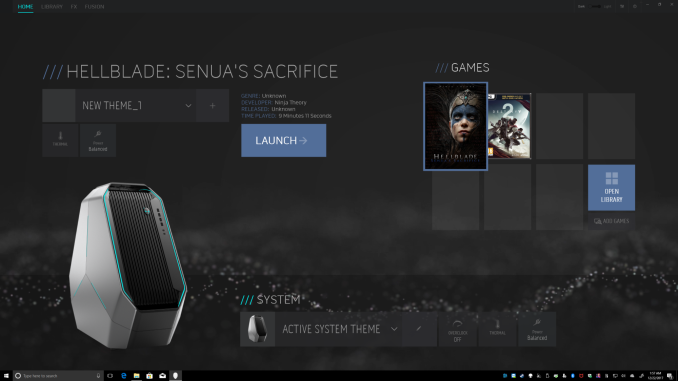 The Command Center includes both basic and advanced level features as well as including multiple levels of fail-safes to prevent user damage to the machine from overclocking – a valid fear for those new to overclocking. Users are able to design individual game profiles for all that it can control. So for example, you can assign a different theme covering performance, power, and lighting for each title you own. To that end, the new game library pulls in all gaming titles from any source for easy management of profiles and gives the ability to launch said games from one centralized location. Through overclocking, users are able to get more value out of the machine with a longer lifecycle due to improved performance.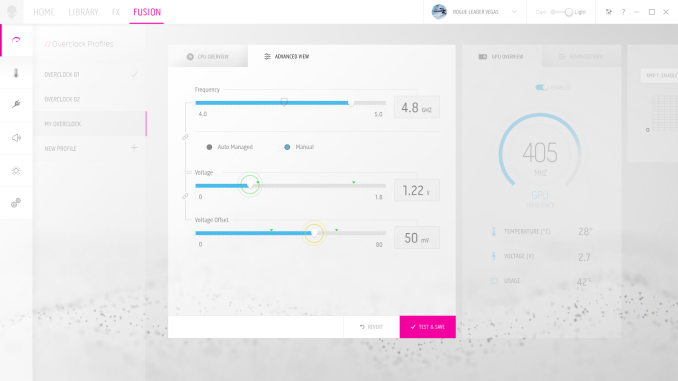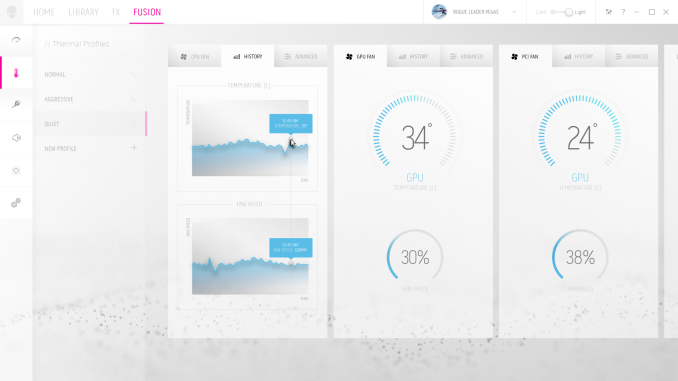 There will be a demonstration of it this week at CES while it will be released and officially announced in a few months along with a revised Area 51 system (chassis, tool-less features, additional ports and U.2 support expected).
eSports
eSports, in recent years, has exploded in popularity from LAN parties and small tournaments to full-fledged competitions airing on ESPN Networks. While there are many standout individuals, one of the more recent trends are eSports teams. The teams, generally, are sponsored entities working together and fine-tuning their skills in order to win these prestigious events. Dell has also jumped in the game with a long-term sponsorship of Team Liquid. With this, they are taking things to the next level and building two eSports training facilities one in L.A, one in the Netherlands for the HQ.
One may ask, what is an eSports training center? Dell's version will be a large, 9000 sqft facility where members will collaborate and train with peers. Dell wants to bring many of the available resources available to professional athletes to the eSports scene. The facilities will have an in-house chef, access to nutritionists, sports psychologist, and analysts.
While eSports team sponsorship isn't unique, the model Dell implemented is a bit different in the industry. Typically, sponsors require the use of their equipment be it keyboards, mouse, etc. However, Dell removes this potential burden off the team and they are allowed to use any branded hardware they need to win. We will hear more news at CES where they will share the finale to a VR eSports tournament flying the finalist to CES.
Related Reading:
Source: Dell