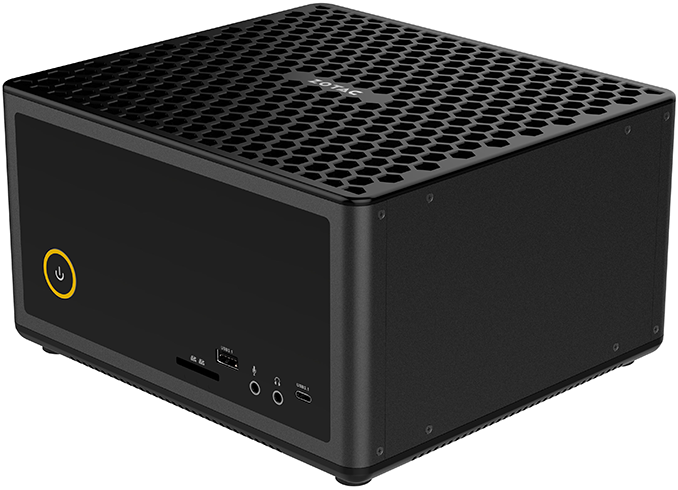 LAS VEGAS, NV — This year at CES, ZOTAC has demonstrated its new flagship compact gaming PC with an upgrade and a rededign. The new ZBOX MAGNUS is powered by Intel's six-core Core i7 Coffee Lake CPU and offers higher performance in applications that can take advantage of the increased core/thread count. The system retains NVIDIA's GeForce GTX 1080 GPU from its two predecessors (the ZBOX MAGNUS EN1080 and the EN1080K). However, the new GPU is a discrete card, and not a MXM module.
We recently reviewed the Core i7-7700 version of this mini-PC, but the new ZOTAC ZBOX MAGNUS is powered by Intel's Core i7-8700 processor (6C/12T, 3.2/4.6 GHz, 12 MB, 65 W) as well as a custom Intel Z370-based motherboard with two DDR4 SO-DIMM slots, one M.2-2280 slot for an SSD and one SATA connector for a 2.5" storage device. The new system features a custom GeForce GTX 1080 card instead of an MXM module used by its predecessors - a difference that has a major impact on the system's internal design.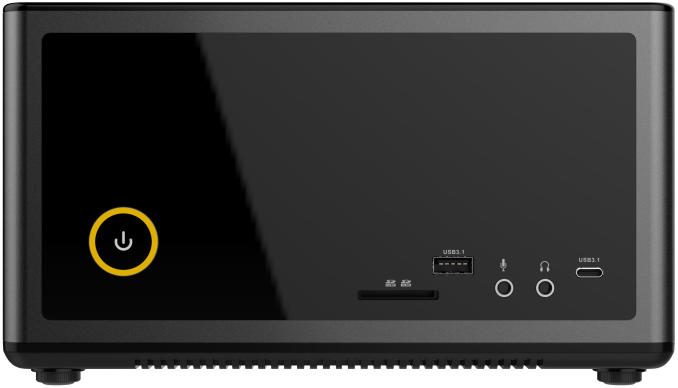 The MXM module inside the previous-generation ZBOX MAGNUS PCs enabled ZOTAC to adopt a compact liquid cooling system (LCS). The space in the chassis was enough to mount a big radiator above the CPU and the GPU. In the Coffee Lake version, the custom GeForce GTX 1080 card is mounted using a riser card, and occupies the space previously taken up by the LCS radiator. As a result, the new ZBOX MAGNUS now relies solely on air cooling. Choosing a custom card over an MXM module has its pros and cons. A card can potentially be upgraded and this is a major advantage. Furthermore, cards give ZOTAC a bit more flexibility in terms of design. However, liquid cooling is more efficient and less noisy compared to two air coolers, but it is also heavier and this has an impact on shipments costs.
Another noteworthy thing about the new ZBOX MAGNUS is that it needs only one external power adapter. By contrast, all of its predecessors have used two 180 W power supplies. It is unknown whether one power connector is a feature of ZOTAC's prototype used for press photos, or the company now uses one high-performance PSU instead of two moderate ones.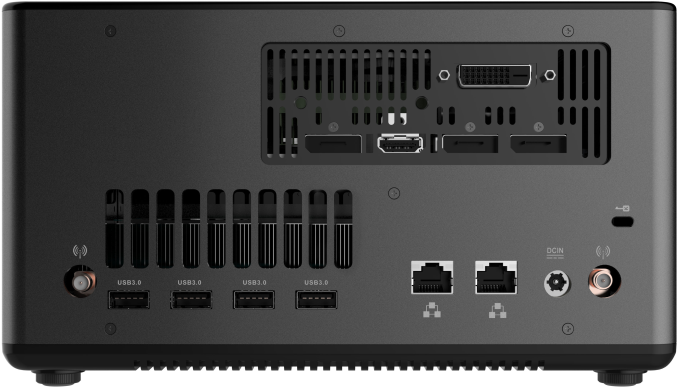 As for connectivity capabilities, everything is nearly similar to the previous-generation high-end ZBOX MAGNUS PCs. The new system has two Gigabit Ethernet controllers, an 802.11ac Wi-Fi/BT 4.2 module, a SDXC card reader, four USB 3.0 Type-A ports in the rear, and two USB 3.1 Gen 2 ports (1x Type-A and 1x Type-C) in the front. The graphics card is equipped with three DisplayPort 1.4, one HDMI 2.0b and one dual-link DVI-D connector. The front HDMI port is no longer a feature. This particular removal makes it a tad inconvenient to hook up VR headsets. However, it is not an insurmountable issue, as a HDMI cable extender can be used for the same purpose if the system is installed in a particularly tight location.
ZOTAC's ZBOX MAGNUS with Coffee Lake
ZBOX MAGNUS with 8th Generation Core i7 CPU
CPU
Intel Core i7-8700
6C/12T
3.2 - 4.6 GHz
12 MB
65 W
GPU
NVIDIA GeForce GTX 1080
2560 CUDA Cores
8 GB GDDR5X
Memory
2 × DDR4 SO-DIMM slots,
up to 32 GB of memory
Storage
M.2
M.2 2280 slot for PCIe/SATA SSD
DFF
1 × 2.5" SSD/HDD
Card Reader
SD/microSD
Wireless
802.11ac Wi-Fi + BT 4.2
Ethernet
2 × Gigabit Ethernet with RJ45
Display Outputs
3 × DisplayPort 1.2
1 × HDMI
1 × DVI-D
Audio
3.5 mm audio-in
3.5 mm audio-out
USB
4 x USB 3.0 Type-A
1 x USB 3.1 Type-A
1 x USB 3.1 Type-C
PSU
External
OS
Microsoft Windows 10 or none
Overall, the new redesign is a mixed bag. Removing the need for a second power adapter is very welcome. We would have been happier if ZOTAC had addressed some of the other feedback from our EN1080 / EN1080K reviews - in particular, a flagship PC in 2018 should include some Thunderbolt 3 ports. It is all the more puzzling when ZOTAC has multiple other mini-PCs with Thunderbolt 3 capability. The cooling solution also seems like a downgrade, though we have to hold on to the final verdict until we can compare it against the EN1080 / EN1080K ourselves.
ZOTAC did not announce pricing or availability timeframe for the Coffee Lake-based ZBOX MAGNUS, but it is logical to expect its arrival later this year.
Related Reading
Source: ZOTAC