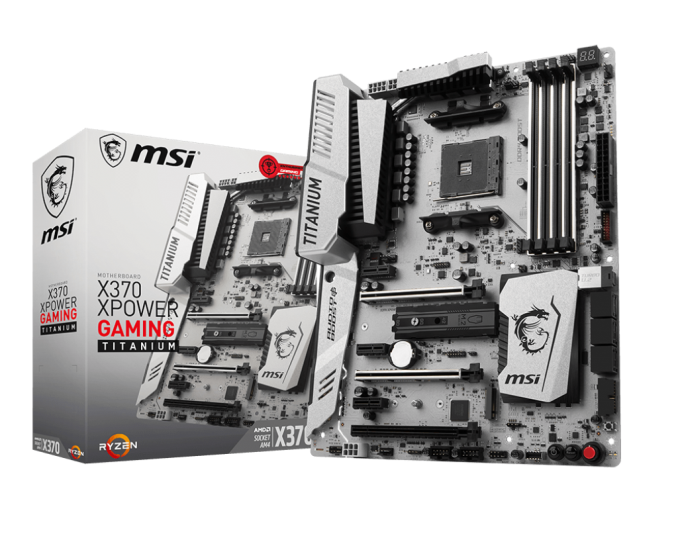 The MSI X370 XPower Gaming Titanium is marketed as a top of the range ATX offering and currently stands as MSI's flagship AM4 socket motherboard. The XPower branding over the years has been heavily associated with overclocking and enthusiast level performance, but due to a change in the direction MSI in terms of marketing, the XPowerbranding now correlates with gaming as well. As MSI's top dog, the silver design has hopes and dreams of standing out in a densely populated segment.
Other AnandTech Reviews for AMD's Ryzen CPUs and X370/B350
The AMD Ryzen 3 1300X and Ryzen 3 1200 CPU Review: Zen on a Budget
The AMD Ryzen 5 1600X vs Core i5 Review: All Ryzen 5 CPUs Tested
The AMD Zen and Ryzen 7 Review: A Deep Dive on 1800X, 1700X and 1700
To read specifically about the X370/B350 chip/platform and the specifications therein, our deep dive into what it is can be found at this link.
Tested Motherboards
The MSI X370 XPower Gaming Titanium Overview
With the XPower Gaming Titanium sitting among the most expensive X370 motherboards on the market, MSI has made aesthetic changes to make the XPower variant stand out from the rest of the crowd, with a titanium like silver PCB and similarly styled heatsinks on the chipset and power delivery. The titanium stylings and branding directional change of the XPower in 2016 - the X370 variant of the new XPower is the third such board to feature the 'gaming titanium' moniker and is primarily aimed towards gamers.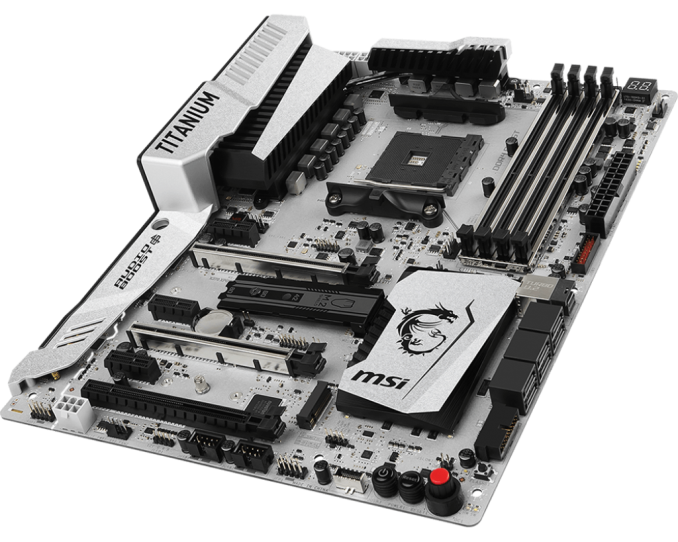 The XPower drops the overclocking focused features from previous generations(such as the voltage (V-check) monitoring points) for this version, but implements some other high-end features instead, such as the combination of storage: a single U.2 port, a block of six SATA 6Gb/s ports, and dual M.2 ports with both slots allowing for the installation of PCIe SSDs. There is some sharing with the M.2 and PCIe slots: equipping a PCIe SSD into the top M.2 slot reduces the PCIe 3.0 slots to x8/x4, while the bottom M.2 slot is switched with the bottom PCIe slot. This particular X370 model has full support for 2-way NVIDIA SLI and also 3-way AMD Crossfire, although this requires the PCIe 2.0 x4 chipset slot.
Memory support is provided up to 64GB, and this motherboard is rated up to DDR4-3200 by MSI. The memory slots feature MSI's Steel Armor, and similarly there is PCIe reinforcement for the two main slots that are powered by the CPU.

The base performance of the X370 XPower was on par with the motherboards we have tested so far. In our gaming tests we found the XPower to be somewhat a little lackluster by a percentage point or two, although nothing majorly stood out as abnormal. A particular highlight was the performance of MSIs Audio Boost 4 onboard audio which is essentially a commonly found Realtek ALC1220 codec, but with a supplementary operational amplifier in the form of a Texas Instruments OPA1652. Audio is usually overlooked when purchasing a motherboard, but MSI seem to be on the right track.
Overclocking
As we have found out through various B350/X370 motherboard reviews so far, our AMD Ryzen 7 1700 ($299) eight-core processor sample isn't the greatest of silicon, but it does stretch out to 3.90 GHz at 1.375 V with full stability under OCCT and Prime95. The MSI X370 XPower Gaming Titanium features Click BIOS 5 which is easy to navigate around and is one of the visually more appealing UEFI BIOSes on the market. Achieving simple overclocks such as 3.8 GHz and 3.9 GHz on the Ryzen 7 1700 ($299) was as simple as it could be.
Without changing any other setting other than the CPU core ratio to the x39 multiplier and manually entering the voltage to 1.375 V, it booted into Windows first time and provided stability throughout the stress testing and actual testing. In the Windows 10 64-bit OS and with the CPU Loadline Calibration set to auto on our chip, CPU-Z was reading out a core voltage of 1.368 V when under full load.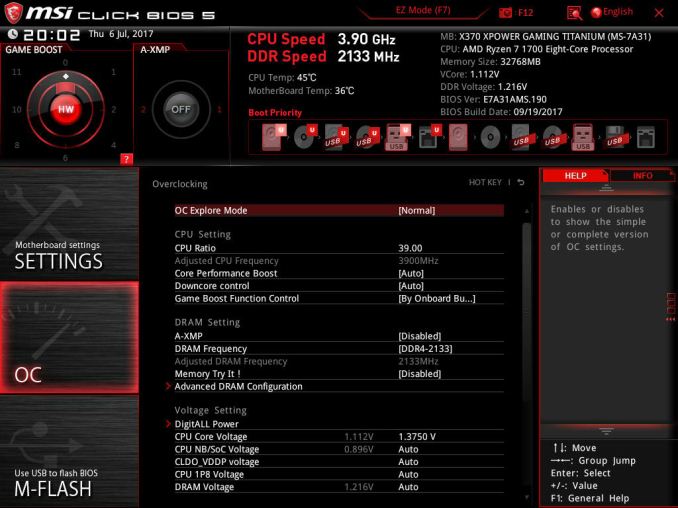 MSI includes a dedicated one-touch overclocking button called Game Boost, which can be adjusted physically and in the BIOS. Each of the seven different overclocking presets yield both multiplier changes and CPU voltage modifications.
Note: Each setting applied by Game Boost disables the AMD Cool'n'Quiet feature and disables Smart Fan Control on the CPU 1 and PUMP header.
MSI XPower Gaming Titanium
Game Boost Settings
Setting
Multipler
Core Voltage
1
x34.0
1.45 V
2
x35.5
1.50 V
4
x36.0
1.55 V
6
x36.5
1.55 V
8
x37.0
1.57 V
10
x37.5
1.57 V
11
x38.0
1.57 V
The maximum voltage we would consider to be 'safe' with an extreme cooling setup is around 1.45 volts. Above these levels is where AMD suggests that processor longevity could be affected. Automatic overclocking done by the motherboard manufacturers usually compensates extra for better stability on a wide range of silicon, however I would find it uncomprehensable to run a Ryzen 7 1700 CPU on even a 360mm premium cooler, like the one featured on our test bench, with anything more than 1.45 volts for a 24/7 system, let alone with 1.57 V for a run of the mill clock speed like 3800MHz.
On the one hand there is over compensation, and on the other there are extreme measures, and MSI with its Game Boost dialled it all. This is reckless, especially given that the temperatures, the power consumption, and the longevity of the chip is at stake.
Methodology
Our standard overclocking methodology is as follows. We select the automatic overclock options and test for stability with POV-Ray and OCCT to simulate high-end workloads. These stability tests aim to catch any immediate causes for memory or CPU errors.
For manual overclocks, based on the information gathered from previous testing, starts off at a nominal voltage and CPU multiplier, and the multiplier is increased until the stability tests are failed. The CPU voltage is increased gradually until the stability tests are passed, and the process repeated until the motherboard reduces the multiplier automatically (due to safety protocol) or the CPU temperature reaches a stupidly high level (100ºC+). Our test bed is not in a case, which should push overclocks higher with fresher (cooler) air.
Overclocking Results
Referencing back to the Biostar X370GTN review, our Ryzen 7 1700 CPU does have a limitation between 3.9 GHz and 4.0 GHz; at least on the boards we have tested thus far. This is down to silicon lottery and a combination of a sharp ramp of voltage to temperature when moving up each different step.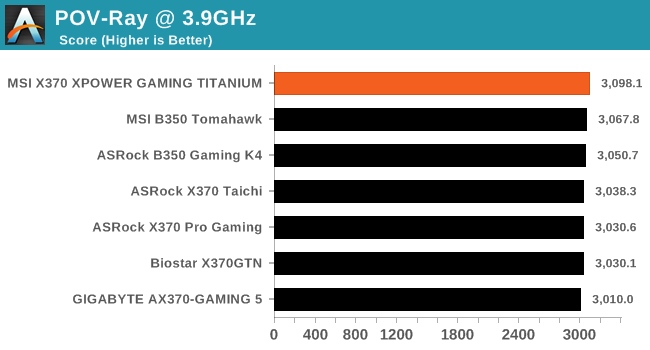 As with all of our other B350/X370 motherboard reviews, our manual overclocking results ended up with 3.9 GHz with 1.375 volts. For the MSI, the overall power consumption reading pushed just under 195W at peak; one of the highest recorded readings taken from a B350/X370 board so far.
Wait a Second, Why Test X370 if X470 is Just Around The Corner?
Section by Ian Cutress
A lot of discussion is about AMD's upcoming launch, which is set to include a new motherboard chipset known as X470. We have had emails about our last B350 review, stating what was the point given that this new AM4-based chipset was around the corner, and I fully expect more comments on this article about it as well. The reasons are multiple.
One) X470 isn't replacing any of the current motherboard stack. X370, B350 and A320 are still going to be produced and sold alongside X470. There might be fewer new models compared to the latest and greatest, but motherboard vendors are still set to sell all of them side by side.
Two) All of these motherboards will have forwards/backwards compatibilty with the AM4 socket. Dropping in a Bristol Ridge or the latest mainstream Ryzen, with a sufficiently updated BIOS, will be possible. AMD has stated that the AM4 socket, and my extention the chipsets, will be on a long-term support structure. So the motherboard vendors are still set to run updates for the chipsets that exist.
Three) When we started our AM4 reviews, we tested a number of motherboards all at once, and have gone through the process of writing up our analysis one-by-one. The analysis, for current owners or to-be owners (of new or used), is a very important part of that process to help making purchasing decisions. Not everyone is buying the latest, and not everyone is buying new. We believe having that data on hand, especially when enabled through a Google search six months later down the line, is important.
We still have motherboard vendors asking if we can review their current-generation AM4 motherboards, regardless of what is coming around the corner. You might be amazed and how soon after recieving a sample we get emails asking 'when will it be published?'! But the bottom line is that sales do not stop just because something newer is about to come out, and we think that having our analysis online can act as a good reference for those that need it.