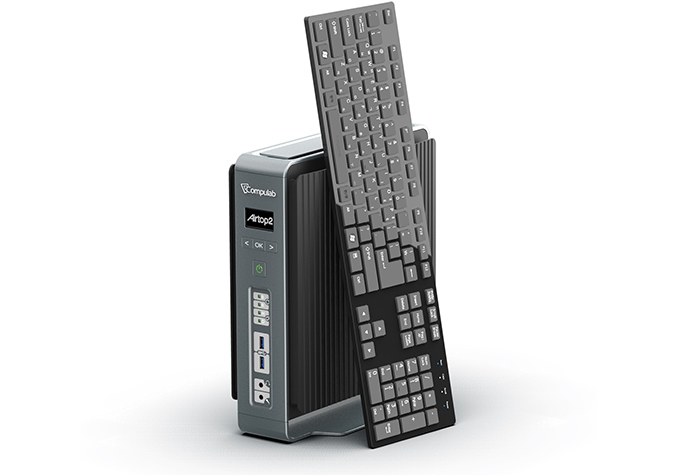 Compulab this week has introduced a new generation of its passively-cooled Airtop workstations. The new updated models, called Airtop 2, use Intel's latest Xeon E3 v6 processors, featuring the Kaby Lake microarchitecture, as well as Pascal-based Quadro graphics cards. The new Airtop2 systems can pack up to six storage devices, drive seven monitors, connect legacy COM/RS232 devices, and support Compulab's proprietary FACE modules (function and connectivity extension modules) to further enhance functionality and connectivity.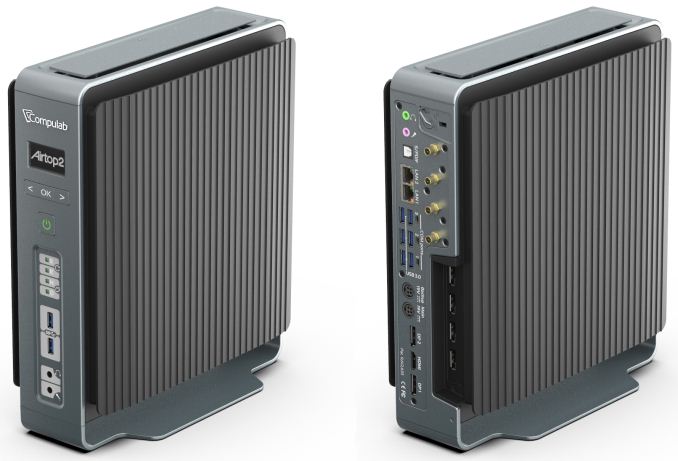 Small form-factor (SFF) desktops are considered to be gaining in popularity recently, so virtually all PC makers have appropriate products available. By contrast, SFF workstations are somewhat rare: large OEMs offer them to their clients, but they are hard to find outside of Dell, HP, Lenovo, or similar companies, and require a sizeable order. Compulab is among a handful of PC makers offering SFF Xeon and Quadro-based systems, but the company appears to be at aiming at a couple of different niches to its rivals: its workstations are passively cooled, using the firm's proprietary natural air-flow (NAF) cooling tech (you can read more about it in our coverage of the original Airtop), and they are also marketed as being very highly integrated, with the idea that there are no compromises when it comes to storage capabilities. Another listed benefit is that these new Airtop2 systems have vast connectivity options that include modern and outdated ports and can be expanded further if needed.
The latest Compulab Airtop2 resembles the original Airtop that was introduced a little more than two years ago, with the premise being that it is a 7.5-liter box that can dissipate up to 200 W of thermal energy. The new system relies on a specially-designed Intel C236-based motherboard that places CPU socket, DIMM slots, PCI Express x16 slot and other components in a way to enable the most efficient dissipation of heat. The motherboard supports Intel's Xeon E3 v6 and Core i7 7000-series processors up to 73 W TDP, whereas the chassis is compatible with mid-range professional graphics cards, such as NVIDIA's Quadro P4000 or consumer-grade GeForce GTX 1060. If you are wondering why that 73W TDP looks odd: the Xeon E3 v6 line (as we reported on here) has a maximum TDP of 73W across the entire line.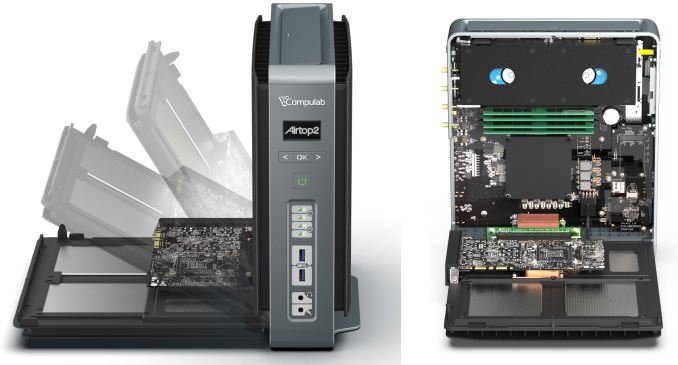 The Airtop2 can be equipped with up to 64 GB of DDR4-2400 ECC memory, four 2.5"/9.5mm SATA HDDs/SSDs and two M.2 NVMe SSDs - and thus 10 TB of storage if modern consumer/workstation components are used. Furthermore, a special card with three M.2 NVMe slots may be installed instead of the Quadro for those who need even more storage space and can rely on integrated graphics. The system features two Gigabit Ethernet network controllers (four more may be added using an extension card), an 802.11ac Wi-Fi + BT 4.2 module, an optional cellular communication M.2 module, six USB 3.0 Type-A ports on its rear panel, two USB 3.0 ports on its front panel, three RS232 ports, and Realtek ALC1150 multi-channel audio. The discrete graphics card, when installed, can work in tandem with Intel's iGPU and therefore the Airtop2 can drive up to seven displays. For those who need additional USB, RS232, GbE connectors, or mini PCIe slots, Compulab offers a lineup of FACE modules priced at $21-$125.
Compulab Airtop2
General Specifications
CPU
Intel Core i7-7700 (4C/8T, 3.6/4.2 GHz) or
Xeon E3-1275 v6 (4C/8T, 3.8/4.2 GHz)
Chipset
Intel C236
SKL, KBL support,
up to 20 PCIe 3.0 PCIe lanes
x1, x2, x4 bifurcation
RAID, vPro, TXT etc.
RAM
Up to 64 GB DDR4-2400 with ECC
GPU
NVIDIA Quadro P4000 8 GB or
NVIDIA GeForce GTX 1060 4 GB or
CPU Integrated Graphics
Storage
DFF
4 × 2.5"/9.5mm SATA HDDs/SSDs or
2 × 2.5"/15mm SATA drives
Modules
2 × M.2-2280 PCIe NVMe SSDs
3 × M.2-22110 PCIe NVMe SSDs on backplane card installed instead of discrete graphics card
Expansion
PCIe x16
FACE Modules
Display Outputs
iGPU
2 × DisplayPort 1.4
1 × HDMI 1.4
dGPU
Quadro: 4 × DisplayPort 1.4
GeForce: 3 × DisplayPort 1.4 + 1 × HDMI 2.0b
Networking
Wired
Dual GbE: Intel I219 + Intel I210
Wireless
802.11ac, 2T2R, 2.4 GHz/5GHz
Bluetooth 4.2
WWAN
Optional M.2 B-key 3042 + 2×RP-SMA antennas modem with micro-SIM
I/O
2 × USB 3.0 on front panel
6 × USB 3.0 on back panel
3 × RS232/COM
Audio
Realtek ALC1150 audio codec with line-out, mic, S/PDIF
Dimensions
100 × 300 × 255 mm
3.93" × 11.8" × 10"
Volume
7.5 L
Operating System
Windows 10 Pro x64
Linux Mint
FACE Modules
FM-AT2
Built-in-self-test LED indicators | 2x USB 3.0 | audio | micro-SD | mini-PCIe
FM-POE
4x Gbit Ethernet with PoE (PSE) | 2x USB 2.0
FM-LANE4U4
4x Gbit Ethernet | 4x USB 2.0
FM-OPLN
2x Optical Gbit Ethernet (SFP+) | 2x USB 2.0
FM-EBP
Gigabit Ethernet bypass
FM-SER
6x RS232 / RS485
FM-XTDM2
2x mini-PCIe
The manufacturer positions its Airtop2 primarily for professional use, so it can be outfitted with a redundant external PSU. The system can also be built-to-order with industrial temperature range (-40°C to 70°C) using appropriate components.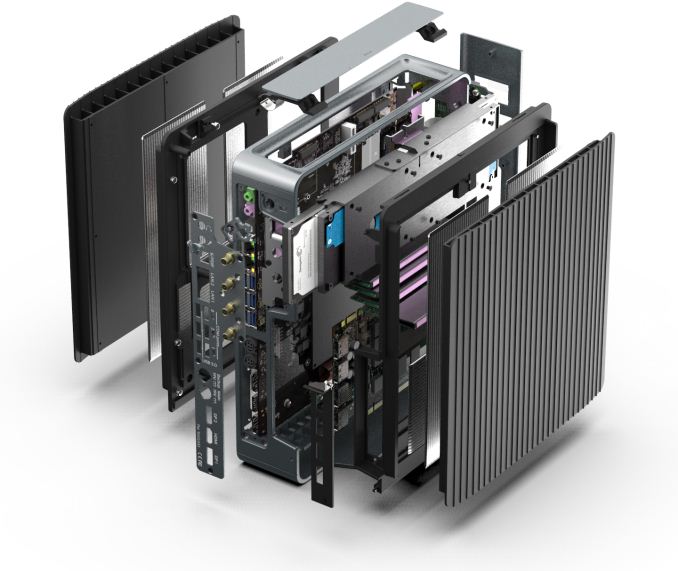 Compulab's Airtop 2 starts at $1335 without VAT, but a high-end configuration featuring Intel's Xeon E3-1275 v6, NVIDIA's Quadro P4000, 64 GB of RAM, multiple SSDs, a wireless module and other enhancements hits $7,828 without taxes. A build certified to work in hard environments will cost even more.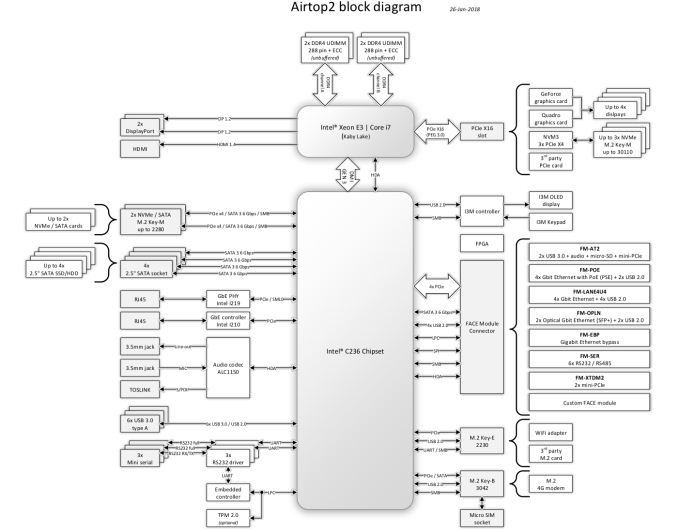 Related Reading
Source: Compulab