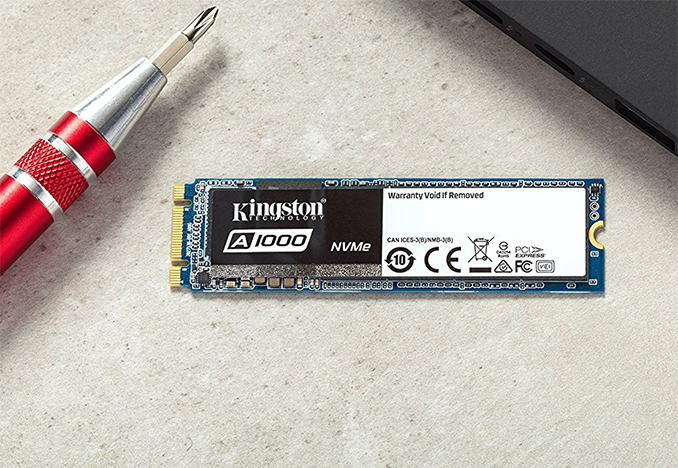 Solid-state drives with a PCIe interface have become standard storage solutions for enthusiast-grade PCs these days. By contrast, gamers with budget constraints tend to buy SSDs featuring a SATA bus because of their lower price. To address such customers with something faster, SSD makers release new product families based on inexpensive controllers and NAND memory. Over the past few months, we have seen announcements of such drives from various makers, now it is Kingston's turn to try its luck with inexpensive NVMe SSDs.
Kingston's A1000 NVMe SSDs are based on the Phison PS5008-E8 controller (four NAND channels, LDPC, NVMe 1.2, PCIe 3.0 x2 interface, etc.) and 256 Gb BiCS 3D TLC NAND flash from Toshiba. The Kingston A1000 SSDs will come in 240 GB, 480 GB, and 960 GB configurations, thus targeting people looking forward more or less decent capacities. It is a little bit surprising not to see a 120 GB model in an entry-level SSD family, but skipping this capacity point has its rationale: Kingston avoids a race to the bottom by not competing against the cheapest SSDs with a SATA interface (something that preserves its profit margins and reserves NAND for more popular products).

Peak sequential performance of the Kingston A1000 drives is rated at up to 1500 MB/s for reads as well as at up to 1000 MB/s for writes, which is considerably higher when compared to SATA SSDs, but is substantially lower when compared to drives with a PCIe 3.0 x4 interface. As for random performance, Kingston specs the drives for up to 120K/100K read/write IOPS, which is a bit lower when compared to some competing offerings featuring the same controller and memory.
As for reliability and endurance, all the Kingston A1000 SSDs are rated for one million hours MTBF and come with a five-year warranty. The entry-level 240 GB model is rated for 150 TB TBW (to be written), whereas the 960 GB SKU is expected to handle 600 TB TBW, which equates to around 0.34 TB DWPD (drive writes per day) over five years, a rather high rating for an entry-level consumer SSD series (but naturally a bit below when compared to higher-end drives).
Kingston A1000 Specifications
Capacity
240 GB
480 GB
960 GB
Model Number
SA1000M8/240G
SA1000M8/480G
SA1000M8/960G
Controller

Phison PS5008-E8

NAND Flash

Toshiba's 256 Gb 64-layer BiCS3 3D TLC

Form-Factor, Interface
M.2-2280, PCIe 3.0 x2, NVMe 1.3
Sequential Read
1500 MB/s
1500 MB/s
1500 MB/s
Sequential Write
800 MB/s
900 MB/s
1000 MB/s
Random Read IOPS
100K IOPS
100K IOPS
120K IOPS
Random Write IOPS
80K IOPS
90K IOPS
100K IOPS
Pseudo-SLC Caching
Supported
DRAM Buffer
Yes, capacity unknown
TCG Opal Encryption
No
Power Management
DevSleep, Slumber
Warranty
5 years
MTBF
2,000,000 hours
TBW
150 TB
300 TB
600 TB
Price
$120
$218
$403
Kingston advertises its A1000-series SSDs as offering "twice the performance of SATA at near SATA pricing," so their MSRPs are just as important as their performance characteristics. At present, the Kingston A1000 SSDs are only available directly from the company with a ~30% discount, but the manufacturer says that the drives will be available from leading retailers like Amazon and Newegg shortly. Right now, the A1000 240 GB is listed for $120, the 480 GB model costs $218, and the 960 GB SKU is priced at $403. A quick calculation shows that Kingston is selling its new drives at $0.41 - $0.5 per GB, which is not that high, but which is in line with prices of the speedier MLC-based Kingston KC1000-series. Meanwhile, there are faster 3D TLC-powered drives available at around $0.35 per GB, or even lower.
Since the A1000 is only beginning its life cycle, its price may be higher than it should be. The market tends to "fix" pricing of products over time.
Comparison of Kingston's NVMe SSDs
Capacity
A1000
KC1000
240 GB
480 GB
960 GB
240 GB
480 GB
960 GB
Model Number
SA1000M8/240G
SA1000M8/480G
SA1000M8/960G
SKC1000/240G
SKC1000/480G
SKC1000/960G
Controller

Phison PS5008-E8

Phison PS5007-E7
NAND Flash

Toshiba's 256 Gb 64-layer BiCS3 3D TLC

Toshiba's 128 Gb planar MLC

Form-Factor, Interface
M.2-2280, PCIe 3.0 x2, NVMe 1.2
M.2-2280, PCIe 3.0 x4, NVMe 1.1
Sequential Read
1500 MB/s
2700 MB/s
2700 MB/s
Sequential Write
800 MB/s
900 MB/s
1000 MB/s
900 MB/s
1600 MB/s
Random Read IOPS
100K IOPS
120K IOPS
225K IOPS
290K IOPS
Random Write IOPS
80K IOPS
90K IOPS
100K IOPS
190K IOPS
Price
$120
$218
$403
$120
$228
$420
Related Reading: