Visual Inspection
The MSI X470 Gaming Plus is an ATX gaming centered motherboard designed to offer users a lower cost alternative onto the X470 chipset. The bulk of the aesthetics is dominated by the jet-black PCB which has red lightning like streaks emanating from the top left-hand corner towards the bottom right-hand side. The power delivery heatsinks keep to the same pattern and fit in well with the design with the heatsink covering the X470 chipset also blending in with the printed design onto the PCB. The X470 Gaming Plus does have built-in lighting integrated into the board with eight RGB LEDs arranged in a straight line to create a light bar effect underneath the top right-hand corner of the board. Users looking to extend the RGB capabilities can do so thanks to the inclusion of two 5050 12 V RGB LED strip connectors; the lighting effects and colors can be synced using MSI's Mystic Light software.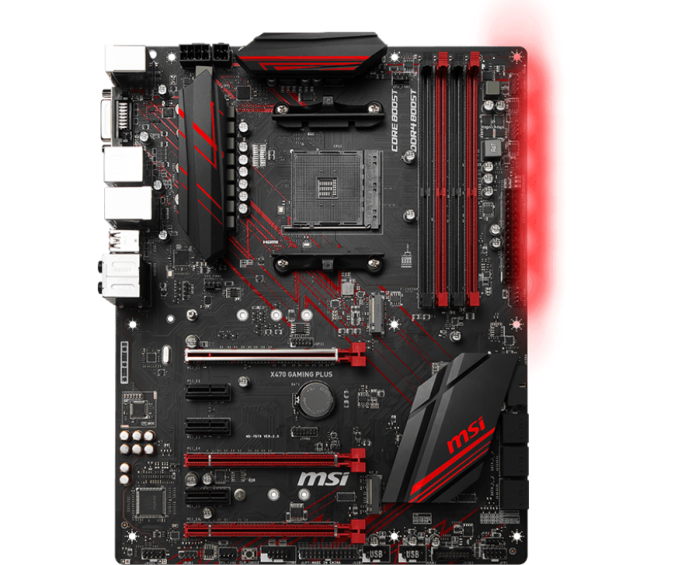 Storage wise the board packs a total of six SATA ports which features support for RAID 0, 1 and 10 arrays. The board also has a total of two M.2 slots with the top slot having a PCIe 3.0 x4 interface as well as supporting SATA based drives up to a size of M.2 22110. The second slot offers support for drives up to a size of M.2 2280 and has a PCIe 2.0 x4 interface and also supports SATA drives. This second slot does share bandwidth with other slots dependent on whether a SATA or PCIe based M.2 is being used; if a PCIe drive is being used, the full-length PCIe 2.0 x4 located at the bottom of the board will be disabled and if a SATA drive is installed, the first SATA port (SATA1) will become non-functional.
From a cooling perspective, the X470 Gaming Plus has a total of six 4-pin fan controllers which gives it one less than the near priced GIGABYTE X470 Aorus Ultra Gaming ($130). The headers are divided into three areas with one header dedicated to a CPU fan, four to regular system fans and one assigned for users planning on using a water-cooling pump or AIO; the pump header supports pumps up to a maximum of 2A. Located at the base of the board is a clear CMOS button which allows users to simply clear and reset the BIOS settings back to factory defaults; one of the first steps recommended in hardware issue troubleshooting.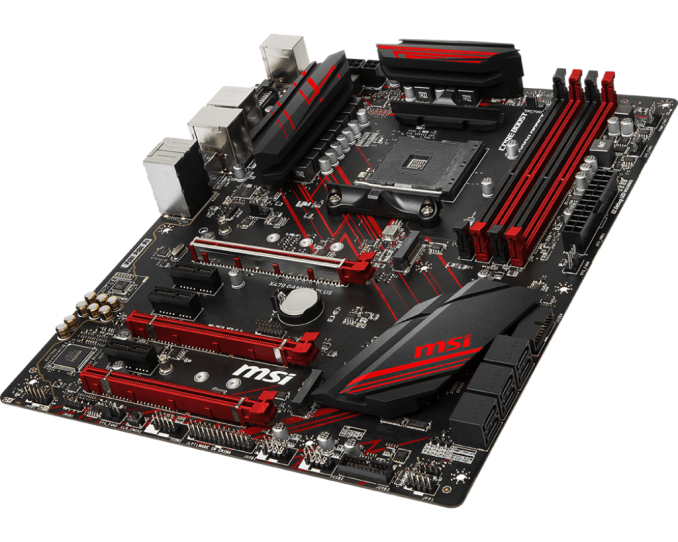 Touching more on the PCI capabilities of the X470 Gaming Plus, the board has two full-length PCIe 3.0 x16 slots with the slot located at the top of the slots getting a coating of MSI's Steel Slot protection. At the bottom is a full-length PCIe 2.0 x4 slot and located between the full-length slots are a total of three PCIe 2.0 x1 slots. This particular X470 model does have support for 2-way and 3-way CrossFire multi-graphics card setups, but users looking to utilize NVIDIA SLI setups will be disappointed to find there is zero support available. MSI do offer an alternative X470 model that supports SLI configurations, but the X470 Gaming Pro Carbon ($180) does cost $60 more than this particular model that is being reviewed today.
The X470 Gaming Plus offers support for dual channel memory with RAM up to DDR4-3466, with a combined total of up to 64 GB supported over four available RAM slots. This model also allows users to use ECC memory with official support from MSI confirmed. Any installed ECC DDR4 memory will operate in unbuffered mode.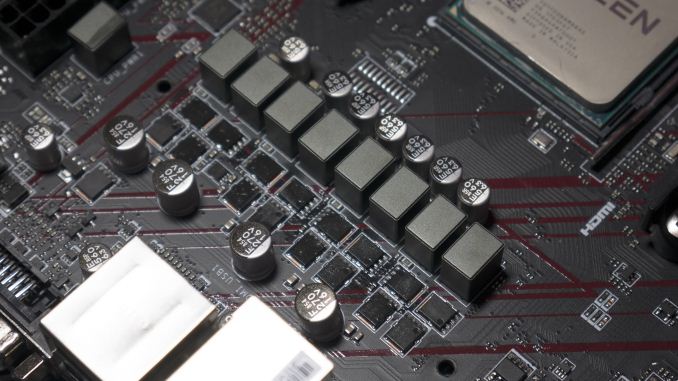 The power delivery on the X470 Gaming Plus is somewhat modest when all things are considered, even though MSI are themselves advertising this model to have an 11-phase power design, when in fact it's actually an 8-phase arrangement running in a 4+2 configuration. Firstly, the PWM controller of choice is a single Richtek RT8894A dual channel controller which is designed to run at a maximum configuration of 4+2 which means a true 11-phase design isn't possible. The core elements of the power delivery consist of fourteen 4C929N high side MOSFETs with an additional fourteen 4C024N low side MOSFETs; both models of MOSFETs are manufactured by ON Semiconductor.
AM4 Motherboard Power Delivery Comparison
AnandTech
Controller
Doubler
True CPU Phases
H
Side
L
Side
Chokes
ASRock
B450 Gaming ITX/ac
ISL95712 (3+2)
-
3
10
10
8
B450 Gaming K4
ISL95712 (3+3)
-
3
12
9
9
X470 Taichi Ultimate
IR35201 (6+2)
8
6x2 = 12
16
16
16
Biostar
Biostar X370GTN
ISL95712 (4+3)
-
4
7
7
7
Biostar X470GTN
ISL95712 (4+3)
-
4
7
7
7
GIGABYTE
X470 Gaming 7 Wi-Fi
IR35201 (5+2)
5
5x2 = 10
12
12
12
MSI
X370 Gaming Titanium
IR35201 (6+2)
6
5x2 = 10
10
16
10
X470 Gaming Plus
RT8894A (4+2)
-
4
14
14
11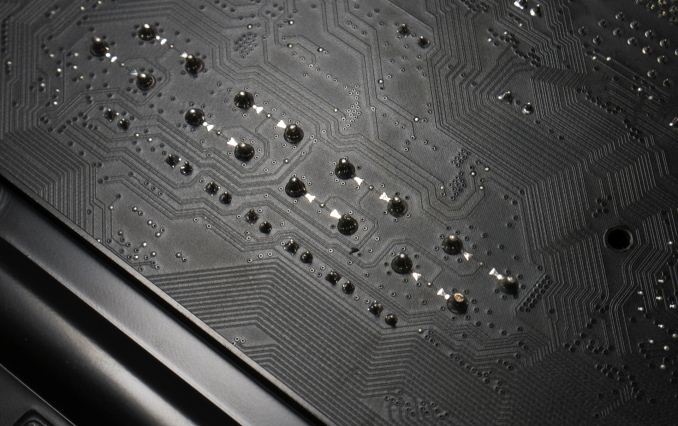 This particular power delivery is split into three separate sections, the CPU, the rest of the SoC, and the memory. The VCore section which is the most important aspect as it's designed to provide power to the processor consists of 4-phase set up with each individual phase getting two ON 4C024N low side and two ON 4C929 high side MOSFETs per channel. Each quadruplet of MOSFETs runs in parallel and gets its own dedicated choke. Due to the use of a Richtek RT8894A 4+2 PWM controller, this means MSI cannot use doublers to multiply the phase count as the controller simply doesn't support it, so to make them run in tandem with each other, MSI has shorted each pair of phases on the which can be seen on the rear of the board making the X470 Gaming Plus seem like it's an 8-phase on the surface, but deep down it's actually a 4-phase; very misleading to the consumer who might not have the technical prowess to decipher that one choke doesn't equal one individual phase.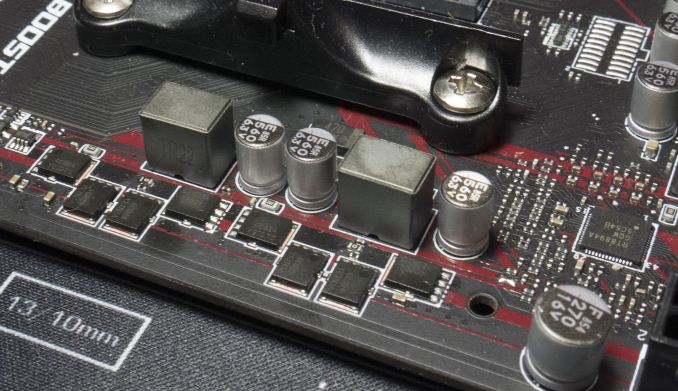 The power delivery for the rest of the chip features the same array of high and low side MOSFETs as the CPU element but is made up of two high-side pairs and two low-side pairs, giving the rest of the SoC a total of two true phases. The memory gets its own dedicated phase with one ON 4C024N low side and one ON 4C929N high side MOSFET. Each DRAM channel has its own choke. The memory section can be found just on the right-hand side of the four RAM slots and consists of two high and low side MOSFETs which are exactly the same as used on both the VCore and SoC area, with a single choke finishing off a needlessly complex, but also relatively basic 7-phase (4+2+1) power delivery; not an 11-phase like MSI suggests.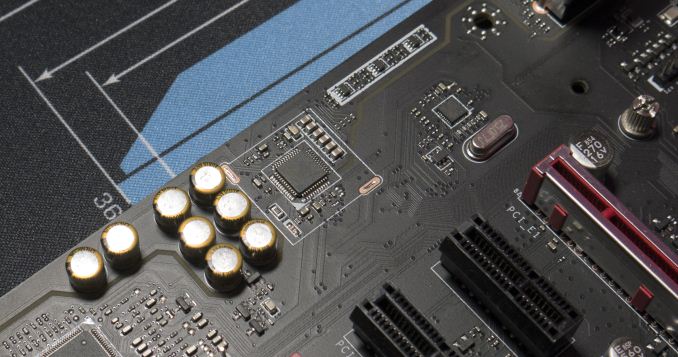 While most high-end X470 motherboards come equipped with an ALC1220 HD audio codec from Realtek, MSI has armed the X470 Gaming Plus with a slightly lesser quality Realtek ALC892 HD audio codec to bring down the price point. The included ALC892 HD audio codec offers a rated 95 dB signal to noise ratio (SNR) while the more premium ALC1220 advertises a 120 dB SNR. While not a big deal on an entry-level offering, MSI has shaved off some production cost doing this and it does kind of explain why MSI has been able to justify a $10 cheaper price than the competitive GIGABYTE X470 Aorus Ultra Gaming ($129). The audio PCB on the X470 Gaming Plus itself features separation and the ALC892 HD audio codec is complemented by eight gold audio capacitors manufactured by Nippon Chemicon.

On the rear panel, most of the space is taken up by USB connections which are split into three different interfaces. The USB connectors residing on the rear panel consist of four USB 3.1 Gen1 Type-A ports, two USB 2.0 Type-A ports and two 10 Gbps USB 3.1 Gen2 Type-A ports; MSI has opted to go for the more commonly used Type-A with its USB 3.1 Gen2 ports rather than including any Type-C functionality whatsoever. Users looking to expand further upon the rear panel USB provided can do so thanks to two USB 3.1 Gen1 headers (four ports) and two USB 2.0 headers (four ports). Other ports include a PS/2 keyboard and mouse combo port, as well as a pair of video outputs to utilize AMD's Ryzen 2000 series APUs which include a DVI-D and an HDMI 2.0 port. The Realtek ALC892 HD audio codec provides a total of five 3.5 mm gold plated audio jacks as well as a single S/PDIF optical output. Finishing off the rear panel of the X470 Gaming Plus is a single LAN port which is powered by a more budget-friendly Realtek RTL8111H which is a regular companion on motherboards which feature the ALC887 and ALC892 codecs.
What's in The Box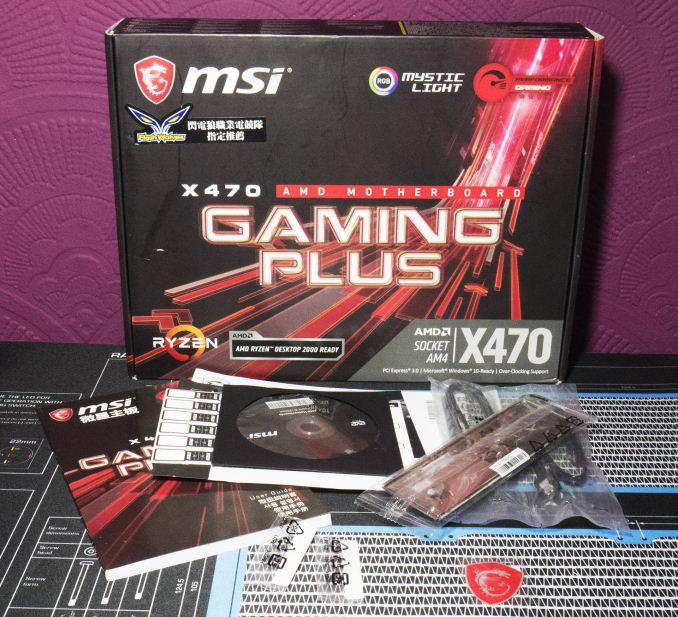 MSI has included a modest offering of accessories with its X470 Gaming Plus model with all of the necessary and key elements for a user to get their system up and running out of the box. The key inclusions are a black and red gaming themed IO shield, two SATA cables, a user guide dedicated to this model and a driver installation CD. The case stand-off notification sheet is a welcomed addition as users not too experienced in installing and building systems will find this useful in avoiding potential damage and shorts, but for users who usually skip over the documentation will find these zones clearly marked on the rear of the boards PCB.
User manual and quick installation guide
Driver installation CD
Case stand-off notification guide
2 x M.2 installation screws
2 x SATA cables (1 right-angled, 1 straight-angled)
Cable label sticker sheet
Rear IO shield
MSI Gaming shield sticker
MSI thank you card